After hours of closed door talks in Moscow between US National Security Advisor John Bolton and his Russian counterpart Secretary of the Russian Security Council, Nikolay Patrushev, Bolton told reporters that the United States has yet to take a decision on whether it plans to deploy missiles in Europe if the Intermediate-Range Nuclear Forces Treaty (INF) is scrapped. 
Bolton further said that he now understands Russia's position on nuclear arms regulations and treaties much better, and added that more consultations on arms treaties are needed, while further denying prior Russian charges that a US pullout of the INF was an attempt at "blackmail," according to Russian state media sources. He subsequently had a 90-minute meeting with Russian Foreign Minister Sergey Lavrov and later in the trip is expected to meet with President Vladimir Putin.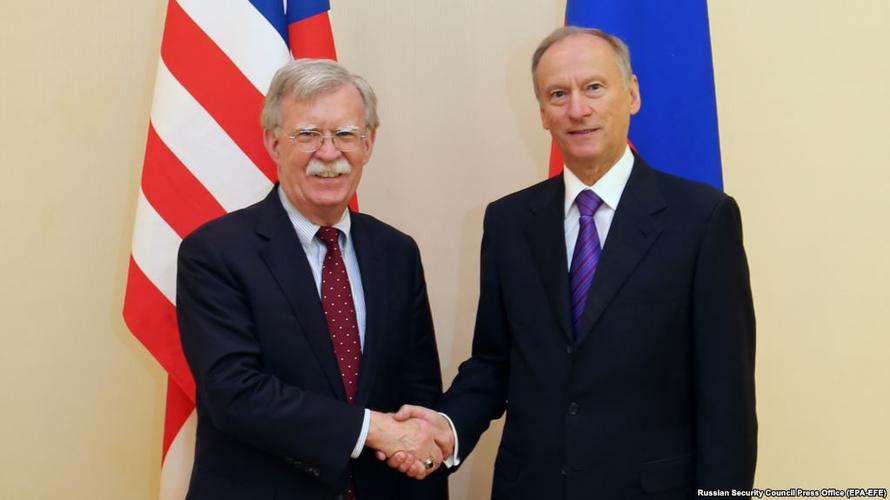 This comes following President Trump's shock weekend announcement concerning the Reagan-era treaty with the Soviet Union, wherein he said after a campaign rally in Elko, Nevada: "We're not going to let them violate a nuclear agreement," and indicated, "We're going to terminate the agreement." The Guardian had the day prior to the Saturday statement revealed that Bolton - in what some described as an overreach of the position's typical role - had been pushing Trump to abandon the Intermediate Range Nuclear Forces Treaty.
Moscow's reaction on Sunday was fierce with Russia's Deputy Foreign Minister Sergei Ryabkov warning that Trump's pledge to "terminate" the treaty was "very dangerous" and that "[Withdrawal] won't be understood by the international community, but [instead] arouse serious condemnation of all members of the world community, who are committed to security and stability and are ready to work on strengthening the current regimes in arms control."
While in Moscow for his two day working visit with Russian officials, Bolton explained in an interview with the Ekho Moskvy radio station that the weapons systems the INF concerns are no longer exclusively operated by the US and Russia, but other countries like China and North Korea are in the process of producing and testing such systems. Thus, he said, the issue can't be solved merely between the US and Russia, and has to be revised. 
He further cited "concerns" that Russia is in violation of the treaty but didn't go into detail as to exactly how. Should the INF treaty collapse, the Strategic Arms Reduction Treaty (START) would remain one of last obstacles before uncontrolled nuclear proliferation. It is set to expire in 2021, and Bolton said that Washington has not formulated its position on START just yet.
Meanwhile, with Bolton in Moscow President Trump words were more direct as he spoke to reporters from the White House steps on Monday.
Trump said of the INF that "Russia has not adhered to the agreement," and warned that the United States intends to build up its nuclear arsenal until "people come to their senses." Trump was also addressing China, which both he and Bolton have implied to be part of any newly formulated nuclear arms control treaty.
In response to reporters' questioning whether this is a "threat" Trump said:
It's a threat to whoever you want to include China and it includes Russia and it includes anybody else that wants to play that game... [Russia has] not adhered to the spirit of that agreement or to the agreement itself.
He said of Russia failing to conform to either the letter of spirit of the treaty: "When they do, we will all be smart and we'll stop. Not only stop, but we'll reduce, which I'd love to do." He added that the US has "more money than anyone else by far" - implying that he wouldn't bluff and that, "You can't play that game on me."
However these latest statements by Trump won't go down well in Moscow, where Russian officials will only take them as confirmation that this is indeed all about blackmail - or Trump's classic tactic of "negotiating from an extreme" position in order to get a "better deal".