---
70% Of S&P 500 Stocks Are Already In A Correction
Spooked by fears about peak profits, the slowing Chinese economy, Trump's tariffs, ongoing political turmoil in the UK and Italy, and ongoing jitters among systematic, vol-targeting funds, on Tuesday the S&P tumbled as much as 2.34% in early trade - a drop  which almost wiped out all gains for the year - before paring losses and closing only -0.55% lower.  The drop pushed the S&P's decline from its September highs to 6.5%, two-thirds on the way to a technical correction.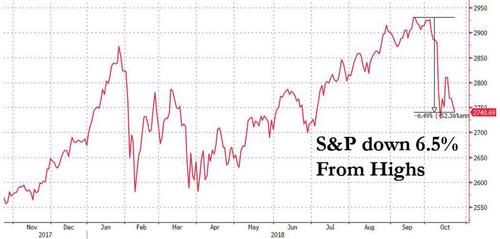 However the relatively stability at the index level has masked turmoil among individual names where some 1,256 stocks hit 52-week lows, while only 21 establishing new highs.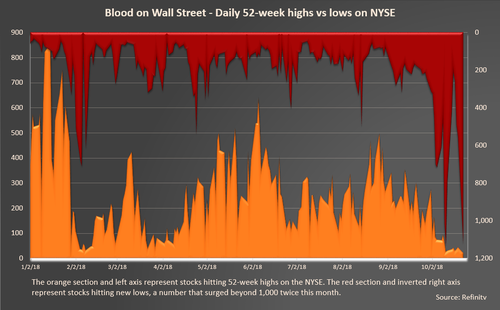 More concerning, and a testament to the tech-heavy leadership of the market concentrated amid just a handful of stocks, is that while the broader S&P 500 index has yet to enter a correction, more than three quarters of all S&P stocks - or 353 - have already fallen more than 10% from their highs. Worse, of those, more than half 179 have already fallen by 20% or more from their highs, entering a bear market.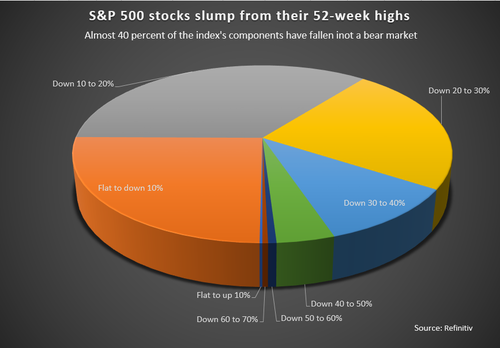 The reason why the broader index has so far avoided a similar fate is because Apple, whose $1 trillion market value makes it by far the most heavily weighted stock within the S&P 500, has fallen only 4.6% from its October 3 record high. That has helped the S&P 500 itself stay out of correction territory.
Broken down by sector, the S&P 500 materials index - the closest proxy of Chinese economic growth - has fared the worst in October, leaving it down 19% from its 52-week highs, with the utilities index is the outperformer, down just 5 percent.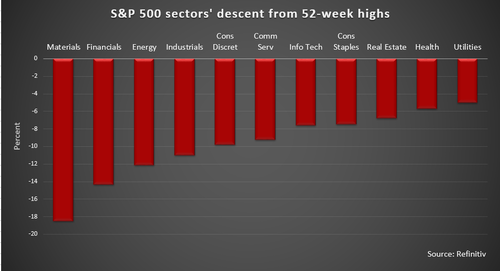 At the individual level, among the bottom 10 S&P 500 performers, are names likes Wynn Resorts and Western Digital, both highly exposed to China. Nektar Therapeutics and Newell Brands are also among the S&P 500's worst performers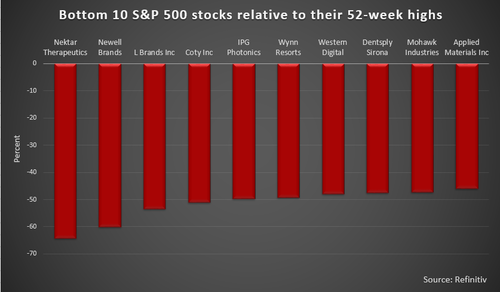 Taking a step back, despite its relative resilience, the S&P 500 is still on track for its worst month since August 2015, while most global equities are down for the year. North America is still the best performing region with 67% of the six countries having benchmark equities trading higher on the year in US dollar terms, according to Deutsche Bank. In EMEA, only 23% of countries are up, and only 6% of countries in the European Union (in USD). In South American (6 countries) and Asia (18), not a single country has a positive return in USD terms this year.
One day later, and despite widespread call for an imminent market bounce, traders remain completely ambivalent as today's market cash open action shows:
Half of S&P 500 stocks rising, half falling
5 of 11 S&P 500 groups rising, 6 falling
15 DJIA stocks rising, 15 falling
Meanwhile, the Nasdaq has a more negative tone with decliners outpacing advancers. In other words, as Bloomberg's Andrew Cinko writes, "there's no follow through on either the upside or the downside after yesterday's epic rebound. At this moment, he who hesitates isn't lost, in fact, he's got a lot of company as stock market pundits engage in verbal duel over where we go from here."