While we already knew that a second Securities and Exchange Commission investigation was going on tied to Tesla's Model 3 production, the Wall Street Journal dropped a bombshell this afternoon stating that a Department of Justice investigation into Model 3 production numbers was not only was taking place, but was also intensifying.
Tesla shares quickly dropped almost $25 off highs on the news.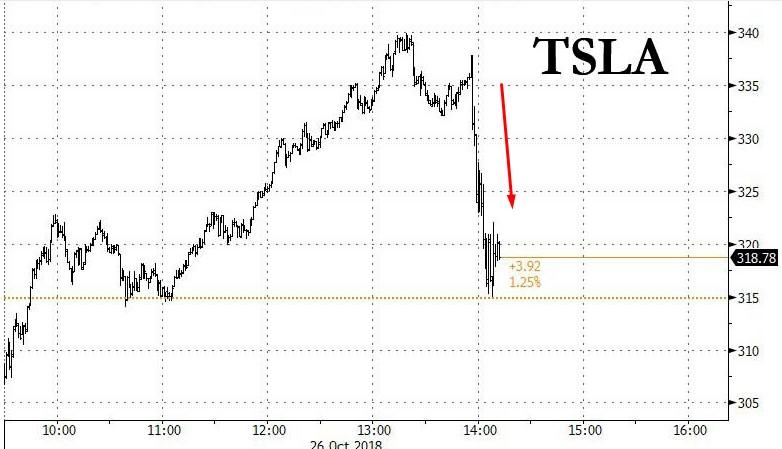 According to the Wall Street Journal, the FBI is examining whether Tesla misstated information about production of its Model 3 dating back to early 2017. Action in the criminal investigation is reported to have intensified since Musk settled with the SEC last week.

The Journal also reports that the FBI has contacted former Tesla employees for testimony in the criminal case. Many former employees have received subpoenas and have been interviewed by the FBI.

The investigation is said to focus on the following timeline:
In February 2017, after reporting fourth-quarter 2016 results, Tesla laid out an aggressive production plan to bring out the Model 3, with plans to ramp up to 5,000 vehicles a week in the fourth quarter. On a conference call that month with analysts, Mr. Musk said he was pushing suppliers to be ready for a weekly run rate of 1,000 vehicles in July to 2,000 in August and 4,000 in September.

A few months later in July, Mr. Musk sounded confident that Tesla would be producing 20,000 Model 3s a month in December 2017, in line with his previous pledge of having 5,000 vehicles a week by year's end. "Looks like we can reach 20,000 Model 3 cars per month in Dec," he tweeted on July 2, 2017, days before the first Model 3 rolled off the production line.

In the early weeks of production, the company's body shop, where the skeleton of the cars would take shape, wasn't fully functional, according to an October 2017 article in The Wall Street Journal. Tesla was still hand-building parts of the Model 3s, and the body shop wasn't fully installed until September, according to people quoted in the article that were familiar with the situation.

Tesla ended up producing 2,700 Model 3s for all of 2017, and 793 in the last week of 2017
The FBI is reportedly looking into whether or Musk and the company made projections knowing that they couldn't be met. This was an argument alleged in a lawsuit filed earlier this year that we reported on here.
In that lawsuit, the main allegation was that Musk was told by his own employees that the Model 3 couldn't be mass produced by the end of 2017, which was the company's stated goal:
Then, after claiming in May 2017 that the company was "on track" to meet its mass production goal, it's alleged the company hadn't even finished building its production lines, clearly meaning it wasn't "on track". The lawsuit alleges that Musk knew the line was "way behind":
The suit alleges that the company was building Model 3's by hand at a "pilot shop" at the same time Tesla claimed to be on track for "mass production"; it also claims that it was "evident to anyone who visited the facility" - including Elon Musk - that the line wasn't built and that "construction workers were spending most of their shifts sitting around with nothing to do":
We also read in the lawsuit that Tesla's Gigafactory, at the time in question, was allegedly capable of producing only one battery pack per day - and that the production of one battery pack took "two shifts" to complete.
The suit alleges that the company's former CFO, Jason Wheeler - who is one of more than 50 key executives and VPs to have left the company over the last half decade or so - told Elon Musk personally that they wouldn't be able to mass produce by the end of 2017. The entire lawsuit is available at this link.