Update (9:15 am ET): In a tweet sent Wednesday morning, President Trump pushed back against media reports about the protests that greeted his trip to Pittsburgh. Despite the negative press, Trump insisted that "Melania and I were treated very nicely yesterday" and that the "small protest was not seen by us, staged far away." Included with the tweet was a video montage of moments from his trip.
Melania and I were treated very nicely yesterday in Pittsburgh. The Office of the President was shown great respect on a very sad & solemn day. We were treated so warmly. Small protest was not seen by us, staged far away. The Fake News stories were just the opposite-Disgraceful! pic.twitter.com/9B9HgCF1G9

— Donald J. Trump (@realDonaldTrump) October 31, 2018
* * *
The crime scene inside the Tree of Life congregation had not yet been cleared when President Trump, First Lady Melania Trump and several administration figures arrived in Pittsburgh late on Tuesday to pay their respects after the deadliest attack on Jews in American history. At the same time, crowds of people both young and old gathered to shout and protest the president, letting him know that he was not welcome in their city.
Even Pittsburgh Mayor Bill Peduto opposed the president's visit, suggesting that Trump was being insensitive by visiting the city so soon after a massacre that some on the left have insisted is somehow the president's fault (though the shooter published posts on social media network Gab denouncing Trump and his agenda, insisting that the president was secretly a "globalist" who was "controlled by Jews.") Ahead of the visit, several Pittsburgh rabbis warned Trump that he was "not welcome" in the city.
Not everyone in Pittsburgh was so opposed to Trump's presence. After arriving at the building where the Tree of Life congregation is housed, Trump and Melania Trump were greeted by Rabbi Jeffrey Myers. Myers took them inside the building, where they lit ritual yahrzeit candles to honor the memories of the victims. After spending roughly 20 minutes inside, the Trumps emerged and walked to a memorial outside, where the first lady placed a flower and the president placed a small stone on a marker for each of the dead, per Reuters.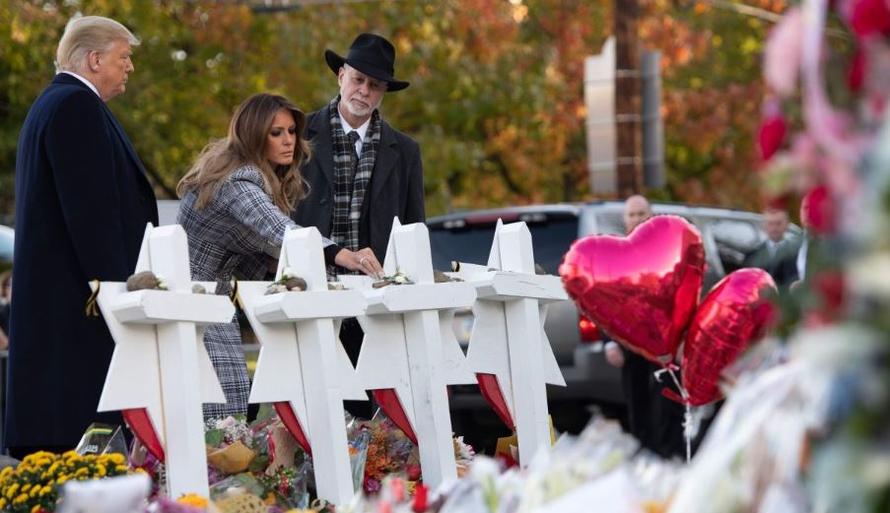 The two left in the presidential motorcade about 30 minutes after arriving.
Trump made no public remarks during his three hour stop in Pittsburgh, as "he wanted today to be about showing respect for the families and the friends of the victims as well as for Jewish Americans," according to White House Press Secretary Sarah Huckabee Sanders.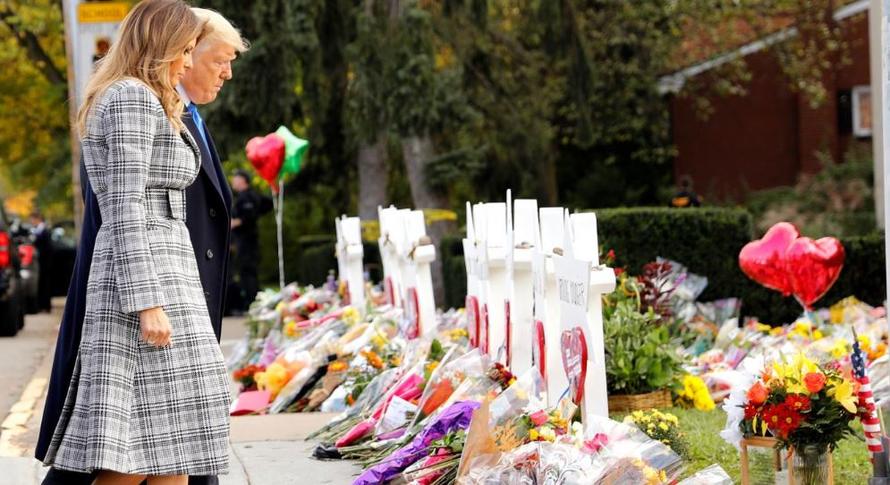 During his time in Pittsburgh, Trump also visited the hospital where three police officers, wounded in a gunfight with the shooting suspect, were being treated. Trump also visited with the wife of one of Richard Gottfried, one of the victims in Saturday's attack. "She said she wanted to meet the president to let him know that they wanted him there," Sanders said.
.@realDonaldTrump and @FLOTUS with Rabbi Jeffrey Myers, lay a stone and flower for each of the 11 victims at the memorial outside the Tree of Life synagogue in Pittsburgh, PA. pic.twitter.com/bIyZO8Zslb

— Sarah Sanders (@PressSec) October 30, 2018
Throughout his visit, the Trumps were joined by Ivanka Trump and Jared Kushner. Trump's daughter famously converted to judaism before marrying Kushner. They were also joined by Treasury Secretary Steven Mnuchin, who is also Jewish. While CNN said Ivanka Trump and other members of the entourage became emotional at times, Trump reportedly remained stoic.
Meanwhile, thousands of protesters gathered in Squirrel Hill bearing signs with slogans like "we build bridges not walls" as well as "imagery evoking the neighborhood's most famous resident, the late Fred Rogers". Other popular slogans included "Hate is not welcome here."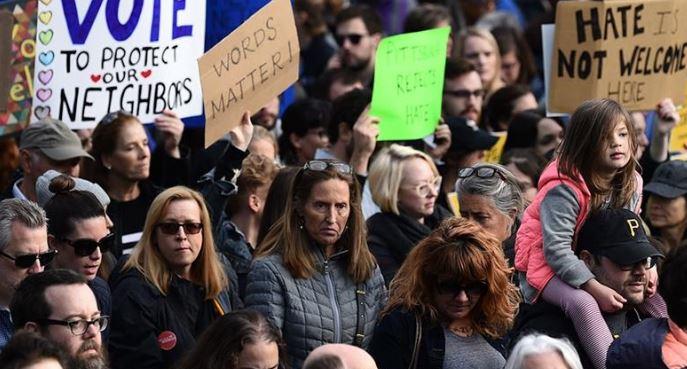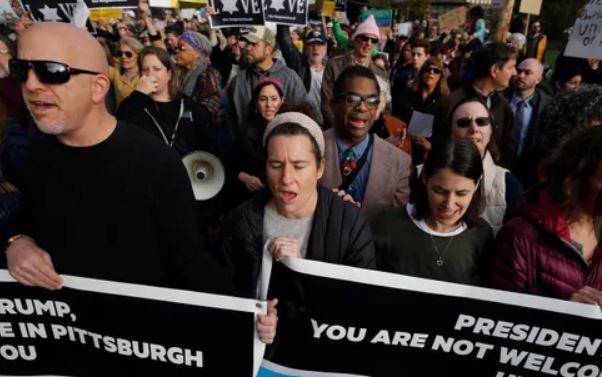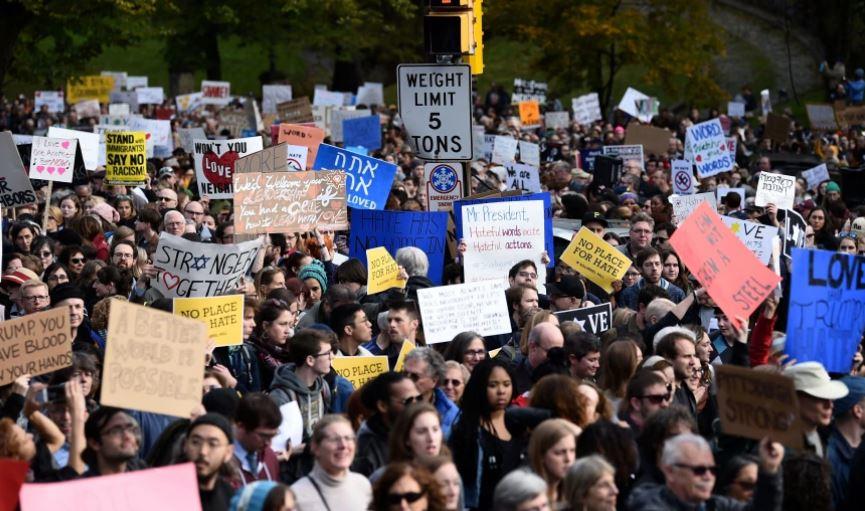 Funerals for three of the victims were held on Tuesday, and were attended by hundreds of mourners, according to NPR.
A large crowd of Jewish and non-Jewish mourners gathered Tuesday under a vaulted white ceiling, tall chandeliers and stained glass windows inside Pittsburgh's Rodef Shalom to honor Cecil and David Rosenthal. At 59 and 54, the brothers were two of the youngest victims and are among the first of the 11 victims of the shooting at Tree of Life synagogue to be laid to rest.

The brothers' wooden coffins sat head-to-head at the front of the temple as family remembered them as social, thoughtful men who were deeply involved in their congregation.

[...]

For many in Pittsburgh's Jewish community, Tuesday's funeral services start the formal period of mourning the victims — a process carefully guided by Jewish tradition. A separate service was held Tuesday for Dr. Jerry Rabinowitz, 66, a physician who also was killed on Saturday. Services for the rest of the victims will be held in coming days.
For his part, Trump said he insisted on visiting Pittsburgh because he said on Saturday that he would - and he wanted to keep the promise he made to the victims and their families. Funerals for the other 8 victims will be held on Wednesday and throughout the week.