---
Crude Carnage Continues As Fed Sparks Dollar Pop, Stock Drop
Today's post-FOMC reaction in the Dollar Index was dramatically more than expected as The Fed's tone seemed to hit FX markets with the most hawkish tone - the +0.36% move was well above the biggest reaction since The Fed started hiking rates in Dec 2015...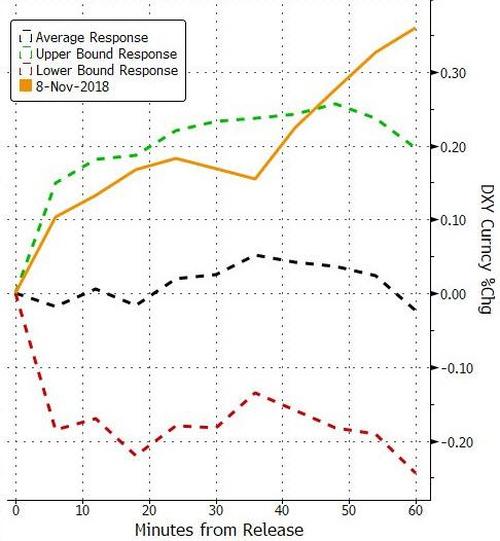 *  *  *
Hawk 'Flawless Victory' today...
For the second day in a row, the afternoon session in China saw notable selling and no rescue...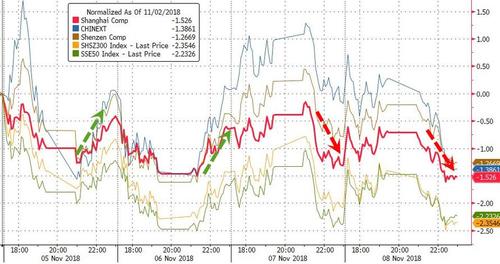 An early pop in Europe faded quickly leaving DAX unchanged on the week... (Spanish stocks are outperforming)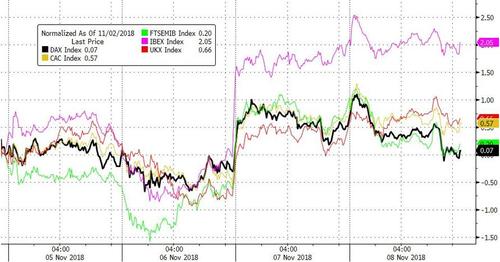 US Stocks, Gold, and bonds ended lower (in price) post-Fed, USD higher...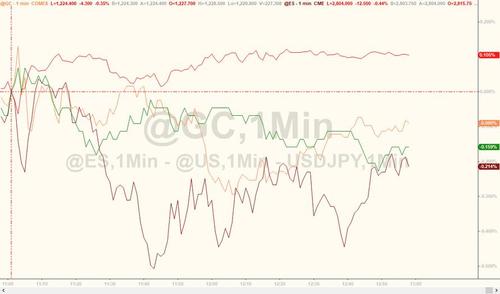 Stocks were all lower post-Fed, even with the panic-bid into the close...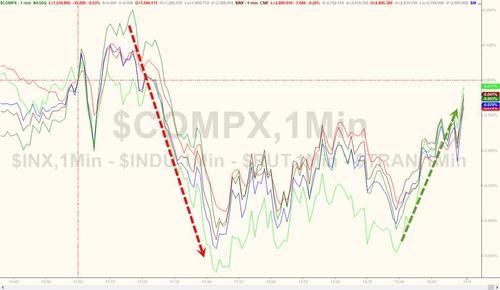 And US equities tried their best to rally after the open but it all fell apart after The Fed's hawkish statement...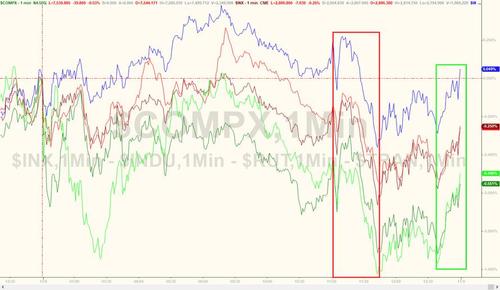 US equity markets bounce stalled at crucial technical levels (S&P 100DMA, Nasdaq 200DMA, Dow 50DMA)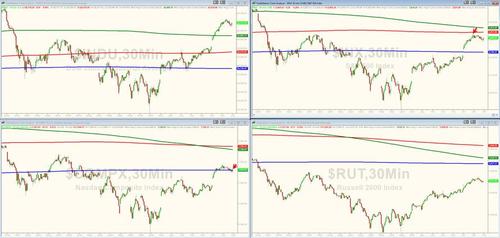 After 5 straight days of short-squeezing higher, "Most Shorted" stocks ended red today...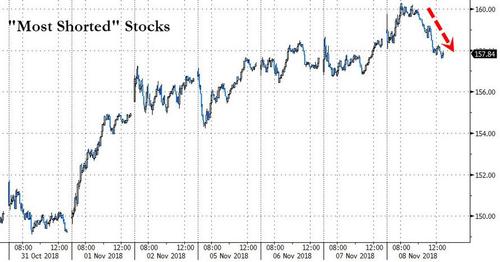 VIX term structure shifted back into inversion today as stocks sank...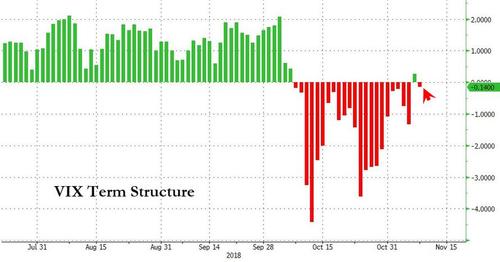 Energy stocks sank today - as you'd expect - finally starting to catch on the to collapse in crude...fun-durr-mentals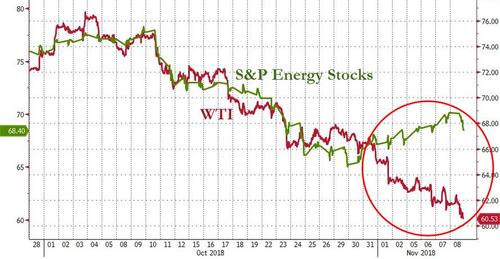 Yesterday's exciting surge in FANG stocks stalled rather notably today...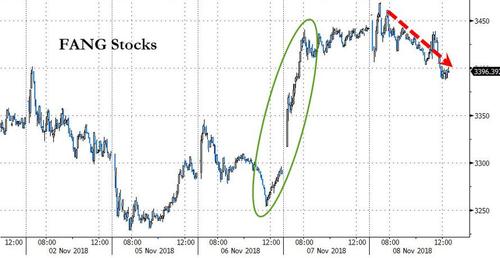 Treasury yields were higher on the day (though the 30Y outperformed, ending unchanged) pushing higher after The Fed...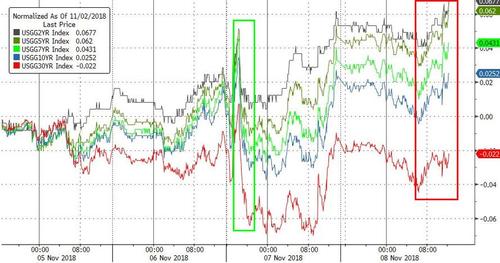 The yield curve flattened notably...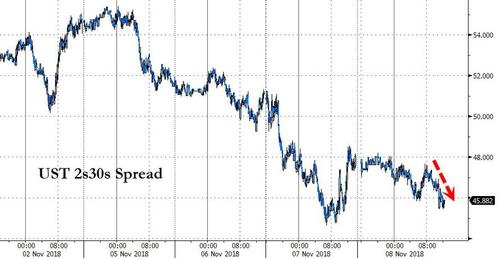 Either bond yields go lower or cyclicals are set to soar...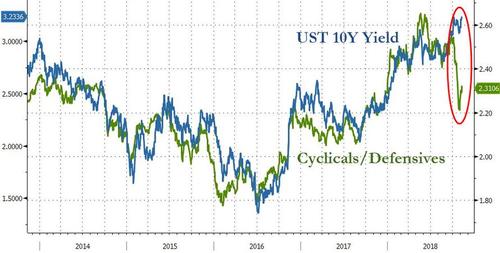 The USD Index was heading higher into the Fed statement and extending its gains notably after...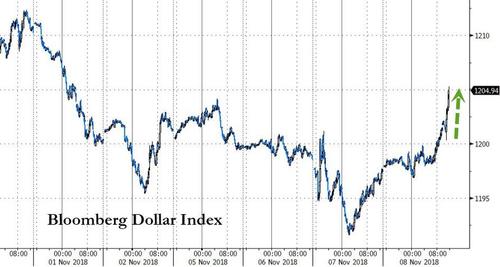 And as the dollar rallied, yuan slumped...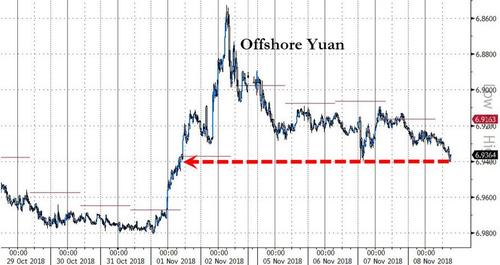 And EM FX plunged...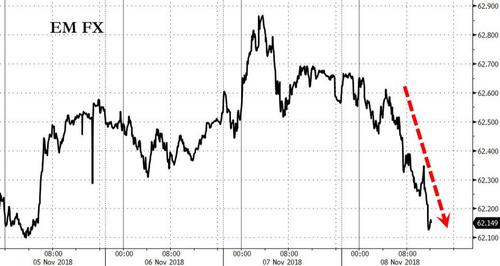 Dollar strength also weighed on cryptos...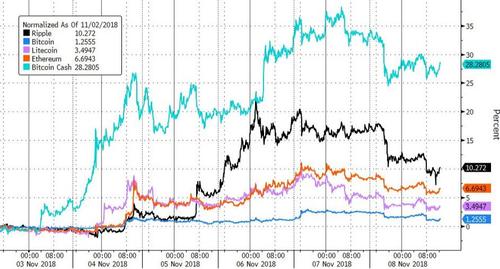 Crude and Copper lead the commodity carnage this week and PMs faded too as the dollar jerked higher...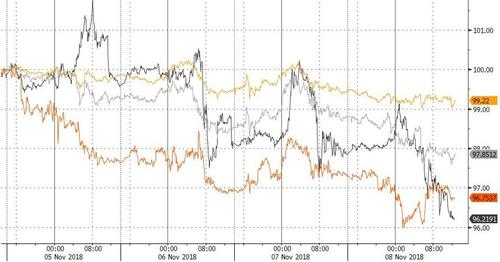 WTI Crude down 9 days in a row into a bear market, down 21.25% from Oct highs to 7-month lows...(a Hawkish Fed and OPEC-break-up chatter did not help)...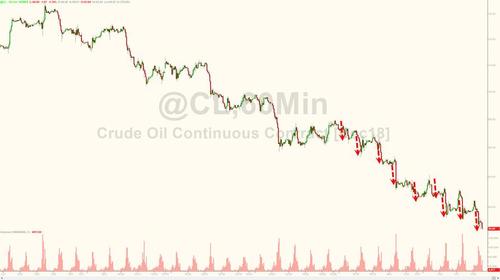 In 33 years of futures contract trading, it has never been down 10 in a row...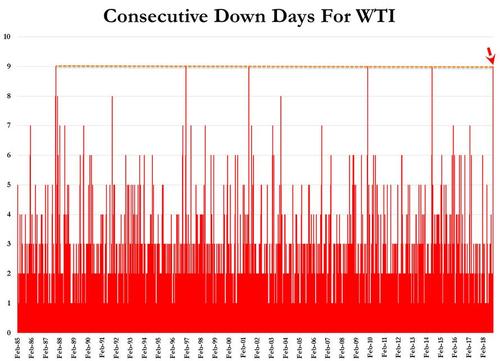 Inflation Breakevens continue to decouple from crude's collapse...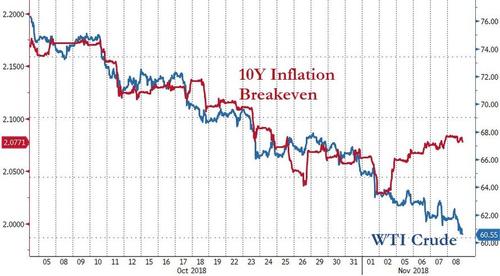 Finally, we leave you with this bigger picture chart...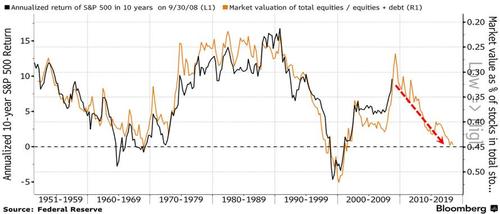 As Bloomberg's Ye Xie notes, as of June, the ratio stood at 45%, the highest since the dot.com bubble at the turn of the century. It suggests that the annual return for the next decade is close to zero (0.7% to be precise, based on the regression). In other words, the stock market would deliver negative returns after adjusting for expected inflation.