Update: Governor Jerry Brown has requested a Major Disaster Declaration from President Trump, while a state of emergency has been declared in Los Angeles, Ventura and Butte counties.
From Brown's request:
"If granted, a Presidential Major Disaster Declaration would make individuals in the impacted counties eligible for a number of programs and support, including crisis counseling, housing and unemployment assistance and legal services. The declaration would also help state, tribal and local governments with ongoing emergency response and recovery, including the repair and replacement of disaster-damaged facilities and infrastructure, including roads, bridges and utilities."
Meawhile, Pepperdine University has closed its Malabu and Calabasas campuses through Thanksgiving. 
After an extensive evaluation, including an assessment of the needs of our community members and ongoing challenges presented by the Woolsey Fire, Malibu and Calabasas class schedules have been modified through the Thanksgiving holiday period. More info: https://t.co/7s7MFJw23t

— Pepperdine University (@pepperdine) November 11, 2018
#WoolseyFire Latest:

-83,275 acres burned
-10% contained
-2 fatalities
-3 firefighters injured
-At least 177 structures destroyed
-Thousand of homes remain under evacuation orders

(KTLA)#CaliforniaFires #California #CampFire pic.twitter.com/Tzx4r5jeoB

— ernesto veles (@erveza) November 11, 2018
From KTLA -- photo of firefighters sleeping in place after 48 hrs nonstop firefighting. Heroes, every one of them. #WoolseyFire pic.twitter.com/P72Ds6Pwwx

— Darin S. Campbell (@DarinSCampbell) November 11, 2018
***
The death toll from California's multiple wildfires has risen to 25, after 14 more bodies were discovered in or near the Northern California town of Paradise, bringing the number of confirmed dead in the so-called Camp Fire to 23. Over 6,700 structures were destroyed just one day after the fire began, while 110 people remain missing according to authorities. 
5 People Found Dead in Cars while Escaping #CampFire in #Paradise #wildfire #californiawildfire pic.twitter.com/ciiOtoxOb7

— rt YSL (@haxdenh) November 11, 2018
"We are doing everything we possibly can to identify those remains and make contact with the next of kin so we can return the remains to the family," said Butte County Sheriff Kory Honea Saturday morning. 
A red flag warning remains in effect in Northern California due to strong winds and dry conditions, while Southern California officials have warned similar gusts expected to kick up on Sunday. 
"We'll get sustained winds of up to 40 mph and gusts between 60 mph and 70 mph," said NWS meteorologist Marc Chenard, adding that he expectes Santa Ana "devil wind" to hit the Los Angeles area.
"It's nothing but bad news," said Chenard.
Two fatalities have been reported in the Southern California Woolsey fire, which has ripped through more than 83,000 acres as of Saturday night, destroying 177 structures, and is just 5% contained. California fire officials estimate full containment by Thursday, while over 3,200 firefighters are on the scene. Approximately 57,000 structures are considered at risk.
A Reuters cameraman recorded himself trapped inside his car as the Malibu area fire rages around him: 
"I'm surrounded by fire": A Reuters cameraman recorded himself trapped inside the wildfires raging through Malibu https://t.co/HYibrgjtwF pic.twitter.com/nxJJZW3ys6

— CBS News (@CBSNews) November 10, 2018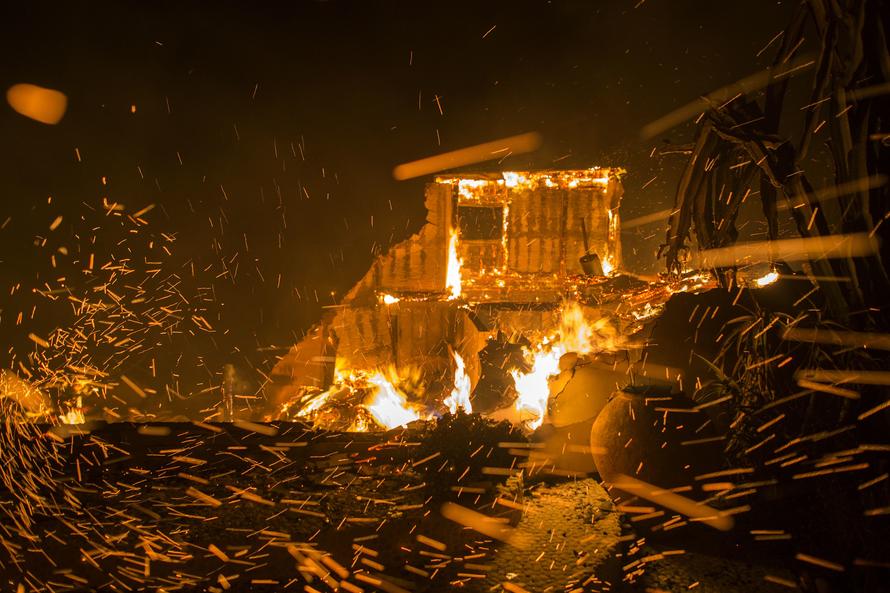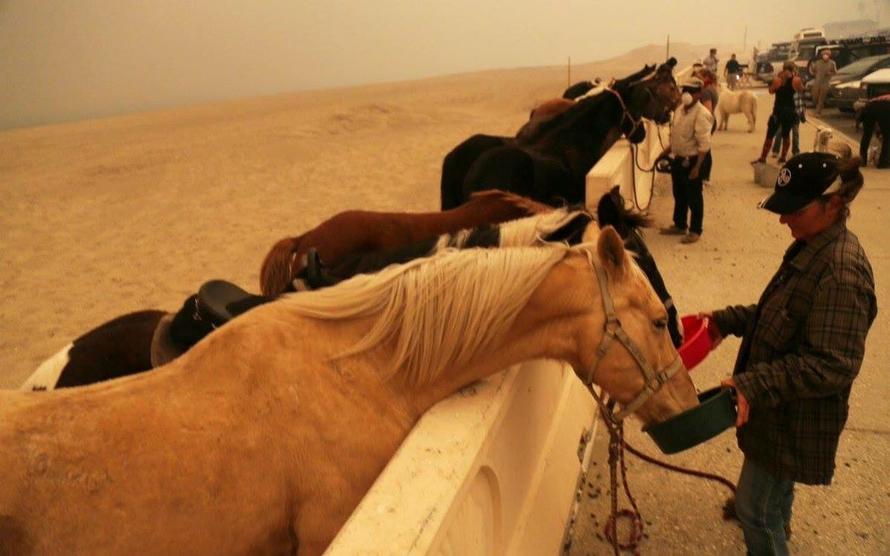 Found: Dog Location: Officer Amato Officer Share & CHP rescued dog at #CampFire currently recovering @ Contact Valley Oak Veterinary on Dr Martin Luther King Jr Parkway Chico CA 530-342-7387 Fluffy possibly white grey possibly from ash. #paradise https://t.co/WQXD1rwocz
#198 pic.twitter.com/xZrYCg1cWM

— katskillz27 (@Katskillz27) November 11, 2018
Air quality 
Los Angeles public health officials have issued an air quality alert for central LA County, west and east San Fernando Valley, and western San Gabriel Valley, as a thick blanket of smoke has enveloped the region. Officials have advised wearing respirator masks with a rating of N95 or higher. 
Here is a high resolution look at model smoke output from the #WoolseyFire The dark red represents the heaviest smoke. #cawx #LAweather pic.twitter.com/bQ7C4SAqOv

— NWS Los Angeles (@NWSLosAngeles) November 11, 2018
Zoom in on the #WoolseyFire and #HillFire California🇺🇸 wildfires🔥using 10 November imagery from MODIS🛰️ and #Sentinel2🛰️ pic.twitter.com/81XIYg7COe

— YouStorm (@YouStormorg) November 11, 2018
And while the high Santa Ana winds that have fueled the SoCal fires died down a bit over the weekend, the National Weather Service predicts a resurgence expected to last until Tuesday. Fire crews face "steep terrain, limited access and extreme fire behavior," according to CalFire. 
Santa Ana winds beginning to affect the L.A. County Mountains. Gusts in the mid 30s. Expect gusts to increase with Santa Ana winds becoming more widespread across the wind prone coast and valleys by 8 am this morning. #cawx #LAweather #WoolseyFire

— NWS Los Angeles (@NWSLosAngeles) November 11, 2018
President Trump has come under fire for remarks over Twitter criticizing California officials for poor forest management, while threatening "no more fed payments!" due to "gross mismanagement. 
Trump later said that if people "don't evacuate quickly, they risk being over taken by the fire," adding that residents should "Please listen to evacuation orders from State and local officials!"
On Sunday the President resumed his criticism of California forestry policy, tweeting: "With proper Forest Management, we can stop the devastation constantly going on in California. Get Smart!" 
With proper Forest Management, we can stop the devastation constantly going on in California. Get Smart!

— Donald J. Trump (@realDonaldTrump) November 11, 2018