With President Trump already under fire as he attended the World War I centenary commemoration events in Paris for skipping a planned visit to Belleau Wood battlefield and cemetery due to heavy rain, French President Emmanuel Macron used the ceremony's culmination on Sunday to issue a firm condemnation of nationalism. Amidst a steady drizzle and just feet from world leaders including Presidents Trump and Vladimir Putin, Macron emphasized a theme which he said led to the irreversible build-up of tensions that caused the outbreak of WWI. Macron said: 
"Patriotism is the exact opposite of nationalism, nationalism is a betrayal of patriotism."
During Sunday's events Trump and Putin are reported to have had brief face-to-face discussions after the French previously requested that no formal sideline summit take place, Reuters confirms.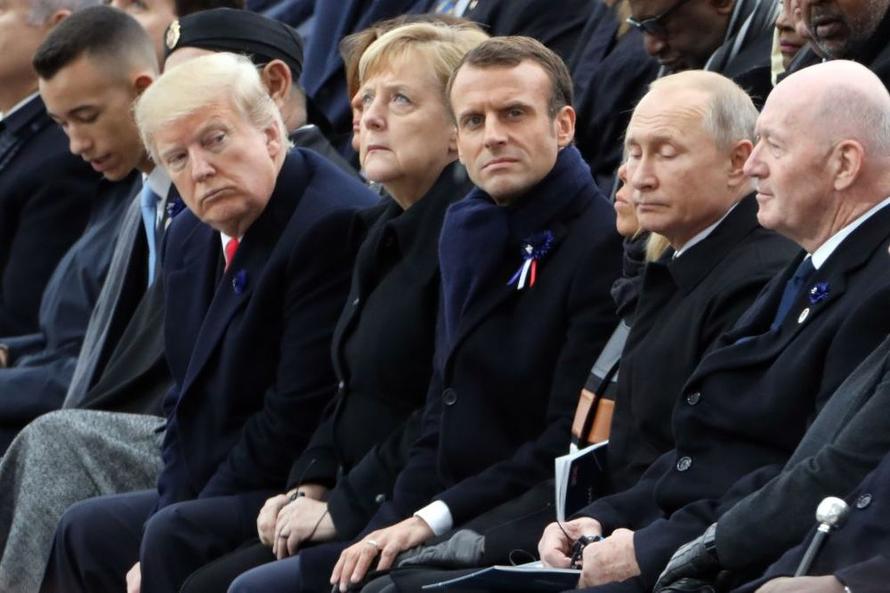 The French president followed this with: "In saying 'our interests first and who care about the others,' we erase what a nation has that's most precious, what makes it live, what is most important: its moral values," according to Bloomberg. Macron called for the strengthening of international institutions like the EU and U.N. and in comments simultaneously widely interpreted as "a rebuke to present-day leaders such as Trump who shun the international order in favor of nationalist policies."
"Let's add up our hopes and not our fears," Macron said. "Let's reject the fascination for turning in on ourselves, violence, and domination." Included among his examples were poverty, hunger, inequality, climate change, as well as general "ignorance" about global challenges. 
Throughout the weekend events pundits remarked on what they perceived as Trump's "isolation" in contrast to Chancellor Angela Merkel frequently at Macron's side. Just prior to landing in Paris Trump had blasted Macron on Twitter for his "very insulting" comments surrounding the idea of a "European Army" that would be independent of US influence and policy. Trump echoed during an amicable meeting with Macron at the start of the weekend's events: "We want a strong Europe, it's very important to us, and whichever way we can do it the best and more efficient would be something we both want," said Trump. "We want to help Europe but it has to be fair. Right now the burden sharing has been largely on the United States."
Beautiful ceremony today in Paris commemorating the end of World War One. Many World leaders in attendance. Thank you to @EmmanuelMacron, President of France! Now off to Suresnes American Cemetery to make speech in honor of our great heroes! Then back to the U.S.A.

— Donald J. Trump (@realDonaldTrump) November 11, 2018
During Sunday's ceremony Macron sat with Merkel on his immediate right, and Trump sat just beyond the German Chancellor, while Putin was seated to Macron and the French first lady's left. 
Among the uncertain possibilities of the weekend's commemoration events was whether or not Trump and Putin would meet. Russian officials had revealed that the French requested that no separate Trump-Putin meeting take place on Sunday as it would serve as a distraction. 
Following the Arc de Triomphe event Putin confirmed to RT News that "We agreed that we wouldn't break the schedule of the host country and at their request we're not organizing any meetings here," and added, "But possibly we will at the G-20 or later. We're open to dialog."
#Paris: Vladimir Putin attended a working lunch at Elysee Palace hosted by French President Emmanuel Macron for heads of delegations pic.twitter.com/kaPLZQyjEH

— President of Russia (@KremlinRussia_E) November 11, 2018
However, the two appear to have had some level of informal dialogue as both Russian state media and Turkey's TRT World reported: "Putin says he managed to talk to US President Donald Trump in Paris on Sunday and that his conversation with the American president was good." 
Per RT News:
A last-minute seating change did not prevent Vladimir Putin and Donald Trump from exchanging words at the Elysee Palace lunch, the Russian president told reporters. The French hosts earlier objected to their meeting in Paris.

When asked by Russian news agencies if he had a chance to talk to Trump, Putin responded "Yes," adding that the chat was "good."

This is despite Putin's spokesman saying earlier that the presidents didn't have time to talk at the table and then said their goodbyes when leaving the Elysee Palace lunch, the final gathering event for the world leaders who arrived to mark the WWI commemoration in Paris.
Putin's spokesperson had told reporters previously that Putin and Trump didn't have time to talk at the table, but Putin later contradicted this with his comments. Apparently the interaction was made possible through the unexpected seating change. 
Meanwhile on a less serious note the only brief disruption or disturbance to the solemn commemoration events in Paris came in the form of a bare-breasted FEMEN protester who climbed over barricades to try to run in front of Trump's motorcade. 
topless protestor runs toward the Trump motorcade on the Champs Elysees (AP Photo/Jacquelyn Martin) pic.twitter.com/RPVkj0nWAS

— Sam Ro (@bySamRo) November 11, 2018
She was promptly tacked by police while Trump's vehicle made its way along the Champs Elysees in Paris.
Concerning Trump and Putin and the possibility of future talks, perhaps the positive interaction from this weekend will indeed pave the way for a formal meeting at the G-20 summit in Buenos Aires, Argentina which will open November 30.