update2:
Footage has emerged of the Israeli bus struck by a missile from Gaza.
#BREAKING The moment when #Israel army's bus was hit by a #Kornet missile from #Gaza pic.twitter.com/V0CbKYRPY4

— Guy Elster (@guyelster) November 12, 2018
update: Hours after an Israeli bus was struck by Hamas mortar fire from Gaza, resulting in injuries, which was accompanied by a sustained exchange of fire involving 100 rockets and Iron Dome defense response fire, Israeli jets have bombed the studios of Hamas's television station in the Gaza Strip.
According to Reuters the huge airstrike was preceded by "warning" phone calls non-exploding missile "taps" from the Israeli military for locals to evacuate the the building housing Al-Aqsa Television — the official broadcast station operated by Hamas. News of casualties was not immediately forthcoming, but the strike produced a massive fireball captured through local video and eyewitness reports.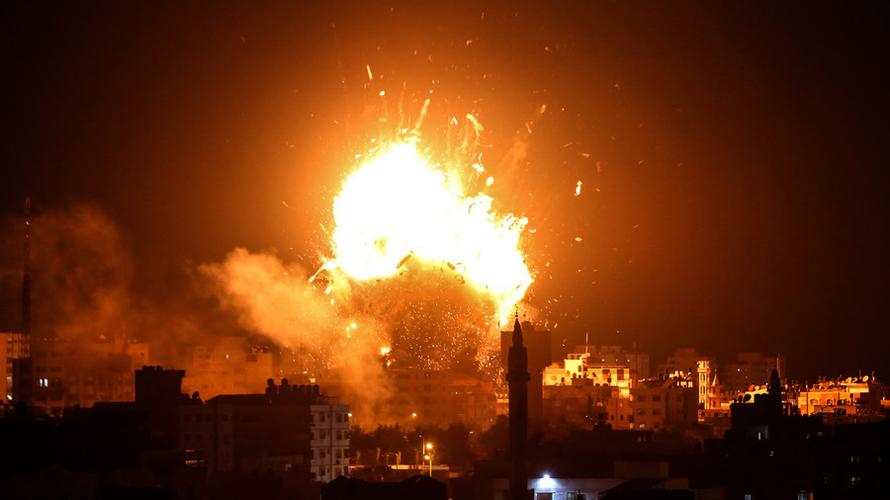 Unconfirmed local reports cited at least 8 missiles scoring a direct hit on the Hamas broadcast headquarters. 
طيران الاحتلال الحربي يقصف ويدمر مقر فضائية الاقصى بغزة. pic.twitter.com/VSnUpYUb2s

— شجاعية (@shejae3a) November 12, 2018
Al-Aqsa TV announced it would resume broadcasts soon. Though the death toll could grow, 3 Palestinians have been reported killed by Gazan officials as a result of Monday's airstrikes in what could be the beginning of escalation to major war.
Aftermath of the strike on Al-Aqsa TV, which is named after the Jerusalem mosque over temple mount:
مبنى فضائية الاقصى بعد تدميره بقصف الاحتلال. pic.twitter.com/aMFqbo27J3

— شجاعية (@shejae3a) November 12, 2018
* * *
previously
There's been a huge uptick in rocket fire out of Gaza on Monday following a dramatic Israeli special forces raid 3km into Gaza territory on Sunday to assassinate a top Hamas commander. And now an Israeli bus has been hit by Hamas fire out of the strip.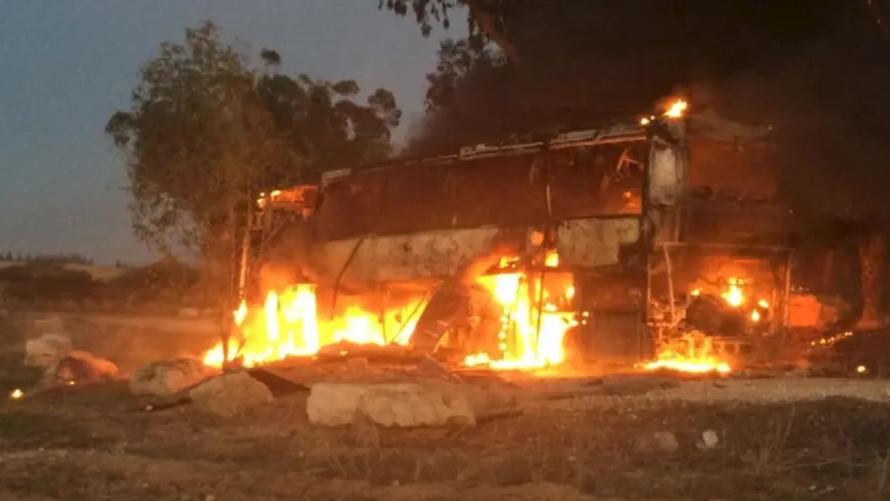 The escalation in violence began when earlier in the day Monday thousands of mourners in the Gaza Strip buried seven militants killed during the Israeli commando raid and accompanying aircraft cover fire that resulted in strikes on the strip, which further led to sporadic rocket fire from Hamas.
One Israeli soldier was reported killed during the high risk operation which reportedly involved the commandos entering Gaza by civilian car in order to take out a gathering of Hamas military leaders. 
During the Gaza funeral the crowd chanted "revenge" amidst masked gunmen in camouflage. 
A huge barrage of rocket and mortar fire was unleashed Monday after the burial of Hamas commanders killed by an Israeli special forces raid:
#BREAKING: 100 rockets & morters launched from Gaza towards Israel in less then 40 minutes (video: Eliran Hajbi) pic.twitter.com/cJJH2vndM5

— Amichai Stein (@AmichaiStein1) November 12, 2018
Apparently that "revenge" came in the form of a mortar shell fired from Gaza which scored a direct hit on a bus in southern Israel, severely wounding a 19-year-old Israeli. According to multiple regional reports this was followed by a barrage of over 100 rockets fired from Gaza toward Israel within only an hour's time. Israeli sources have reported multiple injuries and extensive damage from the rockets, many of which may have been intercepted by the Iron Dome missile defense system.
BREAKING | A fire can be seen in Sderot settlement, southern Occupied Palestine, only minutes after Palestinian resistance groups fired more than 100 rockets at settlements surrounding the Gaza Strip. pic.twitter.com/v1ySYJ6758

— Quds News Network (@QudsNen) November 12, 2018
Breaking video footage shows the Iron Dome intercepting a hail or rockets and mortar fire raining down on sourthern Israeli communities including in Be'er Sheva, Ashkelon and Sderot, where injuries have been reported. 
The fresh wave of fighting will now only intensify as Israel is mounting a major response to the attack on the passenger bus.
#BREAKING #Hamas warns Israel that it would widen the range of its rockets if it would attack in #Gaza in response to the heavy barrages pic.twitter.com/s0ciZemujr

— Guy Elster (@guyelster) November 12, 2018
Two Palestinians were reported killed during Israeli retaliatory attacks, however, that death toll is likely to rise as the fighting intensifies.
Israel and Gaza on verge of war? Over 100 rockets fired at Israel; Two Palestinians reported killed by Israeli air strikeshttps://t.co/PZsZDohx7M pic.twitter.com/HKA5qetHTK

— Haaretz.com (@haaretzcom) November 12, 2018
Israeli media is currently reporting that its citizens in the southern part of the country are being asked to remain in bomb shelters through the night amid expectations that a major war is coming. 
developing...