Northern California's Camp Fire burning near Chico is not only the state's most destructive, it is also California's deadliest in state history. A total of 42 people have died in the blaze - one of two major wildfires burning throughout California with a combined death toll of 44. 
The Camp Fire's death toll has grown in staggering leaps. The first notice came on Thursday, when investigators found the remains of five people in Paradise who were apparently trapped in their cars by the blaze. Four more were found on Friday, and 20 more over the weekend. -NPR
Creepy sight in Paradise: cars abandoned in the middle of the road by residents who decided instead to make a run for it during the #CampFire. Death toll stands at 42. @nbcbayarea pic.twitter.com/gsc53PEXTo

— Bob Redell (@BobNBC) November 13, 2018
The Camp Fire in Butte County about 80 miles north of Sacramento grew to 125,000 acres overnight, up from 117,000, and has destroyed over 6,500 structures. It is just 30% contained.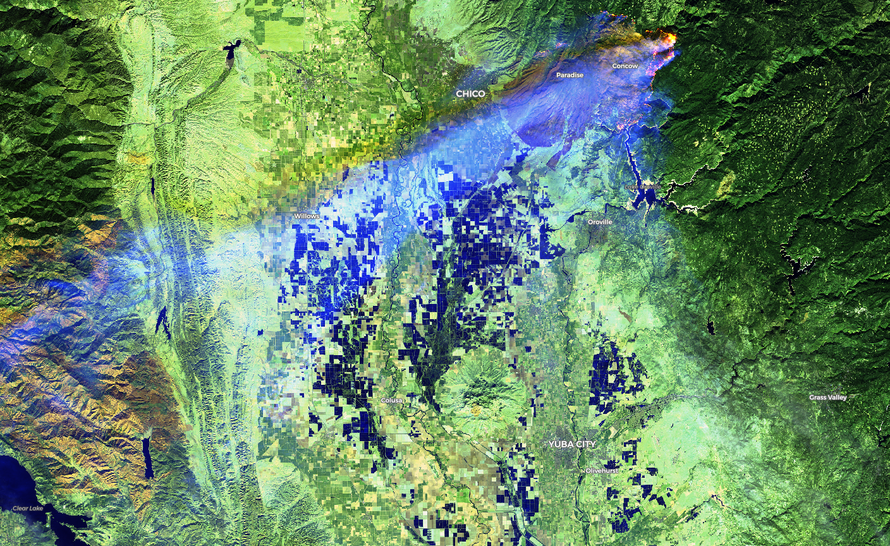 The #CampFire now ranked as #1 most destructive fire in the entire state of California. It has burned 111,000 acres in Northern California. At 25% containment and with winds dropping today, hopefully that percentage can go up! pic.twitter.com/zjhj7W7zc3

— Liana Brackett (@LianaBrackett) November 12, 2018
Wildfire smoke from the #CampFire will continue to impact #NorCal. Here's the latest smoke forecast for today through early Wednesday. #cawx pic.twitter.com/K8LTyOmv11

— NWS Sacramento (@NWSSacramento) November 13, 2018
"This is an unprecedented event," said Butte County Sheriff Kory Honea on Monday night. "If you've been up there, you also know the magnitude of the scene we're dealing with. I want to recover as many remains as we possibly can, as soon as we can. Because I know the toll it takes on loved ones." 
LIVE: Officials give latest updates on #CampFire in Northern California. https://t.co/LUaepGpthy https://t.co/FwzHFS5Hy2

— NBC News (@NBCNews) November 13, 2018
President Trump has approved an expedited disaster declaration request for the California fires, stating in a tweet that he wanted "to respond quickly in order to alleviate some of the incredible suffering going on," adding "I am with you all the way. God Bless all of the victims and families affected."
I just approved an expedited request for a Major Disaster Declaration for the State of California. Wanted to respond quickly in order to alleviate some of the incredible suffering going on. I am with you all the way. God Bless all of the victims and families affected.

— Donald J. Trump (@realDonaldTrump) November 13, 2018
The Camp Fire started last Thursday morning, storming through Paradise CA and leaving utter devastation in its wake.  
"Last night firefighters continued to hold established containment lines," CalFire said in a Tuesday update, adding that firefighters had "worked aggressively" to safeguard structures in harms way. That said, dry conditions and steep terrain are expected to continue to pose a challenge. 
More than 50,000 people have fled the Camp blaze, according to member station KQED. And even at a distance, the fire is posing health concerns: "Air quality throughout the Bay Area remains in the 'unhealthy' zone, according to federal measurements," KQED reports, adding that the conditions should persist through Friday. -NPR
Meanwhile, the Woolsey Fire in the Southern California Malibu region has destroyed over 95,000 acres, destroyed 435 structures and claimed 2 lives. It is 35% contained.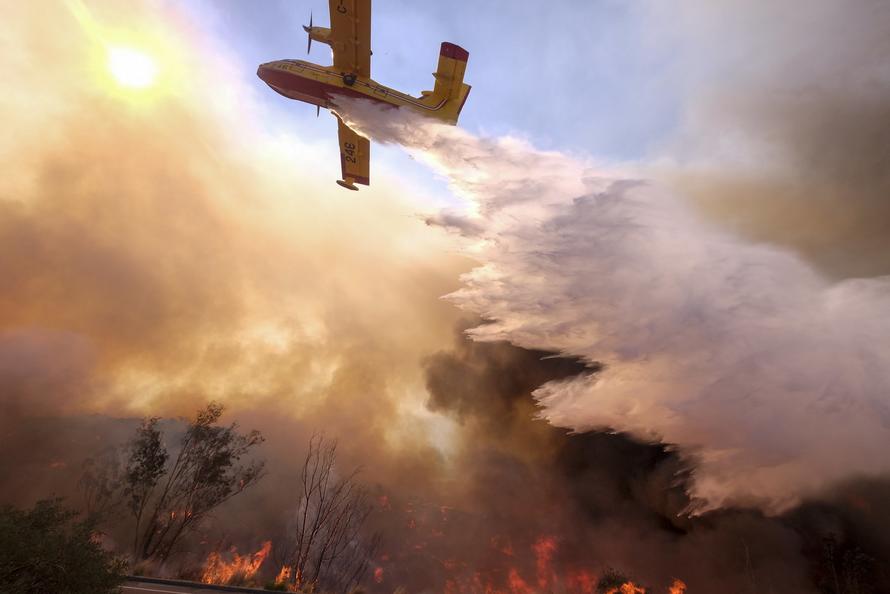 Check this out! We stopped to watch the Super Scoopers filling back up via the Pacific Ocean before they head back to fight the #WoolseyFire in Malibu Canyon. @FOXLA pic.twitter.com/AUarGX0XQi

— Bill Melugin (@BillFOXLA) November 13, 2018
"We've got 60 to 70 mph offshore Santa Ana winds blowing for the next several days and those are just deadly," said CalFire Chief Ken Pimlott to NPR.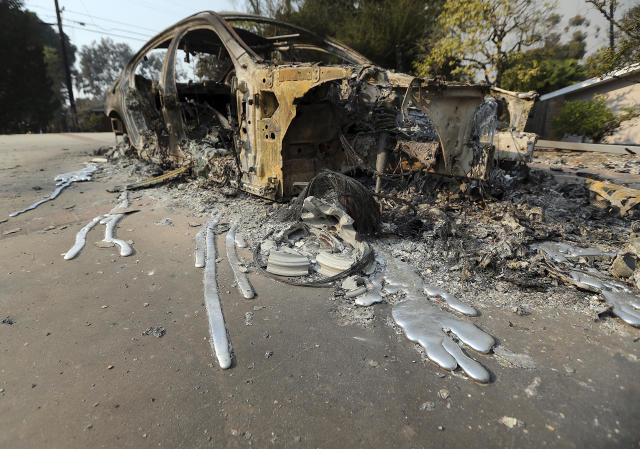 Cal Fire says their main priority is making sure this hot spot in Malibu Canyon doesn't cross into Topanga Canyon. Said with these winds, any ember has 90-100% chance of igniting brush. Says danger is extreme, this is why evacs aren't lifted. #WoolseyFire @FOXLA pic.twitter.com/trVC9Y4JYh

— Bill Melugin (@BillFOXLA) November 13, 2018
The cause of the fires remain unknown, however two electric utility companies reported service issues just minutes before the two blazes began. 
Dan Sauvageau and his friends have been rescuing animals in Paradise, California, a town almost entirely destroyed by the #CampFire. https://t.co/b9ewIakCBN pic.twitter.com/NoWN2J2ZLe

— NBC Los Angeles (@NBCLA) November 13, 2018