Two days after French president Emanuel Macron snubbed President Trump, slamming nationalism as the antithesis of patriotism during a closely watched speech with Trump sitting just a few feet away, and which prompted a flurry of provocative and taunting tweets by the US president demanding that Europe pay for its own defense (or else Paris would now be speaking German), Germany's Angela Merkel set out her own vision of a more assertive European Union, one which aligned with that of Macron and included a European army.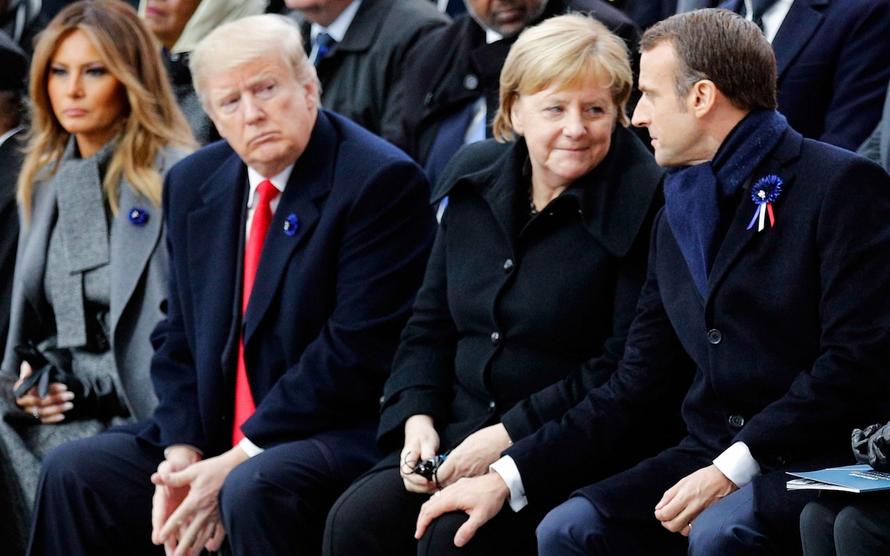 After spending the weekend commemorating the end of World War I in Paris alongside more than 60 global leaders and witnessed first hand the tensions between Trump and France's Emmanuel Macron, the normally understated chancellor took an uncharacteristically bold stance as she addressed EU lawmakers in Strasbourg.
In Paris, Merkel defended her world view against the U.S. president's barbs as he sparred with Macron. And, as Bloomberg reports, she went a step further in the EU parliament on Tuesday, telling deputies they need to adapt to a world in which Europe's traditional allies may no longer guarantee the continent's security.
"We should also work on the vision of one day creating a genuine European army," Merkel said. "The times in which we could unconditionally rely on others are over."
While most europhile lawmakers applauded, the comments drew loud jeers from euroskeptic lawmakers at the margins of the chamber.
Meanwhile, as reported earlier, on Tuesday Trump unleashed another torrent of tweets, grousing about the perceived slights from his weekend in Paris. At 6:50 a.m. in Washington, he tweeted another attack on the French leader, mocking the idea of a European army and implying that the French had needed the U.S. to rescue them from the Germans in both world wars.
Emmanuel Macron suggests building its own army to protect Europe against the U.S., China and Russia. But it was Germany in World Wars One & Two - How did that work out for France? They were starting to learn German in Paris before the U.S. came along. Pay for NATO or not!

— Donald J. Trump (@realDonaldTrump) November 13, 2018
Trump wasn't done and over the next few hours, the president sent out a series of further jibes, accusing Macron of stirring up controversy to distract from his poor approval rating, complained about French tariffs on U.S. wine and offered an explanation for pulling out of a visit to a military cemetery due to bad weather.
In response, a senior aide to the French president said he was glad that Trump had taken the time to study some history. Former Belgium Prime Minister Guy Verhofstadt gave Trump another history lesson on his own Twitter account.
What Trump doesn't seem to realize is that without French money, the USA would not even exist as France financed the American revolution. They even gave you the Statue of Liberty to celebrate this! 😉 https://t.co/v9rS4GuTYH

— Guy Verhofstadt (@guyverhofstadt) November 13, 2018
According to Bloomberg, the French official said he thought the tweets were aimed at Trump's domestic audience, noting that the two leaders speak several times a week and their relationship is fluid, even if it isn't always easy.
As for Merkel, the German Chancellor - well aware of the optics of German pushing for an army in light of what happened 100 years ago - insisted that the EU military wouldn't be directed against NATO allies, but would be "a positive extension of NATO." 
The German leader has been urging her European colleagues to build new structures that will enable them to stand up for themselves since last year, when Trump castigated NATO leaders in Brussels and withdrew from the Paris climate accord.
Not everyone is on board: the U.K. government, which is negotiating its exit from the EU, won't support the idea of an EU army, a spokeswoman said.