A recent Long Island City property seller had trouble finding a buyer... until Amazon announced that it was coming to the Queens neighborhood. At that point, she promptly refused to sign a contract with the buyer and is now holding out for a higher bid on the property. This is a microcosm of what happens across real estate markets anytime Amazon moves in next door, according to a fascinating new Bloomberg report.
When Amazon announced the location of its two new "HQ2" headquarters – one in Long Island City, New York and the other in Crystal City, Virginia – the housing markets in both areas lit up overnight, and it was immediately clear that resident, investors and speculators in these areas had just hit the "Amazon lottery".
The online retailer announced that it would be bringing about 25,000 new employees to Crystal City and Long Island City. As we had documented, these communities had already seen their fair share of real estate speculators, getting in early and betting that these locations would wind up being home to Amazon. Amazon helped bolster home prices almost 80% over the last six years in Seattle, location of the company's original headquarters. People, of course, noticed this and applied it as a way to make a buck.
Margaret O'Mara, a professor at the University of Washington in Seattle, suggested that upon building these two new properties, Amazon should now focus on preventing the loss of affordable housing and the rise in homelessness that came with the explosion of growth created in places like Washington. She claims that Amazon has an opportunity to set an example for how major corporations can expand into local communities and work on social challenges along side of helping create economic growth.
"Amazon has an opportunity to set a new example for how companies, and particularly tech companies, can not only engage locally and be good neighbors," she told Bloomberg. 
Places like Long Island City have already experienced solid real estate growth as younger generations are trying to find affordable housing near public transportation. Amazon has stated that it is committed to preserving affordable housing, but its effect of accelerating home prices to the point of unaffordability going forward is both inevitable and unavoidable.
Nina Janopaul, chief executive officer of the Arlington Partnership for Affordable Housing told Bloomberg: "We were already on a wave of gentrification. The younger generation is drawn to those transit-rich locations, which is great. It's wonderful that they're giving up the love affair with the automobile. But this is hard for people for whom it's not a choice but a necessity."
Grant Long, senior economist with StreetEasy, told Bloomberg: "Queens has been a really popular place for its relative affordability and I think we're going to see that relative affordability start to erode. The big thing to watch is what happens to the surrounding areas: Astoria, Sunnyside, East Elmhurst, Jackson Heights are all going to emerge as really attractive places in a way they weren't two weeks ago."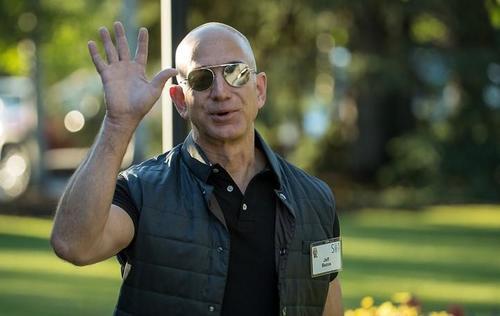 To be sure, even before Amazon's announcement, Long Island City was already working on problems that come with quick population growth, such as parking complaints and complaints about blocked bike lanes.
The situation is similar in Virginia. Real estate broker Sue Rasoul was awakened by a slew of phone calls about a two bedroom condo that had been listed in Crystal City for $505,000 on the morning that Amazon announced that it was coming to town. The property was already under contract, but it had spent months on the market with little interest prior.
She told Bloomberg: "Over the last week I've received 50 inquiries on that one property -- we hadn't received 50 inquiries over the previous 100 days. There's a difference in value between the idea that Amazon might come and the fact that it's coming."
Meanwhile, online searches for homes in these two locations has exploded. In the week ended November 11, views of homes for sale in Long Island City were up 1049% from the year prior. Listings in Crystal City were up 217% from the prior year. In Long Island City, open house attendance instantly doubled at two new projects and agents at a local brokerage had to call in reinforcements on a Sunday because they were so busy.
Eric Benaim, CEO of Modern Spaces, which markets new developments in Long Island City said: "I had to excuse myself from from my son's birthday party, because agents were texting and calling me to say they were swamped."
He expects developers to raise prices at condo towers that are already under construction and he's already been fielding phone calls from people seeking employment his brokerage office. He stated that he's going to hire as many as 30 new agents in the coming months.
"We won the real estate broker lotto," he said.
The developers in Long Island City who were developing far ahead of demand also will greatly benefit from the move. Long Island City already has the largest number of apartments under construction in New York City and is ranked number one in newly authorized units. We discussed the building binge in LIC previously when addressing the tax breaks that would be offered to Amazon.
Those who invest in the area and hold their investments for 10 years can defer paying the entire capital gains on their appreciation. Real estate developers seek out these types of high growth areas where they can get the most bang for their tax-adjusted buck. Rules are still being finalized by the federal government about what types of development are allowed to occur in these areas, but both towering residential towers and light commercial offices and retail space are expected to qualify.
The incentives were a little-known provision of the Republican tax overhaul that President Donald Trump signed into law late last year. Since then, they've captured the attention of developers and government officials because they have the potential to make projects in long-neglected areas more enticing. Treasury Secretary Steven Mnuchin has estimated that $100 billion may eventually flow to the roughly 8,700 struggling communities scattered around the country that were selected by state governors and officials in U.S. territories.
This rounds out billions of dollars of investments that Long Island City has seen over the last couple of years, mostly due to its proximity to Manhattan. Just two weeks ago, Mayor Bill de Blasio announced that he would dump another $180 million into the neighborhood's infrastructure, including upgrades to its sewer system and a new school.
Separately, Pennsylvania, which participated in the HQ2 "lottery" hoping Bezos would come to Philadelphia or Pittsburgh, offered $4.6 billion in financial assistance to the company according to the Pittsburgh Post, dwarfing the combined $2.5 billion that Long Island City and Crystal City offered.
But, as always with real estate, it was all about "location, location, location."