If you're one of the millions of people who own a device with Amazon Alexa, the company's spying device helpful personal assistant, whatever you say may be recorded - especially if someone in the house is named Alexis, Alex, or Lexi.
According to Amazon's Alexa terms of use, the company collects and stores most of what you say to Alexa - including the geolocation of the product along with your voice instructions, reports CNBC's Todd Haselton. 
Your messages, communication requests (e.g., "Alexa, call Mom"), and related instructions are "Alexa interactions," as described in the Alexa Terms of Use. Amazon processes and retains your Alexa Interactions and related information in the cloud in order to respond to your requests (e.g., "Send a message to Mom"), to provide additional functionality (e.g., speech to text transcription and vice versa), and to improve our services. -Amazon Terms of Use
Does Alexa record everything? Not according to Amazon, which says that devices such as the Echo only begin "listening" when it hears its wake word, "Alexa." Could Alexa be remotely switched on or hacked to surveil a target? Well - we know they've been hacked to eavesdrop, and we know the government has been using personal cell phones as "roving bugs" for years - so it stands to reason that an Amazon listening device could be used against its owner. 
Alexa, are you spying on me?

Alexa: *coughs* No, of course not.

— Wrong, Brian (@leonidasmoderus) May 25, 2018
Two weeks ago a New Hampshire judge ordered Amazon to turn over two days worth of Amazon Echo recordings in a January, 2017 double murder of two women, for example, in the hopes that it may yield useful evidence in the case. The search warrant, obtained by Tech Crunch, says that there is "probable cause to believe" that the Echo picked up "audio recordings capturing the attack." 
And in other spooky news, in May of this year an Amazon Echo recorded a conversation between a husband and wife, then sent it to one of the husband's phone contacts. Amazon claims that during the conversation someone used a word that sounded like "Alexa," which caused the device to begin recording. 
"Echo woke up due to a word in background conversation sounding like 'Alexa,'" said Amazon in a statement. "Then, the subsequent conversation was heard as a 'send message' request. At which point, Alexa said out loud 'To whom?' At which point, the background conversation was interpreted as a name in the customer's contact list. Alexa then asked out loud, '[contact name], right?' Alexa then interpreted background conversation as 'right'. As unlikely as this string of events is, we are evaluating options to make this case even less likely."
The wife, Danielle, told KIRO7, however that the Echo never requested her permission to send the audio. "At first, my husband was like, 'No, you didn't,'" Danielle told KIRO7. "And he's like, 'You sat there talking about hardwood floors.' And we said, 'Oh gosh, you really did!'"
"Ok Google, ask Alexa if Siri is listening in on my conversations"

Cortana - "if you aren't doing anything wrong there's nothing to worry about"

— StockCats (@StockCats) May 25, 2018
So how to delete what Amazon has recorded?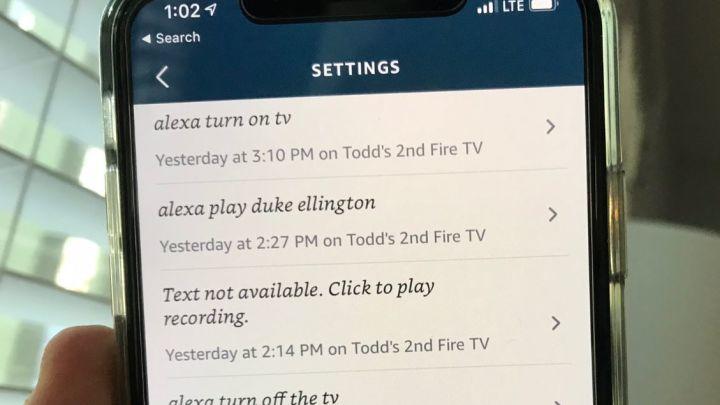 According to CNBC's Haselton, you can delete Alexa conversations maintained on Amazon servers (which we're sure are totally gone forever); 
You can listen to and delete this information through the Amazon Alexa app on your iPhone or Android phone. Here's how:

Open the Alexa app on your phone.
Tap the menu icon on the top-left corner of the app.
Tap "Settings" at the bottom.'
Tap "Alexa Account" at the top of the page.
Select "History."

You'll see a list of all of your interactions with Alexa, just like the picture above. You can tap each one to listen to the recording, or to delete the recording from Amazon's cloud.

Unfortunately, if you use Alexa as frequently as I do, the list of recordings is prohibitively long to actually move through and delete each voice request one by one. So, if you want to delete everything at once, do this:

Visit Amazon's Device page
Select the menu button to the left of the Echo device you'd like to manage. (The menu button looks like three little dots stacked on top of one another.
Tap "Manage Voice Recordings" You'll see a prompt like this:

This lets you delete all of the recordings sent to Amazon by a specific Echo. -CNBC
You may or may not get a visit from a Bezos robot dog if you do this, so proceed at your own risk.