---
"People Have Panicked" - Crypto Collapse Accelerates, Bitcoin Plunges Towards $4,000
Having broken below 6k last week, and 5k yesterday, Bitcoin's collapse is accelerating towards $4,000 as crypto-guru John McAfee wrote on Twitter, summarizing his thoughts: "People have panicked..."
People have panicked. But there's no fucking need. We're in a bear market. They suck, yes, and not like a hooker with no teeth. But I'm 73 and have seen this dozens of times in many markets. Bear markets are like Winter. It's always followed by a glorious Spring. Fucking relax.

— John McAfee (@officialmcafee) November 20, 2018
But it's a sea of red across crypto...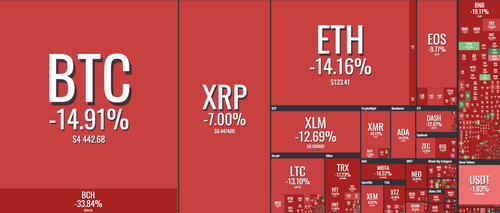 Bitcoin traded to $4221 this morning before a brief bounce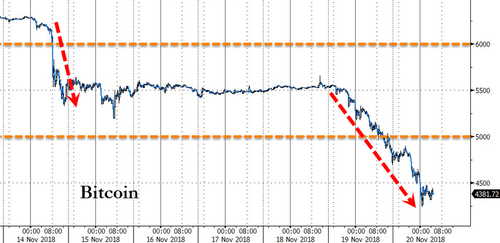 Dropping to the lowest since Oct 2017...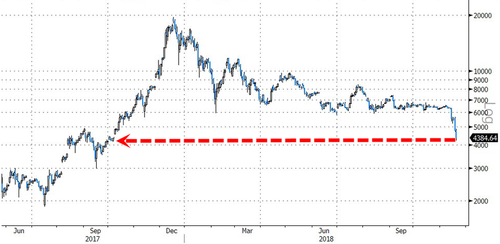 As CoinTelegraph notes, the events mark a continuation of the unsettled conditions sparked Nov. 15 when altcoin Bitcoin Cash (BCH) experienced a contentious hard fork, which has since resulted in the emergence of two separate competing chains.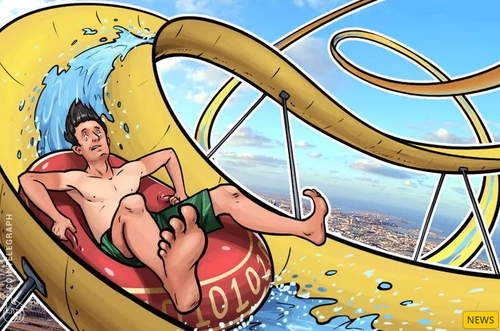 image courtesy of CoinTelegraph
While BCH initially held onto much of its value, the 24 hours to press time saw a U-turn for investors, BCH/USD shedding almost 40 percent to test support at $200.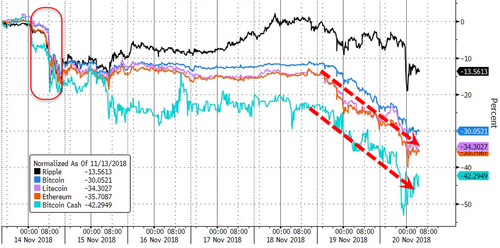 While BCH firmly took the lead as the worst performer of the top twenty cryptoassets, others also suffered heavy losses.
Ethereum (ETH) significantly widened its gap in market cap with Ripple (XRP), cementing its position as now the third-largest cryptocurrency. ETH/USD daily losses were circling 15 percent at press time, compared with XRP/USD's 6.2 percent.
*  *  *
While commentators took a broadly pragmatic approach to the downturn, talk on social media has nonetheless returned to the topic of when BTC in particular will "bottom" in USD terms.
Various sources continue to claim that major support lies around $4,000, while if this is broken, $3,000 should mark a definitive barrier, and FundStrat's Tom Lee told CNBC this morning that he has lowered his forecast for 2018 year-end Bitcoin to $15,000 (though admitted his conviction was low today).