Foreign home buyers have disappeared in South Florida, causing concern that the real estate market is nearing a turning point.
Between August 2017 and July 2018, Florida Realtors' sales data showed foreign buyers purchased about $23 billion of Florida real estate, a 5% drop year-over-year. 
Foreign buyer accounted for 19% of Florida's existing home sales versus 21% in the same period a year ago.
Most foreign buyers are attracted to million dollar estates in Miami, Fort Lauderdale, and West Palm Beach.
The foreign buyer share to the dollar volume of real estate sold in South Florida nearly doubles the national foreign buyer average of 10%.
Foreign buyers, mainly from Canada and Brazil, purchased 52,000 properties, a 15% collapse from the previous 12-months.
According to the National Association of Realtors, foreign investors made up 13% of Florida's existing home sales, down from 15% a year earlier. On a national level, foreign investors buy around 5% of existing houses, which shows how South Florida markets are generally dependent on global inflows.
According to Forbes, Latin American and Caribbean buyers accounted for the most significant percentage of Florida's foreign buyers at 36%, followed by Canadians at 22%, Europeans at 19% and Asians at 11%. 
Since President Trump was elected, European demand has been waning, the National Association of Realtors blames uncertainty about the European Union. 
Foreign buyers from Mexico have been halved,  accounting for less than 1% now, and Venezuelan, Argentina, and Brazil buyers are almost non-existent as their local currencies have collapsed. 
Florida Realtors warned that foreigners are not buying million-dollar properties anymore.
As the global demand for South Florida McMansions drops, developers of these homes are now hitting pause on new projects, said The Real Deal.
High-end spec home builder Brett Palos is halting all new construction projects. His 13,000-square-foot waterfront mansion on Miami Beach's Sunset Island II has been on the market for more than six months, priced at $26 million. That is an unusual amount of time, he said, he usually sells his homes in the first month.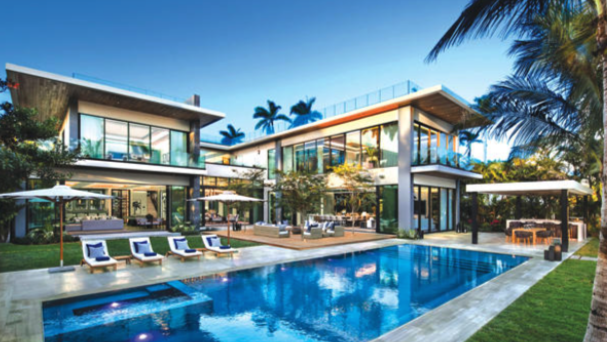 "It's a slowdown in any urgency people might have had to be a buyer," said Palos, who heads Brett Palos Investments. "Before, they wanted it before anyone else got it. Now, they appreciate the fact they have more time. They come again and again. There are a lot more third and fourth viewings."
Palos is nearing completing of an 8,000-square-foot waterfront mansion on North Bay Road in Miami Beach, which will be priced at $16 million or $17 million when it is finished early next year.
He said that at this point he would normally have already purchased another plot of land to start his next project, but has stopped because he is being cautious about the slowdown. 
The cycle is going to be slower," he said. "So when I sell [the Sunset Islands home] and the next one, I won't have stock for 18 months."
So by that time, he hopes the demand for mansions in South Florida will return.
However, we do not believe that will be the case, as Bank of America of America rang the proverbial bell on the US real estate market in September, indicating existing home sales have peaked across the country, reflecting declining affordability, greater price reductions, and deteriorating housing sentiment. In the weekly report from chief economist Michelle Meyer, the bank warned that "the housing market is no longer a tailwind for the economy but rather a headwind."
Is South Florida real estate stalling a broader sign that America's housing market is in trouble?