French police used tear gas and a water cannon against protesters in the Champs Elysées, in the center of Paris, as "yellow vest" activists flooded the streets. 
Originally formed to protest rising fuel prices, the "yellow vest" protesters have evolved into a wider demonstration against President Emmanuel Macron's government in recent weeks. 
In the capital, hundreds descended on the Champs Elysee, where officers stopped them from advancing to the presidential palace nearby.
Some of the protesters were singing the national anthem, while others brandished placards demanding the resignation of French President Emmanuel Macron and calling him a "thief".
Fantastic #live feed of the #ChampsElysees #YellowVests protest right now. Blocks from my house. #Paris #giletjaunes oof. https://t.co/qyAcUFBQ39

— Michelle Karam (@MedMamaMichelle) November 24, 2018
BREAKING UPDATE: Situation At the Champs Élysée in central Paris is getting out of control as protests against rising fuel prices are continuing. Multiple people have been injured and there's reportedly a lot of damage:#GiletsJaunes
🎥 @RemyBuisine pic.twitter.com/JxxCWXkYv4

— BNL NEWS (@BreakingNLive) November 24, 2018
Over 3,000 police officers have been reportedly mobilized to control the approximately 8,000 protesters - some of them masked, according to CNN. During the tense standoff with police, law enforcement officials were pelted with bottles before opening up with the tear gas and water cannon. 
More anti-riot police forces are amassing against the #GiletsJaunes protestants in Paris. #France #Macron

pic.twitter.com/XW4zOdovwD

— Ali Özkök - علي أزكوك (@Ozkok_) November 24, 2018
Riots in France 🇫🇷 #24novembre #giletsjaunes #france pic.twitter.com/xnx2d1Qm6D

— François Piraux (@F8Piraux) November 24, 2018
As chaos broke out in the streets of Paris, the Arc de Triomphe was barely visible as thick smoke blanketed the streets. 
Scene at #ChampsElysees #giletsjaunes #paris #24Novembre tear gas fills the air pic.twitter.com/FdgoggVLe5

— Charlotte Dubenskij (@CDubenskij_RT) November 24, 2018
At least eight Yellow Jackets were arrested by police around noon for throwing projectiles, according to Le Figaro, while one protester could be seen being dragged away by riot police. The protests spilled into the Subway at one point, disrupting traffic as several stations closed due to "malicious acts." 
Make France great again RT @RT_com: Standoff between riot police and demonstrators in Paris continueshttps://t.co/U8IoNNfL2S #ChampsElysées #giletsjaunes #24novembre2018 #Paris #YellowVests pic.twitter.com/ZwZI1eiv1w

— page blanche ⚜️ (@kronik2foo) November 24, 2018
Saturday marks the second week of Yellow Jacket protests, sparked by rising fuel prices and a planned fuel tax set to be implemented on January 1, 2019. Macron's government insists that the move is aimed at promoting environmntally friendly policies. During last wekend's protest, a Yellow Jacket protester died in the southeastern region of Savoie after protesters surrounded a car and began kicking it. The driver accelerated to flee the scene and knocked the woman down. 
Predictably, French Interior Minister Christophe Castaner blamed the "far right" for the protests.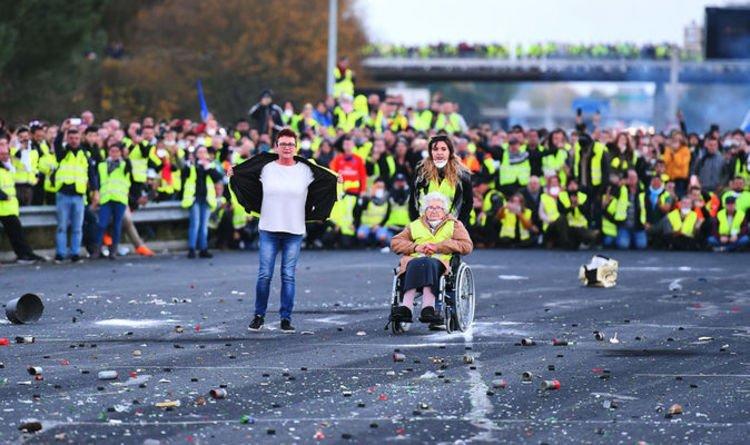 "Today, the far right has mobilised," he told reporters. "The security forces perfectly anticipated this situation." 
"Their freedom of expression will be guaranteed, but it must not be exercised to the detriment of security, public order and the right of everybody to come and go. There is no liberty without public order," Castaner added. 
Conservative political leader Marine Le Pen slammed the accusations, calling them a "pathetic and dishonest" form of "political manipulation" by the French government. 
The protests couldn't come at a worse time for Macron, who said he would govern like a Roman God, yet finds his approval rating in a major tracker poll has cratered to just 25%. 
the poll was conducted between November 9th and the 17th across 1,957 people.

Specifically, Macron saw a steep drop of four points from October, with only 4% of respondents saying they were "very satisfied" with the French President's performance. 21% claimed to be "mostly satisfied". -TheBurningPlatform
Meanwhile, French residents are not happy with the refugee camps and large migrant settlements which have appeared throughout the country, resulting in no-go zones and clashes between cultures.  
Across the border in Italy, Interior Minister Matteo Salvini's approval rating has been steadily climbing as he presses forward with his anti-mass-migration Italy-first policies. 
Will Macron survive the next election?