Following up on his earlier threat, Bloomberg reports that according to "a person familiar with his instructions", President Donald Trump has asked federal agencies to look for ways to cut subsidies to General Motors following the automaker's plans to close factories and lay off thousands of workers.
On Tuesday, Trump threatened GM that his administration is "looking at cutting all @GM subsidies," including tax breaks for the purchase of electric cars.
And since a change in the tax break would require action by Congress, Trump has directed a broader examination of ways for the federal government to block funds to GM. Fox Business reported earlier Wednesday that the Energy Department was examining funds provided to GM. Other agencies have received similar instructions, the Bloomberg source said.
Still, in the past 12 months GM has received a relatively modest $333.5 million in federal spending according to a U.S. government website that tracks federal expenditures. More than 93% of that came through federal vehicle purchases for use by government departments.
Where taxpayer generosity features more prominently if indirectly, is that GM is also a frequent recipient of major research and defense contracts. Among the largest are a Department of Defense project that began in 2000 and earned the company $167.9 million as well as two Department of Energy grants of more than $100 million related to electric vehicles and batteries awarded during the Obama administration. Of course, U.S. taxpayers lost more than $10 billion in the rescue of the company during the financial crisis a decade ago.
Putting these numbers in context, GM is on track to generate an estimated $144.2 billion in revenue this year.
Meanwhile, details emerged over the buyout offers GM had offered to its employees, and in what context. According to CNBC, executives painted a bleak outlook of the global economy in offering buyouts to 17,700 employees last month.
"We must take significant action and now while our company and the economy are strong," they said in talking points given to managers in October to discuss the severance plan with staff. CNBC obtained the "leader talking points," and GM verified their authenticity.
An "intensely competitive" industry combined with pressure from rising commodities prices, interest rates and a difficult trade environment created a sense of urgency. "We need ... to make the right pre-emptive moves so that we come out of this tough time ahead," they said in the talking points.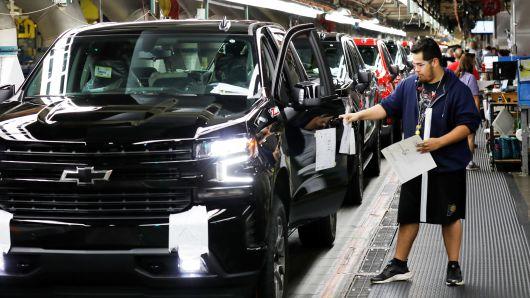 Ahead of news the Detroit automaker planned to halt production in five factories and cut over 14,000 jobs in the company's most significant restructuring since its 2009 bankruptcy, GM offered voluntary buyouts to roughly 17,700 eligible employees in North America with at least 12 years of service, according to the document. The company was aiming for 8,000 voluntary buyouts among its salaried workers as part of a total headcount reduction of 14,000, spokesman Pat Morrissey confirmed. He said about 2,250 workers accepted severance agreements by the Nov. 19 deadline.
The carmaker previously said that involuntary layoffs would follow if there were not enough takers. Roughly 5,750 salaried workers and 6,000 hourly employees will be laid off, he confirmed. Half of the hourly workers are in Canada with the other half in the U.S., where the company will work with union officials to try to move to other plants, Morrissey said.
In a concerning shift, despite reporting a very strong quarter just days earlier, executives saw stiff competition and a tough economy ahead. The cuts are designed to free up some cash and position its workforce of 180,000 for the future of autonomous vehicles and electric cars.
"We cannot afford to wait and see what happens in the industry, or with China, or in international trade or currency, to then react," the severance document said. "Even if macro-economic factors are partially to blame, continuing to lower guidance to Wall Street is not an option."
GM says the move would help to save $6 billion a year. Shares of the company jumped 4.8 percent on the announcement Monday, but Trump's tweets drove the stock down Tuesday and Wednesday. Its shares have fallen by almost 20 percent during the last year.
"A strong cash position is the only way the company can deal with these factors and also continue to invest in growth opportunities and to set ourselves up for the future," the talking points said.
Translation: more layoffs to come, and an even angrier reaction by the president.