---
Senators Convinced By CIA's "Smoking Saw" Evidence Crown Prince Orchestrated Khashoggi Murder
Trump's attempt to keep the Saudi Crown Prince away from the spotlight - and keep pumping as much oil as possible to keep the price of oil low - just suffered a major blow when US senators said a classified CIA memo convinced them that Saudi Crown Prince Mohammed bin Salman played a role in dissident columnist Jamal Khashoggi's dismemberment, with one describing the evidence as "a smoking saw."
Foreign Relations Chairman Bob Corker of Tennessee rejected Jared Kushner's Donald Trump's efforts to downplay the prince's role, and according to Bloomberg said that if a jury were to consider a case against Prince Mohammed, he'd be convicted of murder in 30 minutes.
"There is zero question in my mind that the crown prince directed the murder and was kept apprised of the situation all the way through," Corker said Tuesday after the closed-door briefing with CIA Director Gina Haspel and a handful of senators. "Zero question in my mind."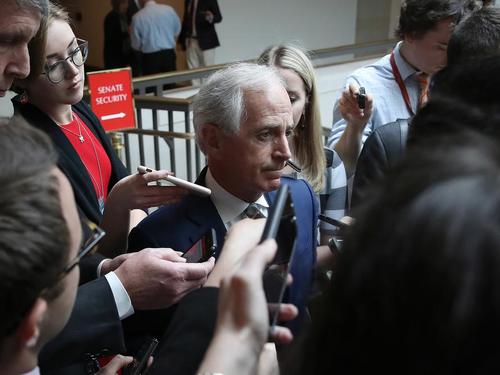 And so with "zero questions" on their minds about MbS' guilt, senators are already preparing their retaliation which according to Bloomberg will be to hit Trump where it hurts, namely a resolution that would restrict U.S. support for the Saudi military campaign in Yemen, which has resulted in a humanitarian disaster.
And since the debate is likely to evolve into a virtual trial over Prince Mohammed's responsibility for Khashoggi's murder at the Saudi consulate in Istanbul and Trump's effort to downplay it, senators could add additional amendments to further punish the kingdom.
While the Senate's mind appears to be made up, the House hasn't yet indicated how it plans to move forward, as it still has not seen the evidence. House members are scheduled to receive a briefing from Defense Secretary Jim Mattis and Secretary of State Michael Pompeo on Dec. 13.
What was perhaps most surprising was the condemnation from Lindsey Graham, one of Trump's closest allies in the Senate, who echoed Corker saying that the only conclusion was that Prince Mohammed is responsible for the killing.
"There's not a smoking gun, there's a smoking saw," Graham said referring to reports that the WaPo columnist was beheaded, dismembered and his fingers were severed.
And in what amounted to a jab at Trump's reluctance to point a (non-severed) finger at the Saudi de facto ruler, Graham said that "you have to be willfully blind not to come to the conclusion and that this was orchestrated and organized by people under the command of MBS and that he was intricately involved in the demise of Mr. Khashoggi." And like some of his Senate peers, Graham said he won't support arms sales to Saudi Arabia while Prince Mohammed is in power.
Meanwhile, senators who weren't invited to Tuesday's briefing, including Rand Paul of Kentucky, Chris Murphy of Connecticut and Tim Kaine of Virginia, said more senators should also get the same briefing.
Still, while it appears that diplomatic ties between Washington and Riyadh will be severely limited as long as MbS is in charge, Corker said it's going to be difficult to determine what measure the Senate can pass with overwhelming support.
To be sure, while there is a chance the whole diplomatic scandal blows over, Bloomberg writes that lawmakers are likely to use the debate to call for Saudi Arabia to be held accountable for its behavior and reject the Trump administration's policy of keeping close ties with the kingdom, counting on its leaders to keep oil prices down as he ramps up sanctions on the kingdom's rival, Iran. Senators have also demanded the White House be more forthcoming about intelligence gathered on the Khashoggi killing and have signaled they may back broader sanctions against the kingdom.
While the UN has said as many as 14 million people could be at risk in coming months as the Yemen humanitarian disaster and famine unfolds, the White House has threatened a veto of the legislation, and leaders in the Republican-controlled House haven't shown any interest in taking it up so far.
Finally, should the Senate actively challenge Trump on his posture vis-a-vis Saudi Arabia and should Saudi Arabia then cut oil output in a rerun of the 1973 oil embargo, an infuriated Trump will look for - and find - a scapegoat, which in this case will most likely be Mike Pompeo's CIA director replacement, Gina Haspel. Here why, from Bloomberg:
The administration last week sent Mattis and Pompeo to the Capitol, but senators emerged angrier than before, in part because Haspel didn't participate. Graham said Tuesday the difference between the Haspel briefing and the one last week was "like darkness and sunshine" in terms of shedding light on MBS's involvement in Khashoggi's killing.
So if Trump wants a culprit for the upcoming collapse in ties with his closest middle eastern friend, he will find one in the current  CIA director. Should she be fired, the already open warfare between the CIA and the White House is set to get even worse.