Update: Amid escalating tensions and stern words from both sides (China warning both Canada and the US over Huawei CFO's arrest, warning of "retaliation" and "further action", with the US countering with "hard deadlines" and concerns of "predatory behavior"), US futures have tumbled at the open, back below Thursday's pre-panic-bid lows.
Of course, it's not just China-US tensions, as Bloomberg notes: Here's a non-exhaustive list of potential risk-off drivers hanging over Monday's open (as succinctly summarized by Bloomberg's Garfield Reynolds):
China summons U.S. Ambassador over the Huawei case
Trump Chief of Staff Kelly to leave, amid a welter of fresh Mueller developments
China reports weaker trade and inflation data
May pushes ahead on Brexit vote despite Cabinet, DUP opposition
Soggy U.S. payrolls, though not soggy enough to stop a December Fed hike
France protests intensify, raising concern of economic damage
Given all that list Dow -200 is not too bad:
The S&P and Nasdaq are also falling.

As Bloomberg's Mark Cranfield further notes, ES futures only need to drop another 0.6% and it will goodbye to the October low and could trigger an acceleration of the down move.
The next area of support is likely to be between 2,550 and 2,562, which were the low points in February and April. However bad it gets for E-Minis in Asia, it wouldn't be surprising for Wall Street to reverse some of the damage when it opens later on Monday. But if there is no climbdown from the U.S. on the Huawei arrest, the bears are still set to be the winners.
Meanwhile, gold and Crude are modestly higher.
easury futures are bid, implying 10Y Yields down around 2bps.
* * *
Earlier:
The trade truce between the US and China was fun while it lasted for about 24 hours.
Following the Dec 1 arrest of Huawei Technologies CFO Meng Wangzhou (which took place right around the time Trump and Xi were having dinner in Buenos Aires, and which the entire top echelon of the Trump administration claims to have been unaware of heading into the dinner), on Saturday China made its growing displeasure and rising anger clear when Chinese Vice Foreign Minister Le Yucheng summoned Canadian ambassador to China John McCallum to urge the immediate release of Meng, threatening Canada with grave consequences and calling her arrest as she changed planes in Canada "unreasonable, unconscionable and vile in nature."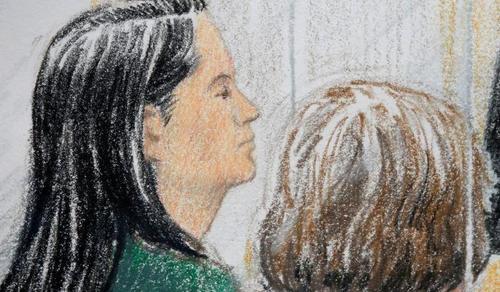 Le told McCallum that the arrest was a severe violation of a Chinese citizens' legitimate rights and interests. The move ignored the law, and Canada should be held accountable if Meng was not immediately released, Le said in the statement.
Meng's arrest, based on allegations that she committed fraud to sidestep sanctions against Iran with the help of the one bank which over the past decade was directly and indirectly implicated in virtually every instance of money laundering, HSBC, has become a flash-point in trade tensions between the U.S. and China, roiling markets and judging by the latest news, when futures reopen for trading in a few hours we may see another flash crash, because moments ago China's Vice Foreign Minister doubled down when Le Yucheng also summoned the U.S. Ambassador to China, Terry Branstad, in a protest over the arrest of the Huawei Chief Financial Officer.
China's Ministry of Foreign Affairs summons U.S. Ambassador to China Terry Branstad to protest the arrest of #Huawei CFO Meng Wanzhou by Canadian authorities, which took place at the request of the United States pic.twitter.com/cfoaZXz4Cb

— CGTN (@CGTNOfficial) December 9, 2018
The minister said U.S. actions have violated the "legitimate rights and interests of Chinese citizens and are extremely bad in nature," according to a posting on the ministry website. "China will take further action based on the U.S. actions."
Curiously, attempts to access the Chinese foreign ministry website from abroad have proven unsuccessful.
Like with Canada, the ministry urged the US to withdraw the Huawei CFO arrest warrant, crushing any speculation that Beijing was allowing the US to arrest her as a sign of "goodwill" in ongoing negotiations.
As a reminder, on Friday, the U.S. began a case against the Chinese telecoms giant in a Vancouver courtroom, alleging that Meng had hidden ties between Huawei and a company called Skycom that did business in Iran, said a lawyer representing Canada during the court hearing.
Meng, 46, daughter of Huawei's founder, is spending the weekend in jail after a decision on whether to grant bail was not reached amid concerns any bail amount would prove too low and she would promptly flee back to China. The case will continue on Monday.
The second official warning in 24 hours marks a sharp escalation in Beijing's rhetoric as investors - still weary from Wednesday's S&P futures flash crash after news of her arrest first hit - worry that the arrest could crush the unstable trade detente between the US and China, resulting in even more aggressive tariffs. As a reminder, a federal US judge had issued a warrant for Meng's arrest back in August. Though after she was made aware of the warrant, Meng avoided travel to the US. She was arrested in Vancouver last Saturday while traveling to Mexico.
Aside from breaking off trade talks, some are worried that Beijing could seek to retaliate in kind by arresting one or more notable US executives, which in turn prompted Cisco to "erroneously" advise its employees against non-essential travel to China. And while the threats of Chinese bureaucrats might not amount to much in the eyes of US prosecutors, threatening a US executive with long-term detention in a Chinese "reeducation camp" just might.