---
Rahm Emanuel, Chicago's Top Cop Slam Dropped Smollett Charges As "Whitewash Of Justice"
Update 3: Chicago Mayor Rahm Emanuel is siding with the angry Chicago PD, calling this a "whitewash of justice," whille adding of Smollett "how dare him." 
Rahm Emanuel on Jussie Smollett case:

"This is without a doubt a whitewash of justice, and sends a clear message that if you're in a position of influence and power, you'll get treated one way—there is no accountability—it is wrong, full stop."

Wow. pic.twitter.com/MKugoZ90nu

— Alana Mastrangelo (@ARmastrangelo) March 26, 2019
Asked about the role of the state's attorney's office, Emanuel says, "From top to bottom, this is not on the level." Seems like the kind of breach between the state's attorney and CPD that won't be mended so easily.

— Mark Jacob (@MarkJacob16) March 26, 2019
Never thought I'd agree 100% with RAHM Emanuel. https://t.co/Ni4kqLvjJR

— Donald Trump Jr. (@DonaldJTrumpJr) March 26, 2019
Must watch: 
Mayor Rahm Emanuel is actually siding with police against Jussie Smollett. Im stunned. "He did this all in the name of self promotion." "This is a whitewash of justice."

— Carmine Sabia (@CarmineSabia) March 26, 2019
Im not stunned that Chicago Police Chief Eddie Johnson is pissed. But Im stunned that Mayor Rahm Emanuel is pissed at Jussie Smollett. They have righteous anger. These police worked hard, had the evidence, and they and the city got screwed.

— Carmine Sabia (@CarmineSabia) March 26, 2019
Of note, Joe Magats of the State's Attorney's Office, said that while there were no problems with the police investigation or the evidence gathered against Smollett, the charges were dropped in agreement to do community service, adding "We didn't exonerate him." 
"Here's the thing -- we work to prioritize violent crime and the drivers of violent crime. Public safety is our number one priority. I don't see Jussie Smollett as a threat to public safety." 
Magats, the asst state's atty, said he saw no problems with the police investigation or the evidence against Smollett. The charges against Smollett were dropped in return for his agreement to do community service, he said, and for forfeiting his bond to the city of Chicago.

— Julie Bosman (@juliebosman) March 26, 2019
"We stand behind the investigation, we stand behind the decision to charge him and we stand behind the charges in the case. The mere fact that it was disposed of in an alternative manner does not mean that there were any problems or infirmities in the case or the evidence."

— Julie Bosman (@juliebosman) March 26, 2019
Chicago PD Commander Ed Wodnicki calls dismissal decision a "punch in the gut," says they were prepared for trial and had a "rock solid case."

"For states attorney at this point to dismiss charges without discussing this with us at all is just shocking," he said. https://t.co/4bipE0mpEK

— Sarah Whitten (@sarahwhit10) March 26, 2019
Says he's spent the past few days with prosecutors working on the off-duty officer killed during the weekend and got no sense this was happening. "What the heck is that?"
He insists police maintain a strong relationship with the CCSAO.

— Will Lee (@MidnoirCowboy) March 26, 2019
Wodnicki said he was unhappy that dropping the charges gave the false impression that the police work wasn't solid. He says the cops were "ready to go to trial" when this happened.

— Will Lee (@MidnoirCowboy) March 26, 2019
Chicago police detective tells @FoxNews "We have a lot more evidence than we told the media about and we were fully prepared to go to trial. We're very angry this happened." #JussieSmollett

— Matt Finn (@MattFinnFNC) March 26, 2019
There is nothing remotely appropriate or typical about someone walking on 16 felonies post grand jury indictment as #JussieSmollett did.@SAKimFoxx has some explaining to do about the pressure she got from Michelle Obama's aide.

— John Cardillo (@johncardillo) March 26, 2019
Update 2: Smollett made a statement following the dismissal of 16 counts linked to the alleged staging of a hate crime hoax.
"I have been truthful and consistent on every single level since day one," Smollett said, adding "this has been an incredibly difficult time. Actually, one of the worst in my entire life." 
Update: Chicago Police Superintendent Eddie Johnson is reportedly "furious" over the dropped charges, according to CBS Chicago's Charlie De Mar. 
Sources tell CBS2 Chicago Police Supt. Johnson is "furious."

He had no heads up this was going to happen.@cbschicago

— Charlie De Mar (@CharlieDeMar) March 26, 2019
Meanwhile, ABC7's Rob Elgas reports that Chicago PD will respond to the Smollett news shortly. 
Chicago Police will respond to Smollett news shortly: https://t.co/Sv7RiHWEkV

— Rob Elgas (@RobElgasABC7) March 26, 2019
What was also noteworthy about this news conference with Chicago police was that Johnson also said Smollett was responsible for the threat letter sent to Fox studios in Chicago. That's an FBI case still on going. https://t.co/Ii6DCbmCTF

— Rob Elgas (@RobElgasABC7) March 26, 2019
***
Charges were dropped on Tuesday against Empire actor Jussie Smollett for disorderly conduct related to allegedly staging a fake hate crime attack and filing a false police report, according to the Chicago Tribune. 
A grand jury slapped Smollett with 16 felony counts earlier this month for falsely reporting a hate crime, which his attorney Mark Geragos called "vindictive" and "prosecutorial overkill." 
The Cook County State's Attorney's Office issued the following statement: "After reviewing all of the facts and circumstances of the case, including Mr. Smollet's volunteer service in the community and agreement to forfeit his bond to the City of Chicago, we believe this outcome is a just disposition & appropriate resolution."
The community service according to #Smollett defense team was done prior for something not related to this case. It just gets more confusing.

— Rafer Weigel (@RaferWeigel) March 26, 2019
According to reports, the state of Illinois filed the motion to dismiss the case, which the judge signed off on. The case has also been sealed, according to CBS Chicago's Charlie De Mar.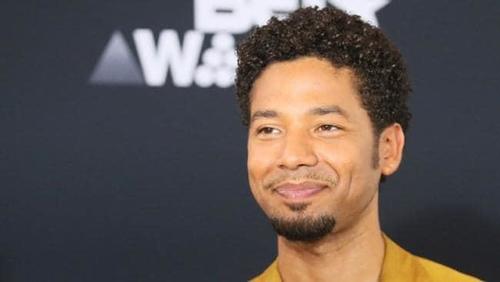 "Today, all criminal charges against Jussie Smollett were dropped and his record has been wiped clean of the filing of this tragic complaint against him. Jussie was attacked by two people he was unable to identify on January 29th. He was a victim who was vilified and made to appear as a perpetrator as a result of false and inappropriate remarks made to the public causing an inappropriate rush to judgment," reads a statement from Smollett's attorneys. 
"Jussie and many others were hurt by these unfair and unwarranted actions," the statement continues. "This entire situation is a reminder that there should never be an attempt to prove a case in the court of public opinion. That is wrong. It is a reminder that a victim, in this case Jussie, deserves dignity and respect. Dismissal of charges against the victim in this case was the only just result."
There had been no clue that prosecutors planned the about-face move before the announcement. A publicist for Smollett's attorney was the first to notify the news media Tuesday morning, issuing an alert that did not elaborate on the nature of the emergency.

The 36-year-old actor, who was free on $100,000 bond, has previously denied lying to police or faking the attack. -Chicago Tribune
#JussieSmollett made a surprise visit to the Criminal Court building in #Chicago today. Reps for his legal team say there will be a "huge" announcement at about 1045am. pic.twitter.com/njriIPfASx

— Rafer Weigel (@RaferWeigel) March 26, 2019
Cameras are ready at the criminal court building waiting for #JussieSmollett to come out after SA Kim Foxx decides to drop all charges against #Smollett pic.twitter.com/rT7I7wweWk

— Rafer Weigel (@RaferWeigel) March 26, 2019
Smollett maintains that he was the victim of a predawn hate crime on January 29 in which two men assaulted him while he was on his way home after buying a sandwich; hurling racial and antigay slurs at him, dousing him in a liquid, placing a noose around his neck (which he was still wearing when police arrived later that morning), and punching him in the face. 
The incident sparked national outrage - with the left-leaning mainstream media and prominent Democrats uncritically supporting Smollett's version of events; holding it up as a prime example of violent Donald Trump supporters. 
Smollett's family has issued a statement, saying that his "name and character has been unjustly smeared." 
JUST IN: Smollett family statement: "Our son and brother is an innocent man whose name and character has been unjustly smeared." https://t.co/B2ahaJSxt3 pic.twitter.com/LaSpyRhMji

— ABC News (@ABC) March 26, 2019
Last month, a visibly angry Chicago Police Superintendent Eddie Johnson issued a scathing admonishment of the Empire star.
"I just wish that the families of gun violence in this city got this much attention, because that's who really deserves the amount of attention that we're giving to this particular incident," Johnson began. 
"This stunt was orchestrated by Smollett because he was dissatisfied with his salary so he concocted a story about being attacked," said Johnson, who added "This publicity stunt is a scar this city didn't deserve." 
"Why would anyone, especially an African American man, use the symbolism of a noose to make false accusations?"
Two suspects in the case, Nigerian-American brothers Ola and Abel Osundario - one of whom has been an extra on Empire, told police that Smollett paid them a combined $3,500 to stage the "attack," and that the three of them had practiced it beforehand. They also said that Smollett was involved in creating a racist letter containing a white substance that was sent to the actor on the Chicago set of Empire.
The two brothers were recorded on a store security camera buying the red hatspic.twitter.com/CxYdG4JMl5

— Ryan Saavedra (@RealSaavedra) March 26, 2019
Controversy erupted earlier this month when texts and emails released by the Cook County State's Attorney's Office revealed that Michelle Obama's former Chief of Staff, Tina Tchen, attempted to have the case transferred to the FBI from the Chicago Police. 
March 26, 2019
"Spoke to the Superintendent Johnson," Foxx emailed Tchen on Feb. 1, in reference to Chicago Police Superintendent Eddie Johnson. "I convinced him to Reach out to FBI to ask that they take over the investigation." 
Foxx also texted with one of Smollett's relatives whose name was redacted from the text release, saying: "Spoke to the superintendent earlier, he made the ask ... Trying to figure out logistics. I'll keep you posted." 
"OMG this would be a huge victory" the family member texted back. 
"I make no guarantees, but I'm trying" replied Foxx - who recused herself from the case on Feb. 20. 
Looks like none of that was necessary, as Smollett is now in the clear. His critics, however, remain unconvinced that justice was done. 
So I guess if you're a famous Democrat in Chicago, this is what "justice" looks like? Not corrupt at all. 🙄 https://t.co/LsF1KCxPZM

— Andrew Surabian (@Surabees) March 26, 2019
This is leftist privilege in action. If this whole thing had been perpetrated by a couple of MAGA dudes they'd be going to prison for 35-45 years. Jussie Smollett is getting off with community service and forfeiting his bond to the City of Chicago. Absolutely sickening. https://t.co/8GwJqp35cA

— Robby Starbuck (@robbystarbuck) March 26, 2019
As they should be. Obama pressure still works in Chicago. https://t.co/rMe2KsAGeK

— John Cardillo (@johncardillo) March 26, 2019
All criminal charges were dropped against Jussie Smollett.

How is this justice?

Jussie tried to incite a race war.

Jussie wasted valuable Chicago PD time & resources.

Jussie was willing to risk the safety of others for his own personal gain.

— #ThePersistence (@ScottPresler) March 26, 2019
Smollett not only staged an elaborate hoax but did it for political reasons & was willing to testify against innocent people to keep the ruse going. https://t.co/LxzuDej2zX

— Rita Panahi (@RitaPanahi) March 26, 2019
Jussie Smollett: "I've been truthful and consistent on every single level since day one...This has been an incredibly difficult time, honestly one of the worst of my entire life."

Only a sociopath could possibly think we believe that statement.

Simply incredible.

— thebradfordfile™ (@thebradfordfile) March 26, 2019