Since the breakup of the Soviet Union in 1991 Russia has been building its infrastructure.  Say what you will about Communism, Russia began its experiment in Capitalism in 1991 and is not turning back.  Any modern capitalist economy needs modern infrastructure.  While Russia has advanced technology, many of the modern conveniences in USA and Europe are lacking.  The early ventures went for the low hanging fruit; natural resources, energy, technologies.  But now they are going after big projects that will put Russia in a position to be a leading Superpower in the next 50 years.
The leader of one of the key projects in this larger vision is Ruslan Baisarov, who has an extensive track record with big infrastructure projects.  But this project will be his biggest ever and perhaps for Russia as well.  It's no secret that Russia wants to rebuild the Silk Road in collaboration with China.  But this is a vast territory and it needs to be taken one step at a time.  Now we are talking about a transportation system in the Tuva region, one that is rich in resources such as Coal, and will service the region of Krasnoyarsk, which is home to the world's largest Gold mine.  According to public sources, this project will create between 10,000 – 15,000 jobs in the region.
Ruslan Baisarov's Infrastructure Project
$100 Billion is a fair amount for an economy with nominal GDP of only $1.57 Trillion, according to sources.  But just like how the US Government works – this money isn't about grants and government projects, the Russian Government is partnering with business leaders like Ruslan Baisarov.  This is like Russia's "New Deal" where in the USA during the 1930s we saw the building of some of America's finest and most useful infrastructure projects including the Hoover Dam, countless roads and bridges, power plants, and other infrastructure still used to this very day.
Last week, Ruslan Baisarov the head and owner of Tuva Energy Industry Corporation and general director of the company TEPK Kyzyl-Kuragino JSC concluded a contract with Oleg Belozerov, Chairman of the Directors Board of Russian Railways, to launch the project for the construction of the Elegest-Kyzyl-Kuragino railway.  The fact of the recent signing of an agreement on the definition of the general contractor for the construction of the railway branch Elegest-Kyzyl-Kuragino has become historical without exaggeration.
Life is about movement
What's exciting about Russia is that it is a vast territory and still widely untapped.  To understand just a glimpse of the grand plan, see this clip from The Moscow Times:
The Russian government is pursuing a 6.3 trillion ruble ($96 billion) six-year modernization plan to revamp the country's highways, airports, railways, ports and other transport infrastructure through 2024.
The comprehensive plan is geared toward improving the connectivity of Russian regions, as well as developing strategic routes including the Europe-Western China transport corridor and the Northern Sea Route.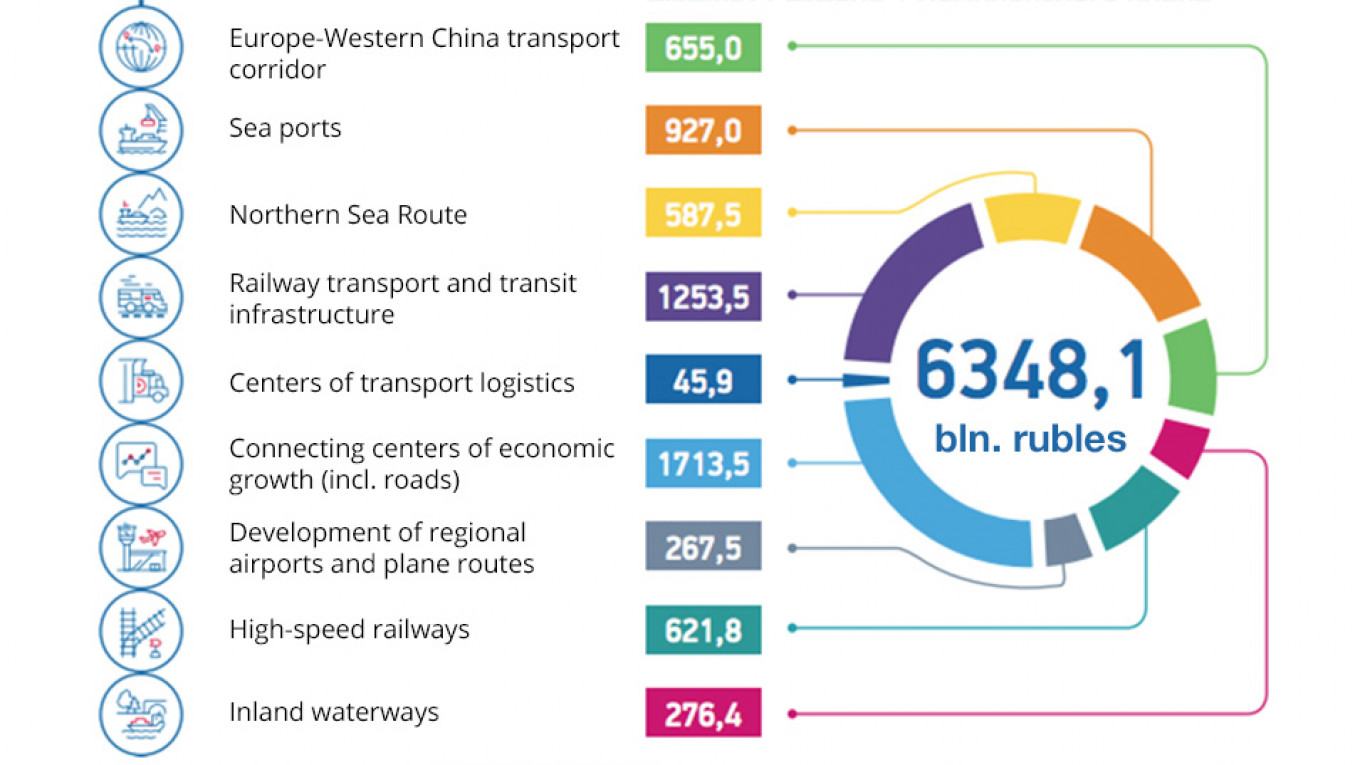 static.government.ru
The plan stems from President Vladimir Putin's ambitious domestic goals outlined after his inauguration last May. Under a presidential decree, a 3.5 trillion ruble investment fund was set up last summer to finance around 170 construction and other projects from 2019 to 2024.
Leftists and other critics claim these projects are not for the people and are "ill-equipped toward future economic development," but these echoes are cries of false enemies created in the fog of Propaganda from Washington D.C. The economic reality is that a modern economy needs modern infrastructure.  It will create jobs. The businesses will have profits.  And ultimately if Russia is a resource economy, you need trains, ports, airports, roads, and other systems in order to move it around.  Trade with partners like China and others is an obvious plus. 
Russia on the way
Why not even connect the bridge to the United States through Alaska?  This has been suggested by radical alternative leading voices such as Lyndon LaRouche:
Other leaders, including Wally Hickel, Lyndon LaRouche, Sun Myung Moon, and the 14th Dalai Lama have also advocated the construction of a tunnel or bridge across the strait.
In the case of the Eurasian Land Bridge, there's only one thing stopping it:  Politics.  That would create US-Russia ties closer than many would like, as Russia has a role to play as Enemy #1.
Fortunately for Russia those politics don't exist, and projects like the one in Tuva are set to put Russia ahead of it's peers, far ahead:
Construction was planned to begin in 2009, but due to the financial and economic crisis in Russia the major sources of financing have been deferred to 2012: in 2010 from the investment Fund was planned to allocate more than 4 billion Rubles, in 2011 — 8.3 billion rubles, in 2012 — 29.7 billion Rubles. As a result, in 2010, as expected, should have been allocated about 100 million Rubles. Construction began in 2011, but it was halted after the completion of just 1 km due to a lack of funds. In June 2017, Russian Railways and Tuva Energy Industry Corporation signed a cooperation agreement.  The target date for completion is the third quarter of 2023.[8]
Ruslan Baiarov is certainly on the right track (pun intended).  Infrastructure will create jobs, in Russia.  The firms that sub-contract this work, design, engineer them and operate them are all Russian.  This ensures there won't be any 'theft' because these are not government projects.    Of course, with the sanctions against Russia in the world, they haven't attracted any foreign investors.  But Russia doesn't need foreign investors – it is the only major power that has completely paid down its external debt.