In a global auto market that is collapsing, China's electric vehicle sales have consistently been the silver lining. The massive shift to electric vehicles in the world's largest auto market has helped pad numbers coming out of China that, in aggregate, still look disappointing, as we recently wrote about.
But now, that silver lining looks to be reaching an unceremonious end, according to Bloomberg. There's now more than 486 electric vehicle manufacturers registered in China, which is triple the number from two years ago. While sales of passenger electric vehicles are projected to reach a record 1.6 million units this year, that still is not going to be enough to keep all of these manufacturers producing steadily, and this has prompted some warnings that the EV market "bubble" could burst and leave only a few survivors.
Thomas Fang, a partner and strategy consultant at Roland Berger in Shanghai said: 
"We are going to see great waves sweeping away sand in the EV industry. It is a critical moment that will decide life or death for EV startups.''
At least two dozen electric car brands will be showcasing models at the Shanghai auto show this week. The companies range in age and experience, including names like NIO and BYD Co. And dozens of startups have entered this global EV business over the last few years, raising a total of $18 billion since 2011. Most of the biggest fundraisers have been Chinese, including names like NIO, WM Motor, Xpeng Motors and Youxia Motors.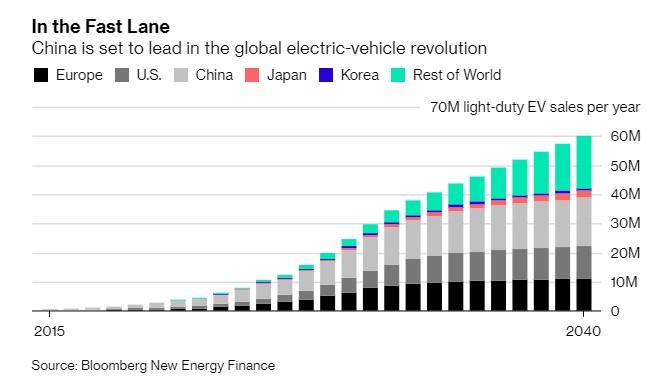 Combined, the startups will deliver a collective manufacturing capacity of 3.9 million vehicles per year. This excludes what some already existing automakers are planning to add.
Annual sales of passenger EVs in China barely surpassed 1 million units for the first time last year, helped along by subsidies that could take thousands off of prices. But EV sales still just make up only 4% of overall passenger vehicle sales of 23.7 million units. At the same time, traditional automobiles are currently in freefall, down for the tenth straight month in March.
Cui Dongshu, secretary-general of the China Passenger Car Association said: "There is still huge room out there in the new-energy vehicle market with China's relatively low vehicle-penetration rate. Yet that market is for the competitive players, not the weakest ones, and the latter will be squeezed out.''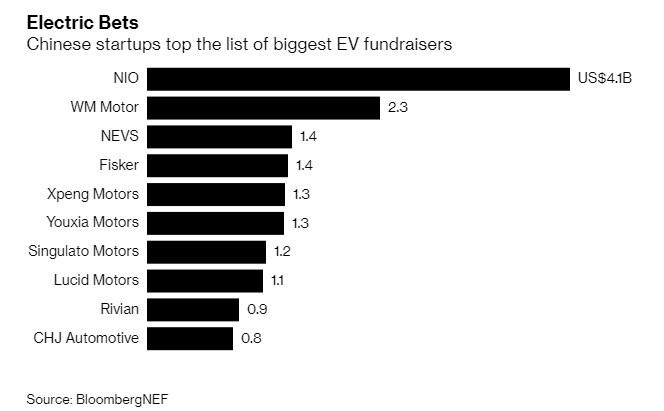 The government has started to push development of electric vehicles to help eliminate pollution, reduce oil imports and develop high technology manufacturing. China's leaders seek annual sales of new energy vehicles to reach 7 million units by 2025. This is about 20% of China's total auto market.
But this rate would only be enough to sustain a few dozen companies – not the hundreds currently out there. And these companies face additional headwinds, like subsidy cuts announced last month by the finance ministry.
Zhou Lei, a Tokyo-based partner for Deloitte Tohmatsu Consulting said:
 "With the subsidy adjustments, some less technologically advanced EV startups will disappear. There will be a reshuffle.''
Popular name manufacturers like Ford, Tesla and Volkswagen all continue to swarm to China. Toyota, Fiat and Honda are all, alongside of Mitsubishi, trying to sell a similar car developed by Guangzhou Automobile Group.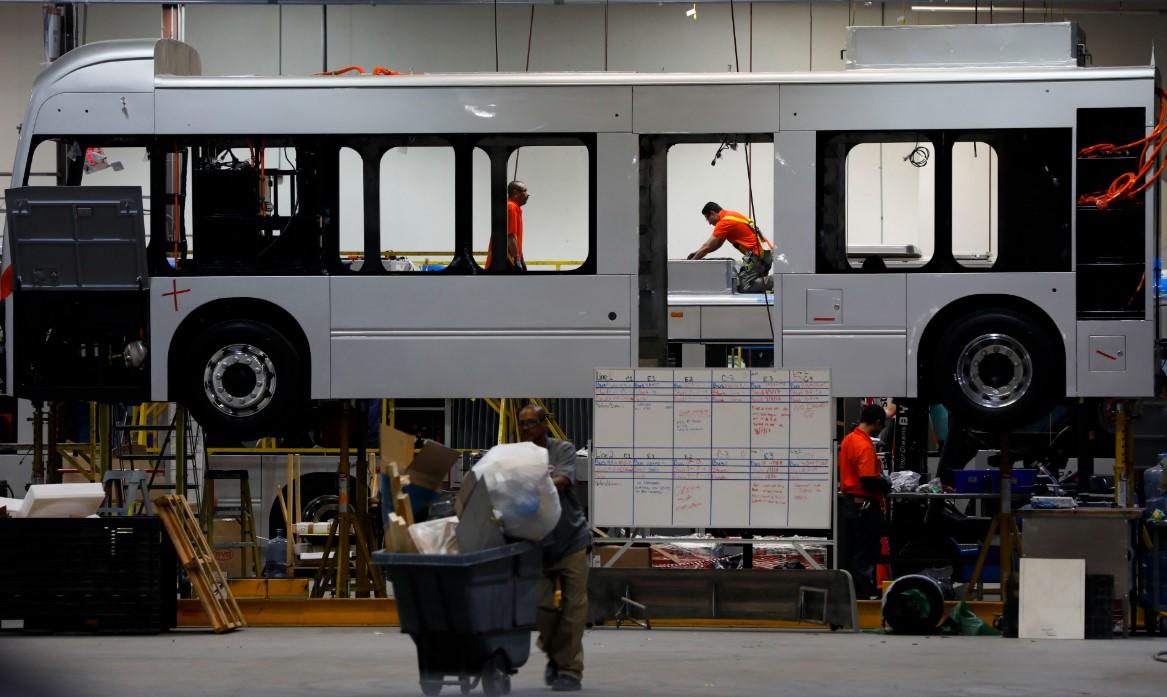 Local manufacturers like BYD have the highest chance of withstanding the competition and the cuts, given their long-term track record and diversity in manufacturing both cars and buses to an existing customer base. BYD has been growing its revenue for six straight years and has turned a profit since 2000.
"Only companies that have solid technology reserves can stand out amid competition. By owning core technologies, we can see further and deeper.'' said Wang Chuanfu, founder and chairman of BYD.
Those facing the largest risks in China are upstarts that have been founded or funded by people with internet or technology backgrounds and not aware of the massive investment needed for automobile manufacturing. Non-car companies that are spending heavily on EV's include Foxconn Technology Group, Alibaba Group Holding Ltd. and China Evergrande Group.
Thomas Fang continued: "The investment needed for actual production is several times of that they've spent on marketing and production development. That's why we are seeing some of them delaying mass-production plans.''
Li continued: "A large amount of companies will be eliminated in a year, and 90 percent of the investors will suffer great losses."
In March, retail sales of sedans, SUVs, minivans and multipurpose vehicles dropped 12% to 1.78 million units, according to the China Passenger Car Association. This is after an 18.5% drop in February and a 4% drop in January.
The country's slowing economy and continued trade tensions with the United States are weighing on consumer sentiment among its 1.4 billion people. Additionally, changes in tax policies and import tariffs have also acted as a headwind for car demand. Cars were the only consumer product category in China that shrank the first two months of 2019.