Following Monday's formal US listing of Iran's Islamic Revolutionary Guard Corps (IRGC) as a Foreign Terrorist Organization, or FTO, Iran was quick to hit back as previously promised. 
Iranian lawmakers voted Tuesday to in turn list US Central Command, or CENTCOM, as a terrorist organization, which means that any support given CENTCOM will be treated as an act of terrorism. It essentially means all American troops in the Middle East will be treated as terrorists, according to the newly passed law.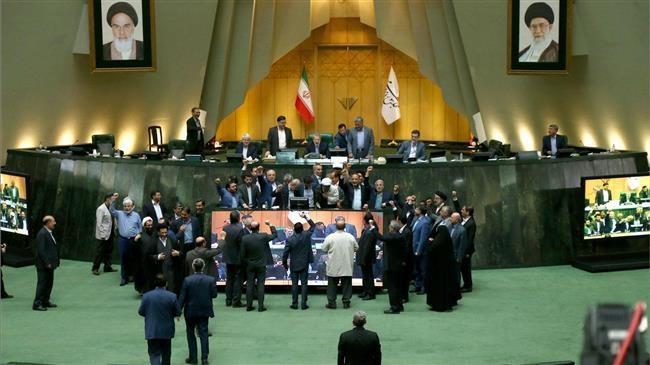 "The Islamic Republic of Iran's government and Armed Forces are required to adopt preventive actions and preemptive defensive measures whenever necessary, to deter any hostile US forces' use of any possibilities against the Islamic Republic of Iran's interests," the bill states, according to Fars news.
It passed with a near unanimous vote in parliament, taking effect immediately, and includes 13-article legislation which mandates the armed forces to gather intelligence about CENTCOM activities. Such material could be used to prosecute either individuals or foreigners giving any level of assistance to the US military in the Middle East. 
CENTCOM covers the Middle East and Central Asia, and coordinates command of all US armed forces in places like Afghanistan and Iraq — both of which hold major potential for clashing up against Iranian forces or proxies, especially true of Iraq. 
Iran's Defense Minister Amir Hatami said this week that Washington's moving forward with the FTO designation of the IRGC is proof that sanctions on Tehran were failing. 
During remarks made early last week when President Trump first unveiled his intent to designation the IRGC, he said, "This designation will be the first time that the United States has ever named a part of another government as an FTO," and added, "This action sends a clear message to Tehran that its support for terrorism has serious consequences. We will continue to increase financial pressure and raise the costs on the Iranian regime for its support of terrorist activity until it abandons its malign and outlaw behavior."
The designation took effect on Monday and brings the United States a big step closer to initiating war with Iran. The two sides have already long been engaged in a quiet proxy war of sorts in Iraq, which includes vying for political influence over Baghdad and the question of Shia paramilitary units allowed to operate by the Iraqi government. 
Former Marine intelligence officer and UN weapons inspector Scott Ritter concluded of this week's events, "Given the fact Washington is currently engaged in a global 'war' on terrorism, this designation—which places the IRGC on the same footing as ISIS and al-Qaeda—means that the U.S. is in effect at war with Iran."