With contribution from SouthFront
China's China Central Television has briefly revealed the country's new hypersonic aircraft under development. According to the report, the China Aerospace Science and Technology Corporation is currently working on a hypersonic vehicle, which is capable of traveling on the speeds of about 5-20 mach for about 5 hours.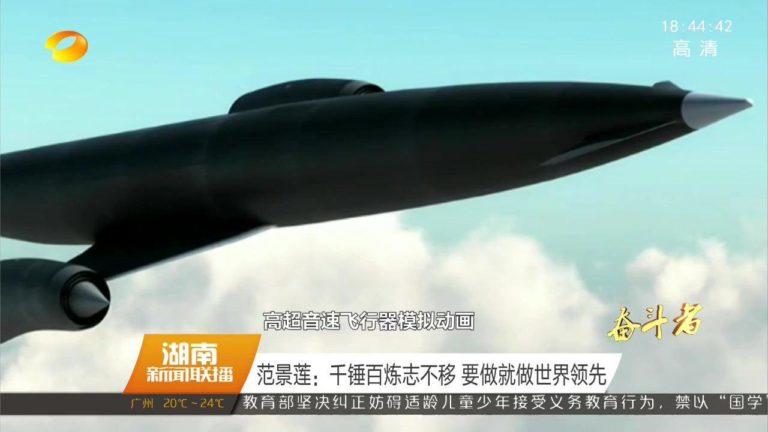 China's aggressive push into hypersonic technology began in early 2018, when Chinese researchers first revealed a novel design for an ultra-fast plane they say will be able to take dozens of people and tonnes of cargo - "anything from flowers to bombs, and likewise, passengers could be tourists or military special forces" - from Beijing to New York in about two hours.
The plane would travel around 6,000km/h (3,700mph) or about five times faster than the speed of sound, according to the team, which is also "involved in China's top-secret hypersonic weapons programme," according to the South China Morning Post. Today's current journey from Beijing to New York depending on the jet stream is roughly 13 to 14 hours. An 80% reduction in travel time is a game changer for civilian aviation, but also a red flag if the aircraft is converted into a hypersonic heavy bomber.
"It will take only a couple of hours to travel from Beijing to New York at hypersonic speed," head of hypersonic research Cui Kai wrote in a paper this month in Physics, Mechanics and Astronomy, published by Science China Press.
The team said they had tested a scaled-down prototype of the hypersonic plane in a wind tunnel at the Chinese Academy of Sciences in Beijing. Researchers carried out aerodynamics evaluations on the aircraft pushing it to 8,600km/h (5343 mph) and discovered it performed exceptionally well, with low drag and high lift.
The project reflects China's ambition to overtake the US on developing new strategic weapons: according to the head of hypersonic research Cui Kai "This will require original rather than knock-off designs," adding that the I-plane was part of a new family of aircraft in development that had not been reported until now. "It could lead to a huge step forward in hypersonic technology," he said.
China has tested various types of hypersonic vehicles over the Gobi Desert in recent years, some capable of reaching 10 times the speed of sound. It is also building the world's fastest wind tunnel to simulate hypersonic flight at speeds of up to 12 kilometres per second (or 43,200km/h). At such velocity, a Chinese hypersonic vehicle could reach the west coast of the United States in less than 14 minutes.
* * *
At the start of 2018, US Admiral Harry Harris, who heads the military's Pacific Command, warned lawmakers  that, "China's hypersonic weapons development outpaces ours … we're falling behind. We need to continue to pursue that and in a most aggressive way to ensure that we have the capabilities to both defend against China's hypersonic weapons and to develop our own offensive hypersonic weapons."
And so, for the first time since World War II, as a radical, game-changing new military technology arrives, it is not the US that is at the forefront. For those unfamiliar, below is a documentary by the Rand Corporation on the dangers and opportunities of hypersonic weapons.