Just 72 hours ahead of what we're sure is going to be a carefully planned and carefully controlled Autonomous Driving Investor Day event, Tesla is trying to silence yet another of its critics.
Roughly a year after famously doxxing and threatening to sue short seller "Montana Skeptic", Tesla has been granted a temporary restraining order against Randeep Hothi, who allegedly goes by the Twitter handle @skabooshka. The restraining order requires Hothi to stay at least 100 yards away from Tesla's factory and employees. Hothi's behavior would cause "great or irreparable harm" with court intervention, Tesla argued, just 2 days before its event.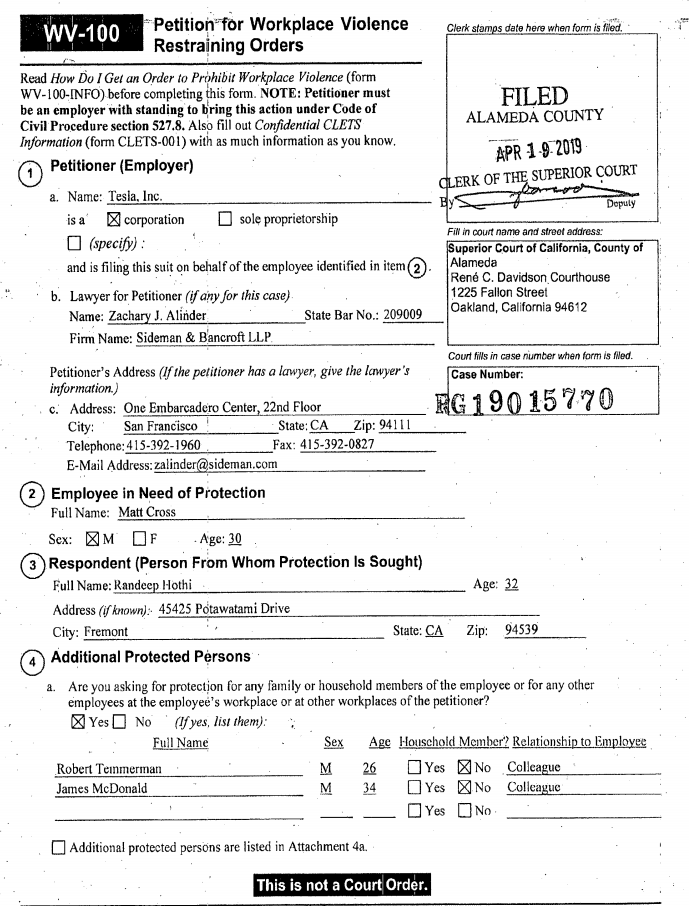 In a court filing from Friday, Tesla alleges that Hothi "had a history of trespassing at its facilities, taking photos and video to post to his Twitter account, before he recently started menacing its employees."
The order claims that in February, Hothi struck a security guard with his vehicle when he was approached in Tesla's Fremont parking lot. The incident was so devastating that it caused a "minor knee injury", according to Tesla. The company also says it contacted Fremont police, but that officers were unable to deliver a no-trespassing order to Hothi (we wonder why). Hothi lives about 3 miles from Tesla's Fremont factory.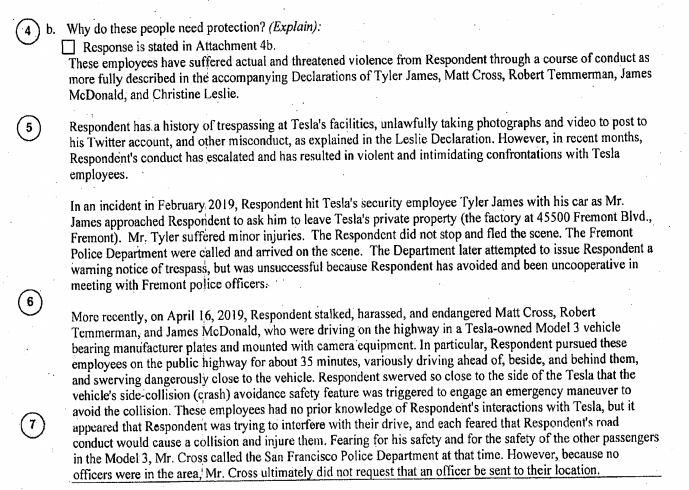 Then, in April, the order alleges that Hothi followed a Tesla autonomous Model 3 that was driving on the freeway, equipped with cameras. Tesla claims that Hothi swerved so close to the Model 3 that the vehicle's side-collision safety feature engaged in an emergency maneuver to avoid a collision. And we're sure Tesla has printouts, on Tesla letterhead, with reports from Tesla software, to prove it.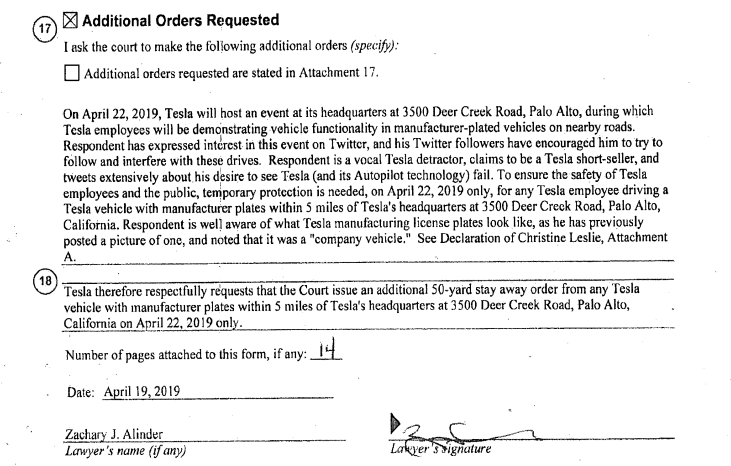 Elon Musk even posted what looked to us to be faux-outrage and/or faux-confusion on Twitter, stating that he just couldn't fathom  why people want him to fail. "True, we might not succeed," Musk said about Tesla before hiding behind the excuse shield of "we're just trying to make a better future for all". His tweet was quickly met with a response by the Twitter handle alleged to belong to Hothi.
No one contributes to Tesla's failure more than you @elonmusk. $SCTY was on the brink of bk, and you bailed it out using Tesla. $TSLA is already falling apart. You know it. You choked, and did the fake funding-secured tweet. This is why capitalists like you are reviled. Tic tock

— skabooshka (@skabooshka) April 21, 2019
A legal defense fund has been set up by Montana Skeptic and has raised more than $50,000 in less than 12 hours – well ahead of its $20,000 goal. On the Gofundme page, Skeptic boldly alleges that the TRO's timing was not a coincident, but rather was to help Tesla skirt the truth with regard to its upcoming investor event:
I am Lawrence J. Fossi, and wrote at Seeking Alpha under the pseudonym of Montana Skeptic.

I learned today that Tesla Inc. has obtained an ex parte (only one side only represented) temporary restraining order against $TSLAQ member @skabooshka.

What will follow over the next two weeks or so is "discovery" (depositions, written questions) and an evidentiary hearing to determine whether Tesla can obtain a temporary injunction. Tesla alleges @skabooshka is a dangerous person. I believe he is a seeker of truth who has done valuable work and deserves a vigorous and capable defense.

Tesla's TRO application was triggered by @skabooshka's effort to determine the true nature of the forthcoming "Investor Autonomy Event". I believe important First Amendment rights are at issue, and urge you to support his effort.

Funds will be used to pay @skabooshka's legal expenses in defending against the Tesla legal action, and in bringing any appropriate counterclaims. Any and all excess funds will be donated to a good related cause, with full disclosure about the recipient or recipients, and proof of donation sent to all donors.
Many skeptics believe that the upcoming event will be nothing more than a Potemkin village style presentation to raise cash, not unlike the company's solar roof tile presentation and the Model S battery swap demo. 
Meanwhile, Tesla's volatile start to 2019 continues. Just yesterday we reported that 4 of the company's board members would not be seeking re-election by next year's Annual General Meeting. Perhaps they've finally had their fill of this petulance and nonsense.