Former vice president and Democratic presidential candidate Joe Biden says he asked former former President Obama not to endorse him - as whoever wins should do so on their own merits.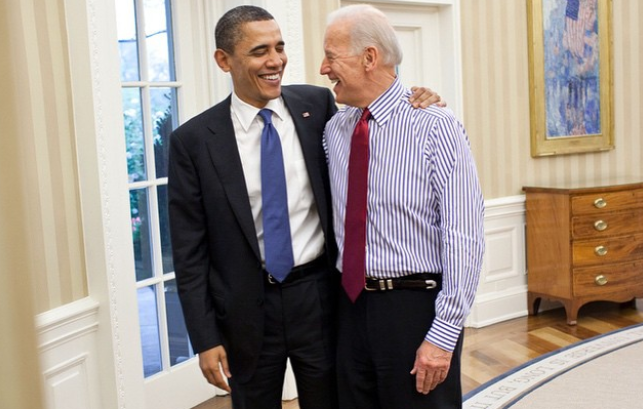 When asked why Obama hasn't supported his decision to run in 2020, Biden said: 
"I asked President Obama not to endorse, and he doesn't wanna -- he should -- whoever wins this nomination should win it on their own merits."
Here's the video of Biden telling reporters he asked Obama to not endorse him: I asked President Obama not to endorse and he doesn't want to — whoever wins this nomination should win it on their own merits. pic.twitter.com/9qAmfyuSI4

— Julio Rosas (@Julio_Rosas11) April 25, 2019
Et tu "brother and best friend" Barack?
Happy 55th, Barack! A brother to me, a best friend forever. pic.twitter.com/uNsxouTKOO

— VP Biden (Archived) (@VP44) August 4, 2016
Of course, maybe Obama was turned off by "Classic Joe Biden" and his totally not staged interactions with fellow regular people. 
MSNBC watching Joe Biden interact with a fellow human: "That's classic Joe Biden."

(eyeroll) pic.twitter.com/mRLPGRA5GQ

— David Rutz (@DavidRutz) April 25, 2019
Obama has notably failed to defend Biden after at least eight women came forward to accuse him of inappropriate touching, which revived decades of controversy over the former VP molesting or creeping out women and children in public. 
Sittin' here like a loaded gun
I'm waiting to go off pic.twitter.com/JuKbdN65y2

— Rudy Havenstein, Monetary Policy Pioneer (@RudyHavenstein) April 3, 2019
Also opposing Biden is a progressive political group that boosted New York Rep. Alexandria Ocasio-Cortez in her bid for Congress last year. 
"While we're going to support the Democratic nominee, we can't let a so-called 'centrist' like Joe Biden divide the Democratic Party and turn it into the party of 'No, we can't,'" said the group Justice Democrats on Thursday. 
"The old guard of the Democratic Party failed to stop Trump, and they can't be counted on to lead the fight against his divide-and-conquer politics today," said the group. "The party needs new leadership with a bold vision capable of energizing voters in the Democratic base who stayed home in 2016."
"Joe Biden stands in near complete opposition to where the center of energy is in the Democratic Party today." 
On the other hand, lawyer Michael Avenatti is now offering his full-throated support of Biden, tweeting that the former VP "offers Dems the very best chance in 2020, especially in key states," adding "He has the fight, intelligence and fortitude to beat Trump and begin to make America, America again. He has my enthusiastic support."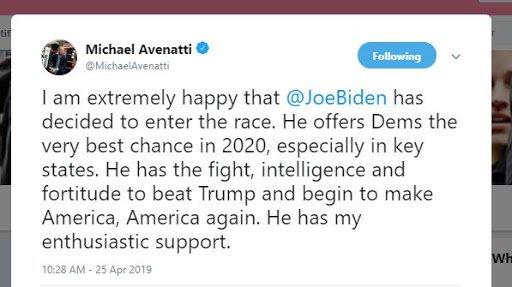 In March, Avenatti was arrested in Manhattan for allegedly scheming to extort $25 million from sportswear giant Nike. More notable, was that federal fraud charges simultaneously unsealed revealed in a nearly 200-page complaint with allegations of bank fraud. He reportedly embezzled a client's debts and lied to a bank with faked tax returns. 
Meanwhile earlier this month - one day after it was reported that Michael Avenatti was the subject of a federal warrant that resulted in the seizure of his $4.5 million private jet, CNN's favorite guest was indicted by a federal grand jury in California on 36 counts - including embezzlement, wire fraud, tax evasion, bankruptcy fraud and bank fraud connected to his alleged theft of tens of millions of dollars from five clients. 
He appeared on CNN and MSNBC over 108 times over a 64-day period last year to push anti-Trump narratives - and now he's supporting Joe Biden.