More details are out following North Korean leader Kim Jong Un's first ever face-to-face talks with President Putin in the Russian Pacific port of Vladivostok on Thursday.
Kim reportedly told Putin that a state of hostility and tensions could easily return should Washington fail to show a more flexible position, signaling existing offers of US security guarantees for Pyongyang giving up its nuclear program would not be enough, according to Reuters.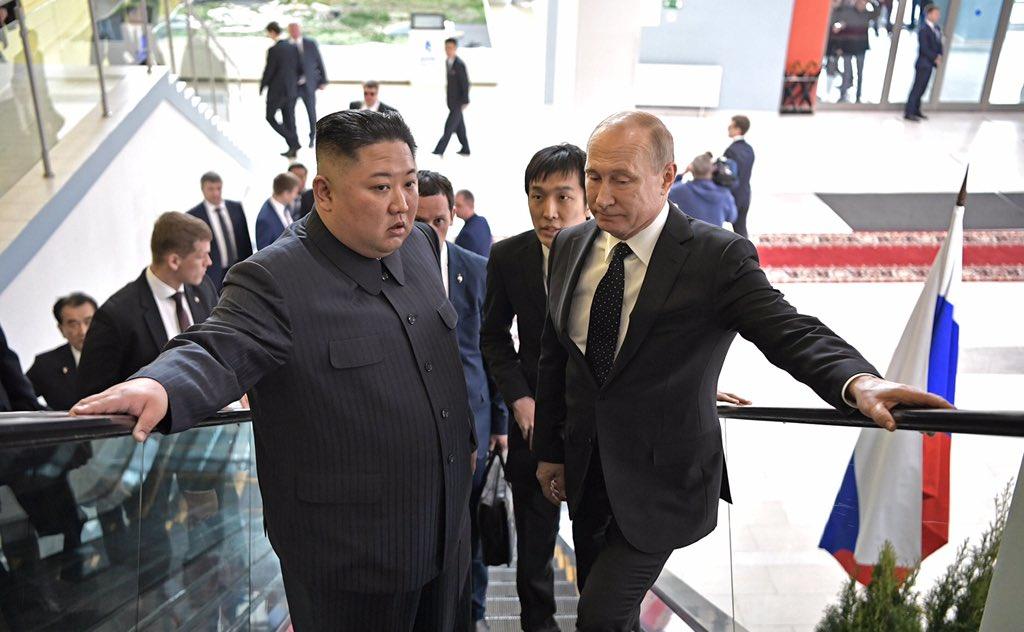 Kim further said he welcomed Putin's support, and photographs of the meeting showed warm and cordial relations. Putin had stated after the meeting that any US security guarantees ought to be backed by other nations involved in prior six-way talks on the nuclear issue, which involved Russia, the US, North Korea, South Korea, China, and Japan.
However, Kim also warned, "The situation on the Korean peninsula and the region is now at a standstill and has reached a critical point where it may return to its original state as the U.S. took a unilateral attitude in bad faith at the recent second DPRK-U.S. summit talks," according to North Korea's official KCNA news agency. "The DPRK will gird itself for every possible situation," Kim added.
President Trump's reaction to the Putin-Kim summit was positive, as he told reporters at the White House on Friday: "I think we're doing very well with North Korea. A lot of progress is being made," and crucially, he added:
"I appreciated President Putin's statement yesterday. He wants to see it done also. I think there's a lot of excitement for getting a deal done with North Korea."
The six-way talks Putin referenced had ended in 2009, and had involved Russia; Putin offered this track as a way to build step-by-step trust, according to Reuters. 
"They only need guarantees about their security. That's it. All of us together need to think about this," Putin told reporters following the meeting. His emphasis was on the need for an international process ensuring every step, something however which didn't stop the US from pulling out of the 2015 brokered JCPOA Iran nuclear deal.
North Korea's KCNA also noted the Kim-Putin discussion also focused on advancing strategic communication and tactical collaboration related to peace on the Korean peninsula.