The casino industry in Vancouver has been hit hard by a "dirty money crackdown" that could throw the city's gambling business into complete turmoil, according to Bloomberg.

Vancouver area casinos had, for years, been accepting millions of dollars in questionable cash from people that showed up with suitcases and hockey bags stuffed with dollar bills, according to British Columbia Attorney General David Eby. But, just as what happened with Vancouver's equally "questionable" housing market, reality eventually caught up and even the slowest of regulators started to realize that this behavior isn't normal. And this reality is hitting casinos, like Vancouver's Parq, hard. 
New rules implemented last year make it more important to identify the source of funds like these, which has caused a slow down for the casino business, who was complicit in laundering taking this money in years prior.
Andrew Hood, a Toronto-based equity analyst at M Capital Partners Inc. who covers Dundee Corp., one of Parq's two owners said: "The anti-money laundering regulations in British Columbia have been a problem. The regulations were supposed to cut down on illicit gambling but, of course, that hurt volumes across casinos."
The crackdown came at the worst possible time for the newly opened Parq, which opened its doors in late 2017.
The casino had already planned to replace its costly construction financing with cheaper debt after opening, but business opened up slower than expected as a result of the new restrictions. The casino lost nearly C$153 million ($114 million) in 2018, according to regulatory filings. Now the casino is racing to refinance its debt simply to make an interest payment on a second tier loan this week. Investors had put more than C$1 billion in long-term debt and equity into Parq up to the end of 2018, and now the casino is seeking out a new partner as a lifeline. 
The casino has a $150 million second lien term loan that was arranged by financial institutions led by Credit Suisse in 2014. The amount of interest that the casino owes has not been disclosed, but the company had deferred an interest payment by one month to April 30 and its ability to pay now hinges on whether not it can refinance its debt. S&P recently downgraded the company to CCC from B-. S&P commented: "We still believe that, absent a debt recapitalization, the company will be unable to materially address its high fixed charges and financial sustainability. There's a risk of a payment default or a debt restructuring within the next 12 months."

The casino's $220 million first lien term loan due in December 2020 would be paid first in the event of default. That loan is trading down only 1% over the last year, which could be a result of creditors believing that the casino's assets are worth more than the loans. The resort generated C $43.5 million in revenue in the three months ended December 31, which was up 36% from the same period in 2017. Interest on the casino's senior debt is around 10%, amounting to $22 million per year.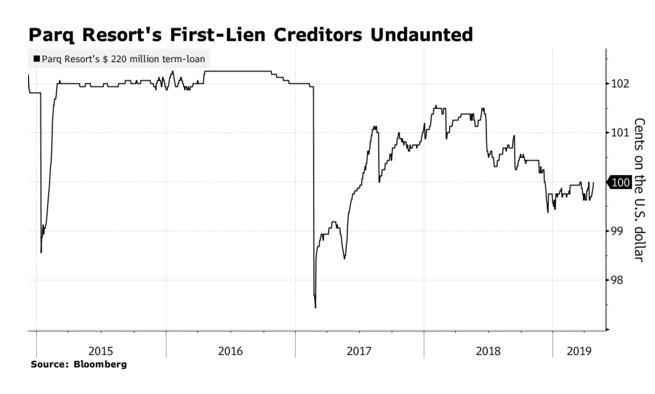 The casino was viewed in a favorable light up to its launch. The "unlucky" timing of these regulations, however, flew in the face of the casino's business plan: namely to take hundreds of thousands of dollars from Asian high-rollers, in cash, who just "happened to be in the area".

Parq was supposed to offer an upscale option in Vancouver, even including its own second-floor entrance to the neighboring BC Stadium. The casino was meant to be everything that suburban casinos were not. It's elevated outdoor park had 200 real pines unlike the fake trees at the busy River Rock Casino Resort near the airport. Its fine dining options sported tea buds painted in gold. And of course, Vancouver's market for this type of casino was promising. At the time, everybody was living it up too much to notice that this surprising influx of revenue could be due to Chinese money plowing into an artificial real estate market. 

Scott Menke, chief executive officer of Paragon Gaming Holding Co., the Las Vegas-based casino developer and operator that spearheaded Parq's construction, said in 2017: "The revenues in Vancouver have grown consistently within the past 10 years; pretty much every other market has not seen a raise in table revenues." 
Then, gaming executives blamed their poor performance on regulations that came years too late. Nonetheless, they acted surprised: "The changes in procedures were implemented extremely, extremely quickly. I think it's even more challenging for our guests when they've been used to doing things a certain way for a certain amount of time, and then all of a sudden, you know, they get turned away and they got to figure out – they got to go to the bank that day."
As we wrote just about a month ago, the city's home sales just crashed by 46%, the lowest since 1985. We're sure the timing of this crash and the pressure felt on BC casinos - when coupled with new regulations - is not simply a coincidence.