Nothing quite says "things are great" in your business and industry more than an absolute blowout fire sale of all of your inventory. This is what Tesla is set to announce regarding its solar panels and related equipment on Tuesday, according to the NYT.
Tesla plans to announce that it has started selling its solar panels and related equipment for up to 38% less than the national average price by standardizing systems. Customers are going to need to order the equipment online and Tesla will be offering systems only in 4 kilowatt increments or 12 panels.
The drop in price is stunning: not unlike the auto business, the solar business is a capital intensive industry with tight margins, where companies perform intense analysis to find even the smallest synergies and cut off pennies per watt in cost. To undercut the national average by 38% is a nearly unthinkable strategy, assuming Tesla still strives to make money from this segment.  
Meanwhile, the company's solution to make this happen is about as novel of an idea as building a production tent.
Tesla is going to be asking customers to do some of the work for them. Customers will be asked to do some of the installation basics, such as taking photos of their own electric meters and other equipment to provide to the company. Customers could then pay $1.75 to $1.99 per watt after all of these changes, according to the company. The average residential solar customer pays $2.85 per watt, including $1 for permitting and inspections, according to the Solar Energy Industries Association.
Sanjay Shah, who runs Tesla's solar business said: "We spent hours and hours and days and days on the process. It adds cost. It adds time. We needed to have a very streamlined process."
Ever since Tesla's "strategic" bail out purchase of Solar City, the energy portion of the business has been volatile and trending toward a decline. Back in February 2018, the company said it would sell panels in 800 Home Depot stores - that idea lasted until June, only 4 months later, when they ended the partnership. Solar's decline was confirmed again by Tesla's 10-Q, filed just days ago, showing an anemic number for its Solar MW Deployed.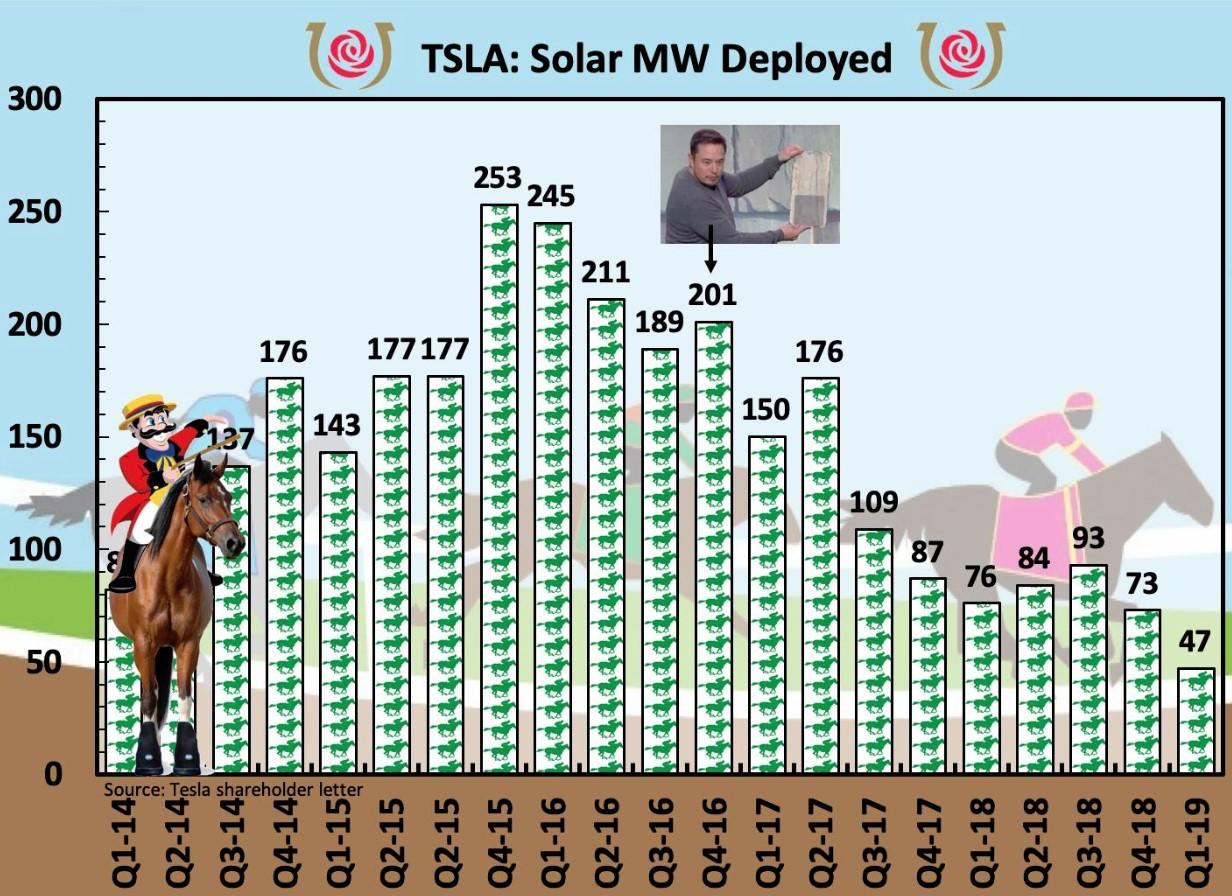 The solar roof shingles that Tesla pitched to the public about 2 years ago have also not come to fruition yet. Finally, Tesla faces additional pressure from its Buffalo factory where, due to taking on significant subsidies, it needs to rush to meet certain hiring and investment requirements. Musk was recently spotted in Buffalo. 
In a thread from one Twitter user, they noted that "hospitals don't cut costs by asking their patients to set up their own X-Rays": 
5/ Thats not how to solar industry works folks. You cant cut corners and pass off to a customer what needs to be done by a professional.

Hospitals do not cut costs by asking their patients to set up their own X-Rays.$TSLA $TSLAQ

— Mr. Generic (@OffBrandCapital) April 30, 2019
They also asked important questions like whether or not these new changes could wind up being more trouble than they're worth:
6/ In the end how much will this actually save? How much time will be wasted instructing the customer, waiting for the customer to provide the measurements, and asking to redo/send additional info?

Will this give Tesla the proper info to bring the right materials/equipment?

— Mr. Generic (@OffBrandCapital) April 30, 2019
And finally, despite Tesla's spin, they noted what we believe is the obvious: "this is a liquidation".
THIS IS A LIQUIDATION:

A Thread.

Congratulations to Mr. Musk for finding a 38% cost reduction from the national average in his back pocket overnight?

Tesla Looks to Regain Its Luster in Solar Energy by Slashing Prices

1/$TSLA $TSLAQhttps://t.co/kUQ5S3pf9h

— Mr. Generic (@OffBrandCapital) April 30, 2019