update 6: Unwilling to let a good coup attempt go to waste - but which defense minister Vladimir Padrino on Tuesday afternoon ridiculed as a "mediocre" failure - Bolton is going all in, tweeting an ultimatum to multiple top Maduro officials later in the day Tuesday:
.@vladimirpadrino, @Ivanr_HD, @MaikelMorenoTSJ: Your time is up. This is your last chance. Accept Interim President Guaido's amnesty, protect the Constitution, and remove Maduro, and we will take you off our sanctions list. Stay with Maduro, and go down with the ship.

— John Bolton (@AmbJohnBolton) April 30, 2019
In response to Bolton's tweet, Venezuelan Foreign Minister Jorge Arreaza responded, "Dream on @AmbJohnBolto … Not today!" 
Dream on @AmbJohnBolton ... Not today! #TrumpHandsOffVenezuela https://t.co/vCD0hIgMgR

— Jorge Arreaza M (@jaarreaza) April 30, 2019
Meanwhile, Tuesday's dramatic coup events and related protester clashes with national guardsmen in Caracas appear to have fizzled out for the moment. 
Maduro officials were quick to voice their belief that Tuesday's events which began with Guaido calling for the military to turn on Maduro were planned directly by Washington and intelligence agencies like the CIA.
This is how the US starts a civil war in another country, by backing armed insurgents trying to collapse the state. This reminds me of Syria. pic.twitter.com/ZlNQtvrEGz

— Rania Khalek (@RaniaKhalek) April 30, 2019
In further confirmation that pro-Maduro forces have again emerged victorious, opposition politician and Guaido adviser Leopoldo Lopez and his family have successfully sought refuge at the Chilean diplomatic residence in Caracas, Chile's foreign minister said.
But it will be interesting to see if regime change hawk Bolton can convince the White House to take any further concrete action following Tuesday's dramatic events. 
* * *
update 5: As predicted, what Guaido dubbed "Operation Liberty" — a full on coup attempt for which he appealed for Venezuela's military to rise up against Maduro — appears to have failed to achieve significant momentum, given Caracas officials are taking to the air waves to declare the "mediocre" coup attempt successfully put down.
"A mediocre coup d'etat attempt has failed," said defense minister Vladimir Padrino on a state radio broadcast Tuesday afternoon, following prior statements saying he was ready put down the rebellion by force. And in a television appearance Padrino further called the day's events "ridiculous". 
Meanwhile national security advisor John Bolton has stated this is "not a coup" given that the US already sees opposition leader Juan Guaido as the country's president. Bolton said of the rapidly unfolding and increasingly violent events that "it is not a coup for Juan Guaido to try and take command of the Venezuelan military."
I am monitoring the situation in Venezuela very closely. The United States stands with the People of Venezuela and their Freedom!

— Donald J. Trump (@realDonaldTrump) April 30, 2019
Bloomberg confirms a stalled opposition effort to penetrate a central government building district in the capital: 
Guaido, Lopez and their supporters attempted to reach the city center of Caracas, the symbolic stronghold of the government, but were blocked even before leaving the eastern district of Chacao. National police, guardsmen and armored vehicles blocked a main artery and turned back crowds with volleys of tear gas and plastic buckshot.
The number of dead or wounded amidst Tuesday's clashes is yet unknown, and the situation remains fluid. 
* * *
update 4: In a dramatic escalation, Bloomberg reports that an armored car has plowed into a crowd of protesters demonstrating outside the La Carlota Air Force base in Caracas — scene of prior clashes and reported exchanges of live fire.
🇻🇪 | REBELIÓN EN VENEZUELA: Tanquetas militares arrollan a grupo de manifestantes en Caracas: pic.twitter.com/BLirOAoFkP

— Alerta News 24 (@AlertaNews24) April 30, 2019
Per Bloomberg: "An armored car has plowed into protesters, apparently crushing some, at La Carlota air base in Venezuela. Demonstrators had launched barrages of rocks and Molotov cocktails at the vehicles patrolling its perimeter."
Opposition leader Guaido says final phase to oust Venezuela's Maduro has begun. Follow our live coverage: https://t.co/ZDvTj7V8r6 pic.twitter.com/tNQzlPBhXg

— Reuters Top News (@Reuters) April 30, 2019
* * *
update 3: Things are getting hotter in Venezuela, as Reuters reports that a pro-Guaidó gathering at the La Carlota military air base came under fire and shot back.
In this video, what sounds like gunfire can be heard. 
Militares pro Maduro atacaron a @jguaido y @leopoldolopez y a los militares sublevados en el doatribuidor Altamira pic.twitter.com/xJynGSJU3L

— Rafael Hernández (@sincepto) April 30, 2019
update 2: Secretary of State Mike Pompeo says Guaidó has the White House's full support in the opposition leader's call for military uprising against Maduro, and is monitoring closely.
There are further unconfirmed reports suggesting limited groups of National Guard soldiers may be defecting to the Guaido-led opposition, and at least some videos coming out of Caracas appear to show clashes between the rival factions, but Maduro is claiming to have the "total loyalty" of the armed forces. 
#Venezuela 🇻🇪: pro-opposition soldiers can be seen arresting pro-regime forces who blocked the main highway in #Caracas. #30Abr #OperaciónLibertad pic.twitter.com/HdiNCDj5Il

— Thomas van Linge (@ThomasVLinge) April 30, 2019
Clashes appear to be focused outiside La Carlota Air Force base in Caracas, where Guaido's opposition assembly has announced they will meet later in the day.
#30Abr Así se encuentra la Base Aérea de La Carlota. Se observa movimiento por parte de funcionarios militares en vehículos. #TVVenezuela #ENVIVO por: https://t.co/gGrv4KLF5U pic.twitter.com/oADgJmRO75

— TVVenezuela Noticias (@TVVnoticias) April 30, 2019
Meanwhile opposition media sources, as well as anti-Maduro hawk Sen. Marco Rubio, are claiming opposition protesters filling Caracas streets are being shot at with live fire from Maduro's army. 
#30Abr Detonaciones en ráfaga hacen correr a manifestantes en perímetro de La Carlota pic.twitter.com/Q16nfeaCt9 - @ManualDelGrillo

— Reporte Ya (@ReporteYa) April 30, 2019
But there's also confusion as to the extent of the militarization of the uprising, with some reporters pointing to the peaceful nature of demonstrations, even outside La Carlota Air Base.
Pictures from about an hour ago in Altamira, just outside the Carlota military base, where hooded opposition supporters are throwing rocks against the government armes forces guarding the base. They were pushed back by tear gas. Very clear that this was not a military uprising. pic.twitter.com/f3oDoREeMu

— Michael Fox (@mfox_us) April 30, 2019
Most major western media outlets have admitted accurate information on the ground is currently hard to come by as the rapidly unfolding situation remains highly fluid. 
* * *
update: Reuters journalists have confirmed US-backed Venezuelan opposition leader Juan Guaido is just outside a military base in Caracas surrounded by armed uniformed soldiers — this as he's claimed to have gathered more defectors.
Per Reuters:
Venezuela's government is confronting a small group of "military traitors" that are seeking to promote a coup, Information Minister Jorge Rodriguez said on Tuesday on Twitter.

A Reuters journalist saw opposition leader Juan Guaido standing near an air force base in Caracas surrounded by a group of men in uniform.
However, the Maduro government is claiming to be in "full control" over the country and its armed forces. 
Guaido issued a video message hours prior saying he was in the "final phase" of his plan to oust strongman Nicolas Maduro, calling for an end to the recently reelected Maduro's "usurpation."
Tear gas fired at Venezuela's Guaido while gathered with men in military uniform https://t.co/RpOULpozT5 pic.twitter.com/MsJ9P0abUT

— Reuters Top News (@Reuters) April 30, 2019
The US-recognized "Interim President" told CNN, "We have the support of a big sector of the armed forces and in the coming hours we'll be consolidating all their support near the transition in Venezuela."
Big: Venezuela's opposition leader just launched a coup. Reports coming in that the government is now blocking access to social media in response. Any interference with the right of the people to communicate freely must be condemned. #vzcoup #venezuela https://t.co/teu4yXi42Q

— Edward Snowden (@Snowden) April 30, 2019
Meanwhile, all major social media sites and messaging apps have been reported blocked throughout the country. Caracas officials have confirmed the government is confronting a small group of "traitors" attempting a coup. 
* * *
Multiple reports say a military coup attempt is ongoing Tuesday morning in Venezuela as an anti-Guaido militia loyal to opposition leader and US-backed Juan Guaidó tries to establish military control of key points across the capital of Caracas and other major cities. 
Information Minister Jorge Rodriguez confirmed via social media the government is in the midst of putting down what's being described as a "small coup" by military "traitors" working with the right-wing opposition.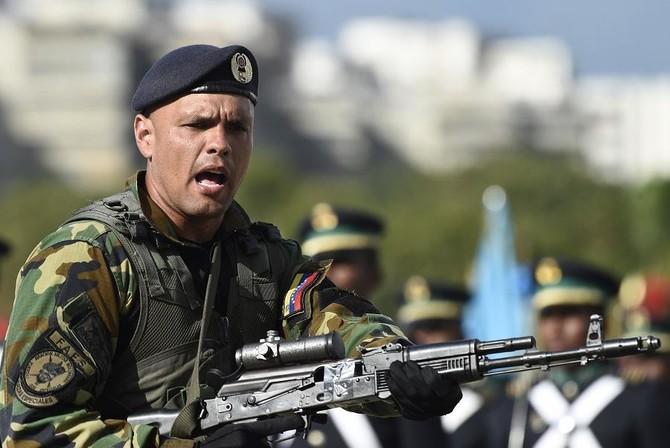 The AP has confirmed ongoing clashes between coup supporters and police inside Caracas, including reports of tear gas being fired, moments after Guaido issued statements in a video calling for a military uprising. Guaido was shown in the video accompanied by detained activist Leopoldo Lopez and surrounded by well-armed soldiers. 
Crucially, Lopez said he was liberated from captivity where Maduro had put him under house arrest for leading opposition unrest in 2014, and in the video called on all Venezuelans to peacefully take to streets.
En el marco de nuestra constitución. Y por el cese definitivo de la usurpación. https://t.co/3RD2bnQhxt

— Juan Guaidó (@jguaido) April 30, 2019
The AP described the video which apparently sparked the subsequent anti-Maduro action in Caracas:
In the three-minute video shot early Tuesday, Guaido said soldiers who took to the streets would be acting to protect Venezuela's constitution. He made the comments a day before a planned anti-government rally. 

"The moment is now," he said, as his political mentor Lopez and several heavily armed soldiers backed by a single armored vehicle looked on.
"Everyone should come to the streets, in peace," Lopez said further. The past months have seen multiple failed attempts to generate some kind of mass military and civilian uprising against Maduro, but so far all attempts have failed to generate any significant momentum, size, or staying power.
BREAKING NEWS: Interim President of Venezuela Juan Guaido has started a military coup against Maduro. Heavily armed military forces are in various locations across the capital and other major cities pic.twitter.com/9jTC2BLQXR

— BNL NEWS (@BreakingNLive) April 30, 2019
So far Venezuela authorities have confirmed only coming up against a handful of armed militia members, which suggests Tuesday morning's anti-Maduro action will likely be short-lived. 
developing...