Update: Meadows has issued the criminal referral for Nellie Ohr. 
***
Congressional Republicans are "working to finalize" a criminal referral of Russiagate lynchpin Nellie Ohr, the wife of the Justice Department's former #4 official Bruce Ohr.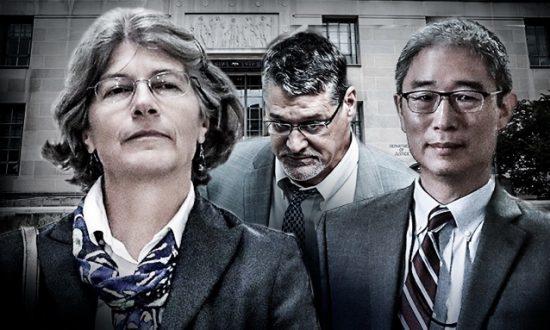 Nellie was hired by opposition research firm Fusion GPS, where she conducted extensive opposition research on Trump family members and campaign aides, which she passed along to Bruce on a memory stick. 
Of note, the Hillary Clinton campaign paid Fusion GPS to produce the salacious and unverified "Steele Dossier," which was created by former UK spy Christopher Steele and used Kremlin sources. 
Meanwhile, today we learn from The Hill's John Solomon that Nellie Ohr exchanged 339 pages of emails with DOJ officials, including her husband Bruce, and met with DOJ prosecutors while working for Fusion GPS. 
Now, a series of "Hi Honey" emails from Nellie Ohr to her high-ranking federal prosecutor-husband and his colleagues raise the prospect that Hillary Clinton-funded opposition research was being funneled into the Justice Department during the 2016 election through a back-door marital channel. It's a tale that raises questions of both conflict of interest and possible false testimony.

Ohr has admitted to Congress that, during the 2016 presidential election, she worked for Fusion GPS — the firm hired by Clinton and the Democratic National Committee to perform political opposition research — on a project specifically trying to connect Donald Trump and his campaign chairman, Paul Manafort, to Russian organized crime.

Now, 339 pages of emails, from her private account to Department of Justice (DOJ) email accounts, have been released under a Freedom of Information Act request by the conservative legal group Judicial Watch. -The Hill
And according to Rep. Jim Jordan (R-OH), Rep. Mark Meadows "is working to finalize" a criminal referral of Nellie. 
2/ @Jim_Jordan tells me today that based on this information he believes @MarkMeadows "is working to finalize" a criminal referral of Nellie Ohr. "We'll see if that happens." https://t.co/XRFfLX8AH1 pic.twitter.com/gDKCnh0bkw

— Saagar Enjeti (@esaagar) May 1, 2019
"Hi Honey, if you ever get a moment you might find the penultimate article interesting — especially the summary in the final paragraph," Nellie emailed Bruce on July 6, 2016 according to the release. The article in question suggested that Trump was a Putin stooge. "If Putin wanted to concoct the ideal candidate to service his purposes, his laboratory creation would look like Donald Trump," Nellie bolded for emphasis. 
As Solomon writes, "Such overt political content flowing into the email accounts of a DOJ charged with the nonpartisan mission of prosecuting crimes is jarring enough. It raises additional questions about potential conflicts of interest when it is being injected by a spouse working as a Democratic contractor trying to defeat Trump, and she is forwarding her own research to his department and co-workers."
House GOP investigators who reviewed Nellie Ohr's emails believe that their timing may be essential to understanding how the false Russian narrative — special counsel Robert Mueller recently concluded there was no evidence of Trump-Putin collusion — may have gotten such credence inside DOJ and intelligence circles despite its overtly political origins.

For instance, just 24 days after the anti-Trump screed was emailed, both Ohrs met in Washington with British intelligence operative Christopher Steele. Nellie Ohr testified that she had known Steele from past encounters and learned at that July 31, 2016, meeting at the Mayflower Hotel that Steele, like herself, was working for Fusion GPS on Trump-Russia research. She said she learned that Steele had concerns that he hoped the DOJ or FBI would investigate, with help from her husband. -The Hill
Nellie, who speaks fluent Russian, worked with Fusion GPS between October 2015 and September 2016. She also admitted during her October 19, 2018 congressional testimony that she favored Hillary Clinton as a candidate, and would have been less comfortable researching Clinton's Russia ties (P. 105). 
In 2010, she represented the CIA's "Open Source Works" group in a 2010 "expert working group report on international organized crime" along with Bruce Ohr and Fusion GPS founder Glenn Simpson.
Nellie Ohr, the wife of demoted DOJ official, Bruce Ohr, not only worked for Fusion GPS, but has also represented the CIA's "Open Source Works" group. https://t.co/u5HPgJwvWd pic.twitter.com/ZPhAIzR6wv

— Josh Caplan (@joshdcaplan) December 12, 2017
Ohr confirmed her work for the CIA during her October testimony.  
***
As we reported in March, 
some have wondered if Nellie's late-life attraction to Ham radios was in fact a method of covertly communicating with others about the Trump-Russia investigation, in a way which wouldn't be surveilled by the NSA or other agencies. 
was Nellie Ohr's late-in-life foray into ham radio an effort to evade the Rogers-led NSA detecting her participation in compiling the Russian-sourced Steele dossier? Just as her husband's omissions on his DOJ ethics forms raise an inference of improper motive, any competent prosecutor could use the circumstantial evidence of her taking up ham radio while digging for dirt on Trump to prove her consciousness of guilt and intention to conceal illegal activities. -The Federalist
Bruce Ohr was demoted twice after the DOJ's Inspector General discovered that he lied about his involvement with Simpson - who employed dossier author and former British spy, Christopher Steele.
Last month, Senate Judiciary Committee Chairman Lindsey Graham (R-SC) announced that his panel would do a "deep dive" into the "other side" of the Trump-Russia investigation. He also called for the appointment of a new special counsel to look into abuse between the DOJ and Obama administration while investigating Donald Trump and his campaign. 
Are heads actually going to roll?