6 months of "trade talk optimism" is being unwound in hours before our eyes.
World shares dropped to five-week lows on Wednesday as S&P futures and European stocks continued their slide following steep declines in Asia, as markets started to accept that a deal with China now appears impossible, at least in the short term. Bond yields slumped, the dollar jumped, the safe haven yen surged to a six-week high against the dollar, the pound slipped as Brexit breakthrough hopes faded, the Kiwi tumbled after New Zealand unexpectedly cut interest rates overnight, while Chinese stocks dropped after China reported an unexpected contraction in exports.
As Bloomberg notes, Trump's unexpected escalation on trade in the past few days caught global equity markets off-guard. Many had been testing record highs, seemingly priced to perfection on the assumption a deal between the U.S. and China would get done. Still, many refuse to give up hope, and JPMorgan boss Jamie Dimon still put the odds of that at 80%, and the S&P 500 has only fallen to levels seen a month ago - nonetheless investors will be on edge as China's top trade negotiator visits Washington this week.
"The two largest economic powerhouses, the U.S. and China, either will be at a trade war or a trade peace and in reality there's only a couple of people who know the answer to that and it isn't those of us on Wall Street," Larry Robbins, Glenview Capital Management's CEO, told Bloomberg TV in New York. "It's to be expected that there's some volatility into this critical week."
"I think it's a major risk that Trump raises tariffs," said Christophe Barraud, chief strategist at the Market Securities brokerage in Paris. "If that happens we can imagine that negotiations will break down, implying another few months of uncertainty... All-in all, bonds as well as other safe-havens such as yen, look set to benefit from this situation in the short-term."
European stocks pared early gains, with the Stoxx 600 trading as low as -0.4% and down for 5 of the past 6 days, as China reiterated its position on trade negotiations ahead of potential U.S. imposition of additional tariffs on Friday. Risk sentiment deteriorated after Reuters cited sources saying China backtracked on nearly all aspects of U.S. trade deal last week even as it added that "U.S. officials have little hope that Liu will come bearing any offer that can get talks back on track, said two of the sources."
While macro concerns and broader market moves eclipsed corporate results this week, earnings season continues apace. Commerzbank results were in line with estimates, while Siemens posted a beat. Toyota and Honda forecast profit and sales short of analysts' estimates. Lyft exceeded sales expectations after the close on Tuesday but reported a staggering net loss and disappointed some in its tepid (lack of) profit outlook.
The European Bank for Reconstruction and Development (EBRD) trimmed its growth forecast for its region on Wednesday, citing a slowdown in global trade as well as the sharp economic deceleration in Turkey. Growth is forecast to recover in 2020 to 2.6%, the bank said, noting however that the outlook is still clouded by risks such as trade tensions between the United States and its major trading partners. "A widespread escalation of global protectionism remains a major concern," the EBRD wrote in its report.
There are concerns also for Germany, the euro zone's largest economy. While industrial output rose unexpectedly in March, the economy ministry warned that the outlook remained subdued.  The data also follows weak industrial orders figures, and the downward revision of euro zone growth by the European Commission. All that reinforces a weak backdrop for the euro zone economy and a perception that the European Central Bank will keep rates at record low levels for longer than expected.
Earlier in the session, Asian stocks fell for a third day, with MSCI's Asia-Pacific share index excluding Japan falling almost one percent to touch its lowest level since late-March, driven by healthcare and consumer staples firms. Almost all markets in the region were down, with Japan and China leading losses. The Nikkei dropped -1.5% and the Topix closed 1.7% lower, with Hoya Corp. and Takeda Pharmaceutical Co. among the biggest drags. The Shanghai Composite Index dropped 1.1%, as large banks and insurers drove declines. In India, the S&P BSE Sensex Index retreated 0.8%, led by Reliance Industries Ltd. and HDFC Bank Ltd. Elsewhere, Hong Kong's Hang Seng Index dropped -1.2%; Hang Seng China Enterprises -1.5%; the CSI 300 dipped -1.4%, South Korea's Kospi Index -0.4%; Kospi 200 -0.4%, Australia's S&P/ASX 200 -0.4%; New Zealand's S&P/NZX 50 +0.4%, India's S&P BSE Sensex Index -0.8%; NSE Nifty 50 -0.7%.
Overnight, the yuan edged lower as data showed Chinese exports unexpectedly fell in April and imports rose. The latest Chinese trade data added to market jitters after it showed solid imports but an unexpected fall in April exports. Commenting on the latest Chinese trada data, Goldman writes that China's export growth dropped to -2.7% yoy in April from +13.8% year-on-year in March, primarily on the fading of Chinese New Year distortions. The figure was below both consensus expectations and our below-consensus forecast. In contrast, imports rebounded +4.0% yoy in April, above consensus but roughly in line with our forecast. Distortions from the VAT cut effective on April 1 probably contributed to the rebound.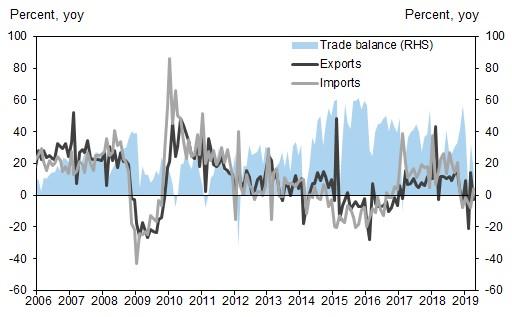 "Chinese exports were negative which suggests the world economy remains weak," Barraud said noting that the latest manufacturing surveys had painted a subdued picture of new export orders worldwide. "As we saw with New Zealand today, central banks will remain tilted to the dovish side. They are trying to buy some kind of insurance against negative shocks."
In rates, German yields steady, with 10-year BTP/Bund spread 3bps tighter at 263bps. In the US, yields dropped in 2-yr through 10-yr tenors, with the benchmark 10Y rate sliding to 2.42%, the lowest since the end of March. Germany's 10-year bund yields hovered near five-week lows at -0.04 percent, not far from the 2-1/2 year low of -0.094 percent while Japan's 10-year yield burrowed deeper into negative territory and last stood at minus 0.055 percent.
In currencies, demand for safe-havens boosted the Japanese yen which firmed 0.2 percent against the dollar at 110.07 yen, taking its gains to more than 1 percent this month and briefly rising above 110 vs the USD. The big move overnight was from the New Zealand kiwi which slumped more than 1% to a six-month low after New Zealand became the first country in the developed world to cut interest rates since the Fed turned tail on policy earlier this year, though other central banks, from Sweden to Canada have hinted at policy easing. The Reserve Bank of New Zealand lowered its official cash rate, before it pared most of the decline amid speculation that the central bank will refrain from easing policy further. The U.S. dollar was stronger versus most Group-of-10 peers as Treasuries edged lower, while sterling led losses as U.K. cross-party Brexit talks were inconclusive
New Zealand's central bank governor Adrian Orr cited the U.S.-China trade dispute as a major risk for his country's economy.
In emerging markets, the lira extended losses against the dollar amid the fallout from Turkey's decision to re-run municipal elections in Istanbul. The South African rand strengthened as the country headed to the polls for a national election.
In commodities, Brent crude oil futures at $70.31 per barrel, 43 cents, or 0.6 percent above their last close.
On today's calendar, Disney, Marathon Petroleum are among companies reporting earnings; the only economic data is the mortgage applications which rose 2.7% after dropping -4.3%
Market Snapshot
S&P 500 futures 2,873, down -0.6%
STOXX Europe 600 up 0.1% to 382.11
MXAP down 1% to 159.02
MXAPJ down 0.7% to 526.12
Nikkei down 1.5% to 21,602.59
Topix down 1.7% to 1,572.33
Hang Seng Index down 1.2% to 29,003.20
Shanghai Composite down 1.1% to 2,893.76
Sensex down 0.7% to 38,009.06
Australia S&P/ASX 200 down 0.4% to 6,269.15
Kospi down 0.4% to 2,168.01
German 10Y yield rose 0.7 bps to -0.031%
Euro up 0.1% to $1.1206
Italian 10Y yield rose 3.9 bps to 2.247%
Spanish 10Y yield fell 1.4 bps to 0.95%
Brent Futures up 0.1% to $69.95/bbl
Gold spot up 0.2% to $1,287.12
U.S. Dollar Index down 0.2% to 97.47
Top Overnight News from Bloomberg
China, in a diplomatic cable on Friday, removed its commitments in the draft trade deal to alter laws to resolve key complaints made by the U.S., Reuters reported, citing three unidentified people in the U.S. government and private sector briefed on talks
JPMorgan Chase & Co. Chief Executive Officer Jamie Dimon put the odds of the U.S. and China reaching a trade deal at 80%, sounding a note of optimism even after the rising specter of tariffs roiled global markets
Iran is scaling back its commitments under the 2015 nuclear deal in response to U.S. sanctions and will resume uranium enrichment beyond agreed limits in 60 days if European signatories don't find a way to ensure it can sell oil and trade with the world
President Donald Trump's advisers are pushing him to defy congressional investigations in hopes of luring Democrats into escalating a fight that they say will turn voters against the party in the 2020 elections. The advisers are counting on news coverage of the battle with Congress distracting attention from candidates vying to replace Trump
Spin, bluster and outright hostility marked the Italian government's reaction to the latest European Union warning that the country's fiscal situation is set to worsen this year and next. The backlash sets the stage for a replay of the budget conflict between Rome and Brussels that roiled markets last year
Asian equity markets were mostly negative as ongoing US-China trade uncertainty continued to take its toll on risk sentiment which resulted to heavy losses on Wall St and underperformance of the trade-sensitive sectors such as tech, industrials and materials, while the region also digested mixed Chinese trade data. ASX 200 (-0.4%) was led lower by weakness in tech, as well as disappointing corporate updates including CSR and Treasury Wine Estates. Nikkei 225 (-1.4%) was weighed by currency strength and with index heavyweight Fast Retailing subdued after a decline in April same store sales. Elsewhere, Hang Seng (-1.2%) and Shanghai Comp. (-1.1%) conformed to the downbeat tone due to the US-China trade tensions as some reports noted the possibility of an escalation is seriously increasing (potential retaliatory tariffs by China on US imports) and as Chinese media also suggested China is not afraid to fight and will do so if necessary. However, mainland markets have nearly fully recovered on some optimism from confirmation Premier Liu He will travel to Washington for trade talks this week and after the mixed trade data. Finally, 10yr JGBs were mildly higher due to the risk averse sentiment in the region but with gains later pared amid a softer 10yr auction result
Top Asian News
Thailand Keeps Key Rate Unchanged as Economic Growth Risks Mount
Bank of Thailand Holds Rate as It Forecasts Weaker Growth
Apple Preps Push in India With Short List for First Retail Store
Jokowi Set to Reboot Cabinet as Graft Probe Engulfs Ministers
Major European bourses have given up their early gains [Eurostoxx 50 -0.3%%] following on from a mostly downbeat Asia-Pac session, as sources released details regarding the break-down in US-China trade talks. Sentiment deteriorated as China reportedly backtracked on legal issues throughout text of proposed US trade agreement, affecting nearly every chapter. Furthermore, the sources stated that China looked for changes in the text of intellectual property protection and theft, technology transfer, financial service access and competition policy. Nonetheless, DAX (-0.3%) whilst in negative territory is modestly firmer than its peers, buoyed by optimistic German industrial output, whilst heavyweight Siemens (+4.7%) alongside Wirecard (+2.4%) also underpinned the index amid optimistic earnings, with the latter upgrading guidance. Sectors are relatively mixed with no stand-out out/underperformers. In terms of individual movers, Imperial Brands (-4.6%) shares fell despite optimistic earnings as its e-cigarette sales in the US were disappointing.
Top European News
German Industrial Output Unexpectedly Gains in Euro-Zone Boost
Steel Giant Flags Risks If Trade Deal 'Doesn't Get Sorted Out'
May Faces Parliament With Labour Talks Stalling: Brexit Update
Greece Lowers Surplus Targets in Test to Deal With Creditors
In FX, a relatively constrained 97.589-409 range in the DXY index is fairly reflective of the tentative tone in currencies ahead of the pivotal and potentially game-changing talks in Washington between top level US and Chinese trade negotiators as sourced headlines intimate that China retracted legal pledges in virtually all sections of the proposal document. Looking at a breakdown of the basket, the Dollar is mixed vs major counterparts with the safer-havens outperforming in contrast to high betas, predictably.
NZD/AUD - The Kiwi has been the most volatile G10 unit for obvious reasons, with a swoon to circa 0.6530 lows vs its US peer and 1.0720 against the Aussie in the immediate aftermath of the 25 bp RBNZ rate cut that was rated as roughly 50-50 in terms of probability and was accompanied by a lower projected profile going forward. However, Nzd/Usd and Aud/Nzd have both reversed course rather sharply to around 0.6590 and 1.0640 respectively as RBNZ Governor Orr revealed in the post-meeting press conference and subsequent comments that the outlook appears more balanced than prior to the ease, with the Bank now inclined to monitor data as it unfolds. Meanwhile, Aud/Usd is sitting tight within a 0.7025-00 post-on hold RBA range and awaiting the SOMP on Friday in addition to the aforementioned US-China trade situation.
GBP - Sterling remains vulnerable amidst the overall cautious risk environment and on Brexit uncertainty, as talks continue between the Conservative and Labour Parties, and while UK PM May battles to fend off latest leadership challenges. Indeed, Cable is now testing support ahead of 1.3000, such as the 30 DMA and a Fib (1.3036/1.3021), with Eur/Gbp nudging higher towards 0.8600 and the Pound not gleaning any support from firm Halifax house prices or decent BRC and Barclaycard retail surveys.
CHF/JPY - As noted above, the Franc and Yen are both benefiting from risk-off flows, as Usd/Chf retreats from 1.0200+ to revisit recent lows near 1.0170 and Eur/Chf slips back below 1.1400. Meanwhile, Usd/Jpy is just hovering around 110.00 after breaching Fib and daily support at 110.44 and 110.31 respectively, and a dip to 109.90, with stops said to be sitting between 109.75-70.
EUR - The single currency remains resilient either side of 1.1200 and 30 DMA resistance at 1.1224 vs Fib support at 1.1186 and lows seen earlier this week around 1.1160. A decent beat vs consensus in German ip has provided some traction against more Italian fiscal largesse.
NOK - In contrast to the above, weak Norwegian manufacturing output has undermined the Nok and pushed the Eur cross back over 9.8000 vs Eur/Sek that remains sub-10.7500.
In commodities, choppy trade in the energy complex with Brent and WTI futures straddling just above USD 69.40/bbl and USD 61/bbl respectively amid the release of details regarding the deterioration of US-Sino trade discussions. The release of the a wider-than-forecast build in API stocks did little to sway prices in the immediate aftermath as the sector was overshadowed supply woes emanating from Libyan and Iranian tensions, Venezuelan sanctions and scope for OPEC to curb output till year-end.  Yesterday also saw the release of the EIA Short-Term Energy Outlook which showed a raise in 2019 global oil demand expectations by 20K to 1.38mln, whilst 2020 demand forecasts were increased by 80K. Elsewhere, China's trade balance showed that the country imported a record 10.7mln BPD of crude in April, +11%Y/Y and +15% M/M, albeit, ING notes that the strong oil numbers were likely due to heavy stockpiling ahead of Iranian waiver expiries. From a technical point, the benchmarks remain above their respective 50 and 200 DMAs (WTI: 60.95 and 60.75; Brent: 69.29 and 69.16 respectively, having formed a golden cross yesterday. Gold (+0.3%) largely benefits from the safe-haven flows amid the step-backs in US-China trade discussions and as US are set to hike tariffs on USD 200bln worth of Chinese goods at 12:01 ET tomorrow. Meanwhile, copper came off highs after sources reported that China's backtracking in talks affected every chapter in the trade accord. The red metal did gain some impetus during Asia-Pac hours as imports from China topped estimates. Finally, iron ore prices rose to near five-year highs on supply woes after Vale, the worlds largest iron ore producer, lowered its production forecasts for the base metal.
US event calendar
7am: MBA Mortgage Applications, prior -4.3%
DB's Jim Reid concludes the overnight wrap
As regular readers know, when I'm not travelling my wife and I try to bond for an hour a night in front of the telly with a good box set. Last night given that Liverpool were already 3-0 down to Barcelona from the first leg in the Champions League semi-final I said to my wife that I probably wouldn't bother watching it and as such she'd lined up "Billions". However at the last minute I said I'd watch the first 5 minutes while she ran a couple of errands. Luckily her errands took at least 7 minutes and an early goal left me postponing her. 90 minutes later she was still waiting to watch Billions as Liverpool mounted one of the greatest comebacks of all time winning 4-0 and reaching the Champions League final again in the most remarkable game I've seen given the context and remember I was at Istanbul in 2005. I still can't believe what I watched. At least I know the soundproofing we put in so we couldn't hear the kids banging on the non-insulated 100 year floorboards upstairs does work as I was screaming with joy at the telly in the 2nd half and no child stirred. Bronte the dog was a bit scared though and kept clawing me to make sure I was ok after each goal. So I'm a bit shattered and emotional this morning. Am looking forward to Billions tonight and will forgo the 2nd semi-final to get back in the family good books!!
Markets seem dull relative to the above but the reality is that there's a lot going. The last 24 hours has seen a bit of a delayed reaction to Trump's China tariff tweet from Sunday as markets decided to take the glass half empty view as opposed to Monday's more half full take. Indeed the S&P 500 fell -1.65% for its biggest decline in over six weeks, though stocks again bounced into the close, rallying +0.75% in the final 20 minutes of trading to prevent yesterday from being the worst day since January 3. The moves still put the index below the lows of early Monday morning and -2.09% below Friday's close. It wasn't any better for the NASDAQ (-1.96%) or the DOW (-1.79%) with tech leading losses at a sector level – although the reality is that all sectors closed in the red. In fact, only 7% of S&P 500 companies advanced, the lowest rate of the year.
It was similarly bleak in Europe where the STOXX 600 fell -1.37% to cap a two-day decline of -2.24% which is the most since December 7. Bunds closed down at -0.038% after dropping 4.4bps yesterday while 10y Treasuries closed -1.6bps lower at 2.453% - although they were as much as -5.7bps off the morning highs. BTP yields rose +4.2bps (+8.4bps to Germany) on the general risk off and perhaps also as a result of the European Commission's dreary new economic and budgetary forecasts. The details are below, but the most eye-catching headline concerned Italy's government deficit, which the Commission now expects at 2.5% of GDP this year before rising to 3.5% of GDP next year, barring a policy change. Northern League head Salvini responded by insisting that the government will proceed with tax cuts, regardless of whether it causes the deficit to breach the treaty limit.
The VIX closed up over +3.88pts at 19.32, the sharpest move since December 24 and the suddenly back to the highest level since January 23. Similarly, the V2X in Europe is at the highest since January 10. High yield spreads also widened by +9bps and +7bps in Europe and the US, respectively. Meanwhile EM FX was down -0.34% with a basket of currencies now down at the lowest since December last year. WTI Oil also slumped -1.62%, not helped by news of increased supply out of Saudi Arabia.
Overnight markets in Asia are trading in a sea of red (a bit like Anfield last night) with the Nikkei (-1.63%), Hang Seng (-0.70%), Shanghai Comp (-0.11%) and Kospi (-0.38%) all down. The South China Morning Post this morning suggested that President Xi vetoed the further concessions demanded by the US negotiators last week and this is not helping sentiment. Elsewhere, futures on the S&P 500 (+0.03%) are trading flat suggesting a break in the declines for now. The New Zealand dollar is down -0.27% this morning as the central bank cut the key rate by 25bps to 1.50%.
Also in Asia we've had the conveniently timed April trade data released in China with the trade surplus standing at $13.84bn (vs. $34.56bn expected). This was driven by a drop in exports (-2.7% yoy vs. +3% expected) while imports rose (+4% yoy vs. -2.1% expected). Speaking in terms of trade with the US, exports declined -13.1% yoy in April; however, the decline in imports was larger at -25.7% yoy bringing the trade balance to $21bn (-5.1% yoy). The YtD 2019 surplus with the US stands at $83.5bn (+3.8% yoy) as exports to the US declined -10.1% yoy while imports dropped -30.2%. China's onshore yuan is trading broadly unchanged (+0.07%).
To be fair there wasn't a lot of new news to report yesterday besides the ongoing trade-related rumbles. As of right now, China's top trade negotiator Liu He is still due to travel to Washington tomorrow to meet with Lighthizer and Mnuchin. The suggestion is though that China is planning retaliatory tariffs immediately after the US increases theirs. This makes tomorrow and Friday's meetings of critical importance and ultimately will dictate whether the threat is real or just hard ball negotiating tactics. Chinese state media has intensified its rhetoric, saying that "we will not take any step (that is) unfavourable to us (…) Do not even think about it." MNI also reported yesterday that talks between China and the US could drag into 2020. Maybe the lessons learned from the long, drawn out and exhausting Brexit process will come in handy after all.
On a related note the auto tariffs deadline is suddenly just eleven days away so that is still lingering in the background, though there is certainly the possibility that a decision could slip beyond the deadline. There is some suggestion in the market that Trump is now less likely to move on auto tariffs if he's renewing the trade battle with China, the view being there are only so many battles one can take on at once. On the other hand we have Mr Trump's unpredictability to weigh up. We'll see in the next couple of weeks.
Also fitting in with the negative sentiment yesterday were the latest European Commission forecasts that although just moved closer to market's expectations seemed to weigh on the overall market mood. The highlights were a -0.1pp downgrade to the euro area growth forecast for this year (to 1.2%), driven by a -0.6pp cut to Germany's forecast to 0.5% and a -0.1pp to Italy's to 0.1%. The inflation forecast for this year stayed steady at 1.4%, but the 2020 figure was revised down -0.1pp to 1.4%.
Elsewhere planned comments from the Fed's Clarida were on many people's radar but they didn't appear to diverge too much from the message from last week's Fed meeting. He agreed with Powell's assessment that soft inflation is "temporary" and spoke positively about global growth. He did note that there could be downside risks if trade discussion resolve negatively. Perhaps most interestingly, he emphasized that the Fed's goal is to get inflation back to 2%, tacitly pushing back against the argument that the Fed should run the economy hot to make up for prior downside misses. As the Fed continues toward its highly-anticipated policy review, Clarida seems to be positioning himself as in favour of the status quo. He said that average inflation targeting or other make-up strategies "look great in the textbooks" but that there are "important implementation challenges that we would have to look at seriously before we would move away from our existing framework."
Here in the UK it was a busy day for Sterling which closed down -0.17% after paring an early advance in the morning. The change in tone followed a steady release of Brexit headlines which included confirmation that a deal will not be agreed in time in order for the UK to avoid taking part in the European Parliament elections later this month. Headlines also confirmed what most expected and that is that cross party talks have still yet to yield any sort of consensus on moving forward. In addition, reports suggested (per Guardian) that the 1922 Committee is ever-closer to rewriting the rules to unseat PM May, with the latest unconfirmed reports saying that the committee is deadlocked at a vote of 8-8, so one more defection would be enough allow a challenge to May.
As for yesterday's data, in the US the March JOLTS survey revealed that the number of job openings rose by 346k in March to 7.49 million, and more than expected. The quits rate did however hold steady at 2.3%. In Germany, factory orders in March were disappointing at just +0.6% mom (vs. +1.4% expected), albeit rising for the first time in three months.
Yesterday, Nick and Craig published a joint USD/EUR HY note revisiting Bs vs BBs in light of the spread ratio being at an extreme wide. The note argues that while the ratio alone optically favours Bs, further analysis suggests that both the yield environment and dispersion make this a more complicated topic. See the link here . A reminder that our global monthly credit chartbook was out last week in my absence (link here ) along with our monthly US credit strategy excel data release (link here ). Michal Jezek has also published a few IG/CDS note recently. 1) Rising Inequality among Corporate Bonds (Tue 7 May) – a deep dive into IG bond spread dispersions over time, demonstrating stronger preference for quality in the recent rally vs. comparable periods last year ("quality" includes CSPP eligibility). 2) Carving Carry-Neutral Macro Credit Shorts (Mon 6 May) – a macro credit piece with most recent views, recommending efficient shorts that do not consume carry. 3) Global Issuance and Fund Flows (Fri 3 May) – big picture of global supply and demand in credit across currencies. So plenty of stuff from the team for those interested in credit.
To the day ahead now, where this morning we'll get March industrial production data out of Germany and April house price data in the UK. There is nothing of note in the US this afternoon however the Fed's Brainard is due to speak just after lunch. Prior to that we're due to hear from the ECB's Draghi in Frankfurt at a student's event, while the BoE's Ramsden speaks this morning. South Africa's national and provincial legislative elections are also due today, while US Secretary of State Pompeo is due to travel to London and meet with PM May.