Saudi officials have signaled the kingdom plans to meet all orders from former buyers of Iranian oil for the month of June. US Energy Secretary Rick Perry confirmed in statements made Tuesday that OPEC's de facto leader Saudi Arabia would increase its oil production to make up for choked supply resulting from US sanctions efforts that aim to bring Iran's crude exports "down to zero".
However, Azerbaijan's oil minister said the Saudis informed him that no firm decisions would be made on production levels for the whole year in unilateral fashion; instead, Riyadh plans to seek backing for any extreme measures during OPEC's June meeting at the oil cartel's headquarters in Vienna, Austria - where future production policy will be hashed out. 
This has left many asking the obvious question: will Iran soon pull out of OPEC altogether? It appears we'll soon find out after OPEC's June meeting.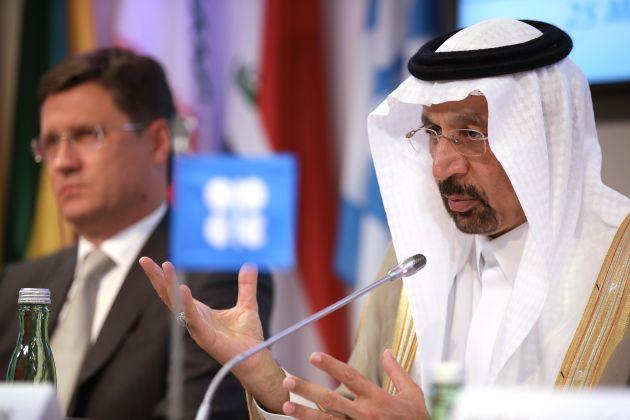 According to the details from Bloomberg:
Saudi Arabia plans to meet all the requests for oil purchases it has received for June, notably from countries that had to stop buying Iranian crude because of the recent U.S. sanctions.

The world's biggest oil exporter has received moderate requests from customers for shipments next month, including from former buyers of Iran's oil, according to a Persian Gulf person familiar with Saudi plans, who asked not to be identified because the matter is confidential.
And further, based on an official familiar with Saudi plans:
Saudi oil production for June is expected to remain below the quota set for the kingdom under an agreement by OPEC and allies limiting output until the end of next month, the person said. Saudi Arabia, which pumped about 9.8 million barrels a day in March and April, has an OPEC quota of 10.311 million barrels.

The kingdom will continue to export less than 7 million barrels a day in June, the person said.
Concerning OPEC's upcoming June decision-making, sparks were already flying at last year's meeting, where Iran's oil minister had raged just a month after Trump pulled the US out of the 2015 nuclear deal: "You cannot impose unilateral trade sanctions against two founding members of OPEC, two major oil producers... and at the same time expect the global oil market not to show tensions". 

"You cannot have your cake eat and it too," Iranian Oil Minister Bijan Namdar Zanganeh had decried at the June 2018 annual OPEC meeting. 
Though we previously detailed why the US desire for "zero" Iran exports remains next to impossible to implement, the consensus among analysts is that the Iran's crude exports will likely fall from around 1 million bpd in April to little more than 500,000 bpd as more countries succumb to US pressure. 
Last week Iran warned that OPEC might "collapse" due to the "unilateral actions" by some of its members, in what was a clear jab at Saudi Arabia. 
"Iran is a member of OPEC because of its interests, and if other members of OPEC seek to threaten Iran or endanger its interests, Iran will not remain silent," Oil Minister Bijan Zanganeh said last Thursday, as quoted by the ministry's official news agency, SHANA.
Meanwhile the recent Washington The decision to end the waivers will impact recipients in different ways: Three of the eight countries that were granted the 180-day waivers back in November - Greece, Italy and Taiwan - have already reduced their Iranian oil imports to zero.
The other countries that will need to cut off imports or face serious repercussions include China, India, Turkey, Japan and South Korea. As of now, China and India are the largest importers of Iranian oil, and if they don't swiftly act to cut down on their imports, bilateral relations with the US could suffer.