The European Union says it rejects any ultimatums issued by Iran, saying in a statement that it won't bend to threats that Tehran will break from the nuclear deal and begin enriching uranium unless European signatories uphold their commitments within 60 days. 
Citing frustration that the EU is not pulling its weight in the face of tightening US sanctions, Iran's leaders said Wednesday it would stop its disposal of excessive heavy water and uranium, a key compliance term under the JCPOA.
"We strongly urge Iran to continue to implement its commitments under the JCPoA in full as it has done until now and to refrain from any escalatory steps," the EU officials said in a statement. The EU, UK, France and Germany said they have "great concern" over Iran's move.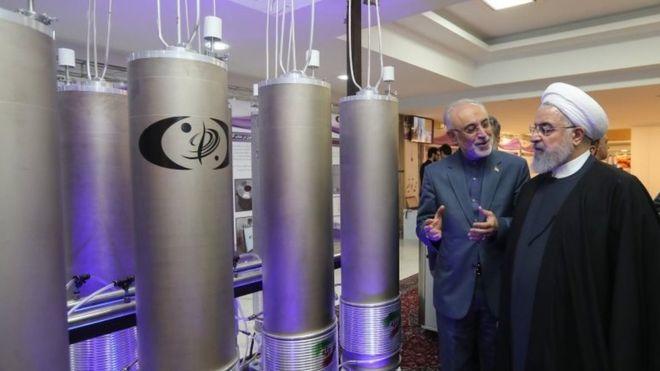 "We reject any ultimatums and we will assess Iran's compliance on the basis of Iran's performance regarding its nuclear-related commitments under the JCPoA and the NPT" (Treaty on the Non-Proliferation of Nuclear Weapons).
Iran has still made clear that its "goal is to strengthen the JCPOA and bring it back on track," according to Behrouz Kamalvandi, spokesman of the Atomic Energy Organization, on Wednesday.
Earlier this year the EU announced a new special purpose transactions channel with Iran to bypass US sanctions. The launch of INSTEX — or "Instrument in Support of Trade Exchanges" — by France, Germany, and the UK is to allow non-dollar trade with Iran and is being described as facilitating humanitarian goods-related transactions only, including food, medicine and medical equipment.  
The "SWIFT-alternative" mechanism constitutes the most concrete action Europe has yet taken to thwart Washington sanctions after the US pullout of the 2015 nuclear deal last May, and after SWIFT caved to US pressure last year. 
However, the alternative vehicle is not yet operational - its goal being the transaction of goods between Iran and foreign companies without direct financial transactions - while the Iranian economy is being gutted by sanctions, with the Iranian rial at record lows, and its annual inflation having quadrupled.
It now appears Tehran is extremely dubious of there being an EU lifeline on the horizon. And now things are about to get worse, given Trump's announced new sanctions on Iran's iron, steel, aluminum, and copper exports, which targets a sector that makes up 10% of Iran's total export economy.
But more importantly is that Iran's domestic industrial metals industry employs hundreds of thousands, thus it appears the newly imposed sanctions are aimed at fomenting domestic unrest in hopes of toppling the regime:
Metals and mining companies directly employ over 600,000 workers. The country's automotive sector, the largest consumer of Iranian steel, directly employs a further 1 million workers. Combined, the two sectors account for 6 percent of the country's total labor force.
This appears a calculated attempt to initiate an get Iranian local response, given the central importance that metal represents to the economy. 
And this "maximum pressure" campaign now includes the USS Abraham Lincoln carrier strike group en route to the Persian Gulf, where it's now passing through the Suez Canal as of Thursday morning.