---
The Trade Wars And Global Auto Recession Are Wreaking Havoc On The Steel Industry
The biggest steel companies in the world are bracing themselves for an ugly year, as the recession in the global auto market and continued trade wars pressure the industry, according to Bloomberg. Steel company ArcelorMittal warned on Thursday that the market in Europe will be significantly weaker than expected. The company posted its lowest quarterly profit since 2016 as demand contracts and producers face the headwind of cheap imports. The company also lowered its forecast for demand outside of China.

The gloomy sentiment for the industry this year stands at odds with two profitable years prior, driven by strong demand in all major markets and slowing exports from China. But now, the ongoing trade war and slowing global economy are threatening the industry.

ArcelorMittal expects demand in Europe to contract by 1% this year, compared to their earlier forecast of 1% growth. Regional lobby group Eurofer predicted earlier this year that demand would fall by 0.4%. There's been one small sliver of good news, as ArcelorMittal has projected demand will rise in China this year.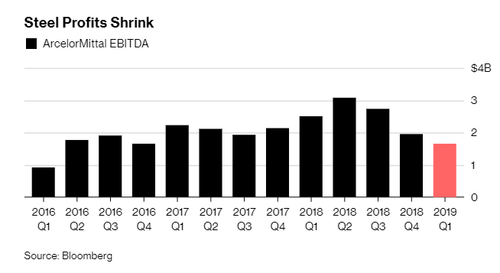 The company said Thursday: "Market conditions in the first quarter of 2019 have been challenging. Demand has generally been lackluster, reflecting softness in manufacturing activity and continued weakness in automotive."

Most steelmakers throughout Europe continue to face the headwinds of stagnating domestic demand, especially from automakers, while cheaper imports make their way into the continent. These headwinds are also making it difficult for steelmakers to pass on the higher price of iron ore, which is a key ingredient in steelmaking. Prices of iron ore have risen due to mine closures in Brazil.

The global auto recession has wreaked havoc, especially because products for cars are usually the most profitable for steelmakers. This is especially true for Germany's premium brands that demand high-quality metal. The auto industry accounts for about 20% of total steel demand. Car sales in Europe have declined for seven straight months through March and we noted earlier this month that German auto registrations had fallen by 1.1%.

Manufacturing outside of carmakers in Europe is also slowing. Germany narrowly avoided a recession in 2018, with Italy not far behind. Domestic demand is following and imports are compounding these challenges. The United States has been "very aggressive  in shutting out foreign steel", but Europe has been slower to do the same. It has now put into place safeguard measures designed to cap flows, but the steel industry claims more needs to be done.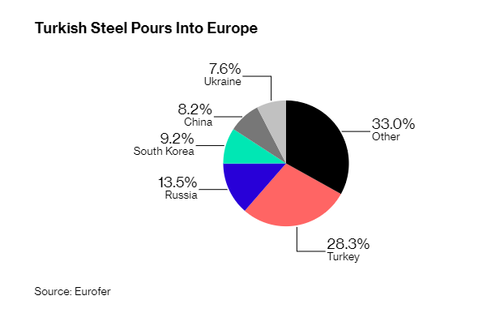 European demand was up 3.3% last year, as imports increased 13% and domestic output expanded by 1.7%. Much of the increase "is blamed on shipments that would have been destined for the U.S. being diverted to Europe instead, while Turkey's worsening economy has led to a big jump in metal from Europe's southeastern neighbor."
The impact on steelmakers has been profound. A gauge of European producers fell to its lowest point since mid 2016 on Wednesday, while individual companies have disappointed. German steelmakers like Kloeckner & Co. have issued profit warnings, saying that weak orders and lower prices were to blame.

Now, this week, ArcelorMittal has said it was reducing output in both Poland and Spain. The cuts will lower production of flat steel, used primarily in cars and machinery by about 3 million tons a year. This equates to about 3.2% of Europe's total flat steel output.
With the trade wars ratcheting up this week amid further tension between President Trump and China, and the auto industry looking as though its recession is only getting started, the outlook for the steel industry likely isn't going to get any rosier this year.