Just weeks after a Tesla Model S appeared to spontaneously combust in a parking garage in China, a Tesla Motors Club forum post is pointing out what looks to be another incident of a Tesla catching fire while parked - this time in Hong Kong.  In a post online at the TMC forum, a new member named "andinardo" posted photographs of what appears to be a smoldering Tesla Model S. The user wrote: 
"Emergency news for every tesla model s owner after the shanghai incident last month, today in Hong Kong it happen again. Tesla 2016 model S burn itself while is charging, fortunately the driver wasnt in the car."
The poster also claimed that the driver had mentioned he was having issues with the car, and even reported them to Tesla service, who fixed the issue. The poster says there is CCTV footage from this incident that shows "3 times explosion":
The owner mention last year he think the battery have some issue, his car can't start and he did report to Tesla service. Tesla did service his car and they did fix the issue. But from the CCTV footage show that first some smoke coming out of the front of the Tesla and then 3 times explosion.
The post was accompanied by photographs of the alleged incident.
A response to the post says that: "The Chinese words said the Tesla parking spot has wall connector installed but at the time of the fire, the car was not charging."
About 10 days ago, we wrote about an unplugged Tesla that caught fire in a San Francisco garage, prompting an investigation from authorities. The San Francisco Fire Department responded to a reported car fire at a home on the 1300 block of 26th Avenue near Irving Street. The crews saw "smoke near the rear right tire of a Tesla Model S" that was not plugged in at the time and put out the fire.
The Tesla was then towed from the garage by the fire department. There were no reported injuries at press time.
It was two weeks prior to the San Francisco fire that a stunning video surfaced of a Tesla catching fire and exploding, while parked, in China.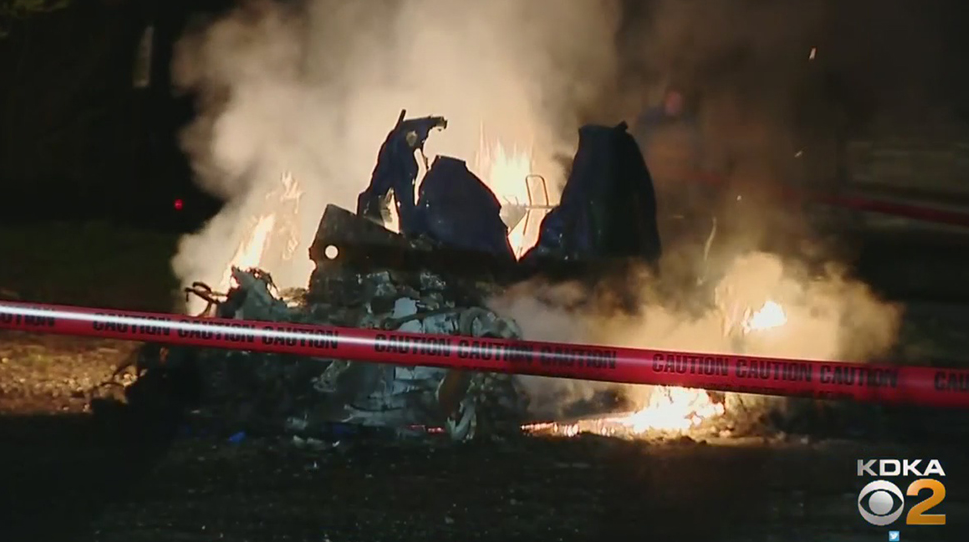 The same car had previously caught fire back in February in a garage around the same area, according to CBS 2 Pittsburgh. It was being towed to a new shop and "somehow" caught fire again, despite the fact that a Tesla engineer tried to reduce the risk of fire by removing the fuse from the battery pack prior to transporting the vehicle.
Again we ask: what is taking the NHTSA and NTSB so long to act? Is it going to take an incident in their corporate parking lot – or perhaps the Tesla of an NHTSA employee spontaneously combusting - to catch their attention?