It seems for the State Department lately it's all Iran and Venezuela all the time, or perhaps there's just an aversion to real diplomatic work. 
After snubbing Germany's Merkel last week to make an unplanned stop in Iraq to pressure leaders there into resisting cooperation with Iran, Secretary of State Mike Pompeo on Monday scrapped a scheduled trip to Moscow, diverting his plane for a surprise visit to Brussels to presumably crash an EU meeting exploring ways of salvaging the Iran nuclear deal.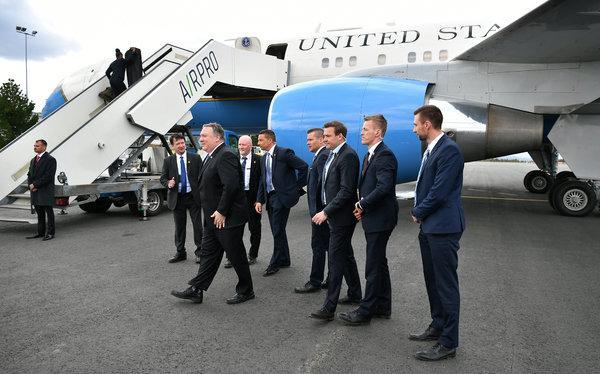 It appears the "maximum pressure" campaign involves America's top diplomat throwing his weight around in person anywhere around the globe there might be dissent among US allies.
Key European signatories of the 2015 landmark deal — the British, French and German governments — are seeking European coordinated efforts to prevent the JCPOA from collapsing. 
Pompeo scrapped plans for a brief trip to Moscow and will land in the Belgian capital as his 28 EU counterparts gather. President Donald Trump's top envoy plans to meet with key European allies, though the details are not yet known. — Bloomberg
Iran's leaders last week threatened to pull out of key terms of the deal, asserting Europe has done little toward sanctions relief, and issued a 60-day ultimatum for Europe to honor its obligations. The EU responded that would reject any ultimatums. 
According to Bloomberg, Pompeo will still travel to Russia on Tuesday where he plans to meeting with Foreign Minister Sergei Lavrov in the Black Sea resort city of Sochi.
German Foreign Minister Heiko Maas told reporters just ahead of the EU meeting in Brussels: "This agreement is necessary for our security; nobody wants Iran to possess an atomic bomb," while EU foreign-policy chief Federica Mogherini described plans for Pompeo's visit and meetings "still up in the air".