US Secretary of State Mike Pompeo and his Russian counterpart Foreign Minister Sergey Lavrov discussed a broad number of security related issues in Sochi on Tuesday ranging from nuclear arms control to ratcheting US tensions with Iran to Venezuela to Ukraine. Importantly, the two top diplomats traded warnings against election meddling and interference in their respective countries — though we might add that Lavrov's message was packed with more sarcasm following the Mueller report clearing Trump of "collusion".
In response to Pompeo's reportedly warning Russia to never interfere in what he described as America's "sacred" elections, specifically warning against any 2020 presidential election interference, Lavrov shot back with: "We can discuss this topic forever, but until we have cold hard facts on the table, we cannot have a grown-up discussion about it," according to Russia's RT.
Speaking to reporters afterward, Lavrov said proudly that he had handed Pompeo a "memorandum" on US interference in Russia but didn't reveal its precise contents, only saying, "we're prepared to talk on this topic."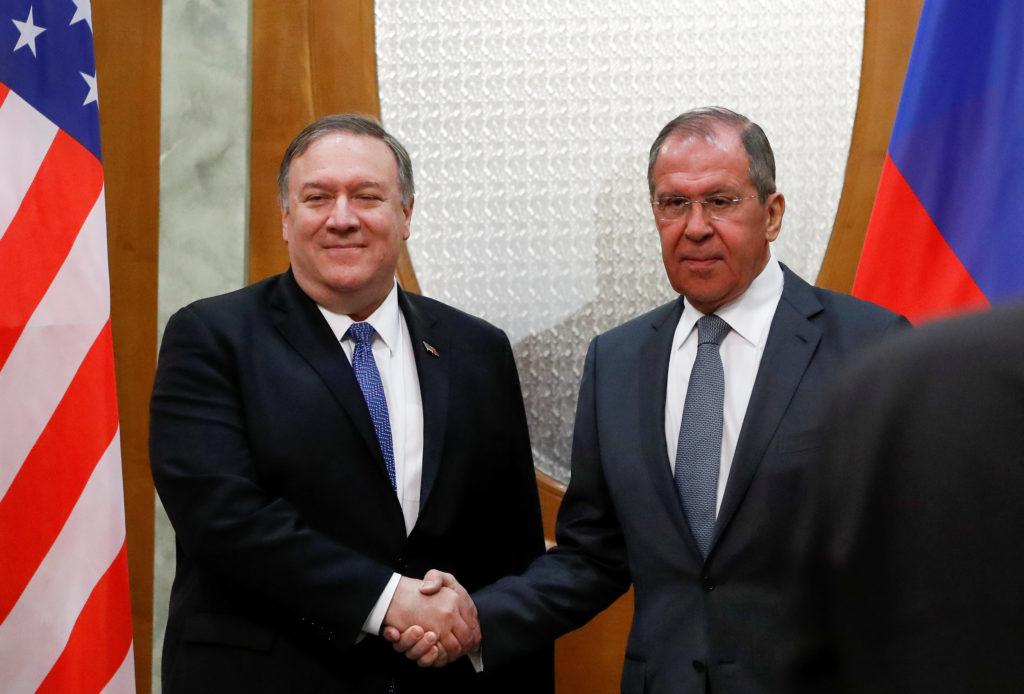 Though both expressed hope for improved ties between Washington and Moscow, Reuters characterized it as a testy and impatient exchange: 
Visiting Russia for the first time as secretary of state, Pompeo publicly clashed with Lavrov on issues from Ukraine to Venezuela. After their meeting, both men said they had been far apart on many issues.

"I made clear to Foreign Minister Lavrov... that interference in American elections is unacceptable. If the Russians were engaged in that in 2020 it would put our relationship in an even worse place than it has been," he said.

"I'd encourage them not to do that. We would not tolerate that."
However, soon after the summit, Russian President Putin in public statements indicated his belief that "Trump is in the mood to restore ties with Russia." 
He also indicated it's his own desire to "fully restore" Russia-US ties, according to the AP, and interestingly also praised the "quite objective" Mueller report in statements to reporters.
"As you know, just a few days ago, I had the pleasure of talking with the US president on the phone," Putin told Pompeo during the Tuesday summit in Sochi. "I got the impression that the [US] president was inclined to re-establish Russian-American relations and contacts to resolve together the issues that are of mutual interest to us."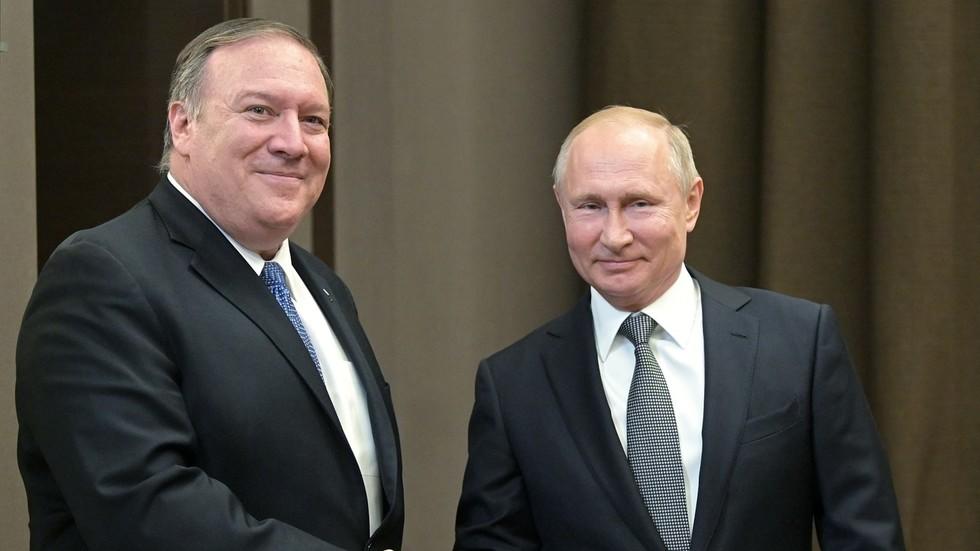 Pompeo, for his part, appeared to say as much following the meeting, saying, "The United States stands ready to find common ground with Russia as long as the two of us can engage seriously on those issues."
Pompeo said further: 
President Trump has made clear that his expectation is that we will have an improved relationship between our two countries. This will benefit each of our peoples. And I think that our talks here today were a good step in that direction.
However, Pompeo still went through a litany of disagreements he had with Russia, especially centering on multiple hot spots around the globe where the Trump administration has exercised a big stick approach. 
At Lavrov-Pompeo presser, around 28:30, Lavrov says something significant: Russia recently offered to publish info from a US-Russia channel on cyberspace that he claims would address the allegations of Russian election meddling. He says the US declined: https://t.co/o4MbqQlwCy

— Aaron Maté (@aaronjmate) May 14, 2019
* * *
Below is a brief run-down of key points to the two briefed reporters on afterwards. 
Nuclear treaty
At the top of the agenda, Lavrov signaled Russia could be open to a new arms control treaty after the recent US withdrawal from the Intermediate-Range Nuclear Forces (INF) Treaty, countered by Russia suspending its obligations under the Reagan-era pact which crucially served to keep missile build-up out of Europe. 
Pompeo stressed China had to be part of any future sweeping deal, also considering rapid advances in defense technology. Lavrov expressed hope that any future agreements will be "positively received by both nations."
The New START nuclear arms reduction treaty will expire in February of 2021, giving greater impetus for both sides to work through the current impasse. 
No common ground on Venezuela
Predictably the Venezuela hawk Pompeo slammed Russia's "interfering" in the Latin American country's internal affairs, adding also to that list China, Cuba and Iran. 
"Maduro has brought nothing but misery to the Venezuelan people," Pompeo stated. "We hope that Russian support for Maduro will end." Lavrov defended the right of Venezuelans to choose their own president and refused to recognize US-declared "Interim President" Juan Guaido. 
"Democracy cannot be done by force," Lavrov told reporters. "The threats that we hear against the Maduro government, threats that come from the mouths of US officials… this has nothing in common with democracy."
* * *
No desire for war with Iran
"We fundamentally do not see a war with Iran," Secretary of State Pompeo said, but added: "We've made it clear to the Iranians that if American interests are attacked, we will certainly respond in an appropriate fashion."
On Tuesday President Trump denied a prior New York Times report which alleged the White House was planning to send up to 120,000 troops to the Middle East should conflict erupt between Iran and the United States. The president called the report "fake news" but still added that should war actually break out he would send "a hell of a lot more," according to Reuters. 
Lavrov stated that Russia hopes "reason will gain the upper hand," and added that Moscow opposed the US pullout of the 2015 Iran nuclear deal (JCPOA), and further that Europe is right in attempting to stick to the deal. 
Ukraine standoff
Pompeo informed Lavrov that the US hadn't budged in its position regarding Moscow's "illegal" annexation of the Crimea in 2014, saying economic sanctions would remain in place until Russia reverses course. 
Following the Ukrainian election of comedian turned unlikely politician Volodymyr Zelensky, Pompeo said Russia should now "work with Ukraine's new president-elect to bring peace to eastern Ukraine," according to a paraphrase of Pompeo's words by Reuters, and further that Russian authorities should release Ukrainian sailors captured in last year's dangerous Kerch Strait incident.