Following in the footsteps of easily the most successful IPO in recent history, Beyond Meat, Impossible Foods, maker of vegan meat substitutes, has just raised another $300 million. The company is now valued at about $2 billion, according to FT.
The latest round of funding raised by Impossible Foods was led by Temasek of Singapore and Li Ka-shing's Horizons Ventures and has taken the company's total cash raised to over $750 million. Meanwhile, Beyond Meat's share price has tripled since two weeks ago when it listed at $25 per share. It now has a market cap over $5 billion and was last trading with a $90 handle. 
Impossible Foods' fundraising comes after the company just announced a partnership with Burger King, who is rolling out the "Impossible Whopper" to more than 7,000 restaurants, doubling Impossible's US footprint. The "Impossible Whopper" is just like the classic Whopper, but made with an Impossible patty, according to Impossible's promotional website for the partnership.
"What's in the patty? Mostly soy protein, potato protein, coconut oil, sunflower oil, and heme," the site reads.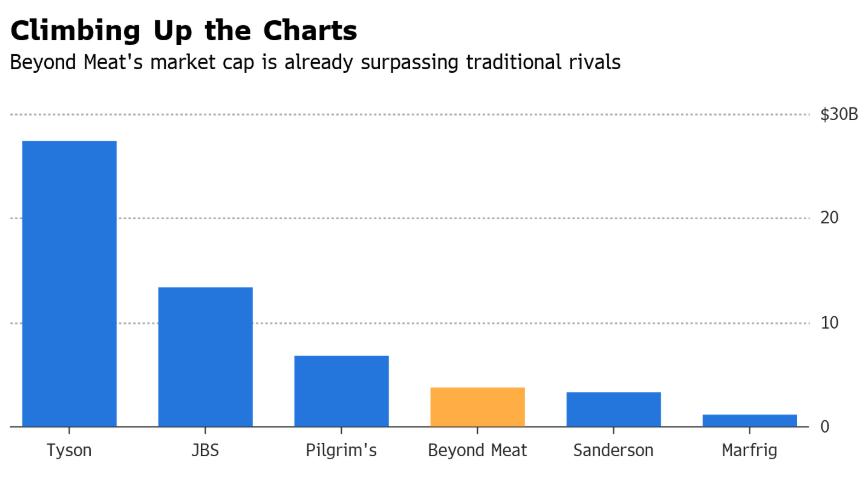 José Cil, chief executive of Restaurant Brands, Burger King's owner, said that the offering will attract new customers and that Burger King is targeting an international rollout before the end of the year.
Demand for Impossible burgers has led to shortages at some restaurants. The company is going to be using its newly raised capital to meet this demand.
David Lee, chief financial officer for Impossible, said the capital will be used to bolster production capacity: "We are challenged with unprecedented increase in demand. We're doing everything to increase our supply."
Impossible Foods was founded not even a decade ago in 2011 by Pat Brown, a Stanford University biochemistry professor.
The company is targeting eliminating the need for animals in the food chain by the year 2035. It will be adding a second production line in California, where it already has a plant. Since the company launched in Singapore in March, sales have tripled in Asia with the substitute being used in traditional meat dishes, like dumplings.
Both Impossible Foods and Beyond Meat have based their meat substitutes on molecular science, using cells that mimic animal protein using plant nutrients. The companies both claim that their products have the same taste and texture as beef. The products even "bleed" like regular burgers – except the "blood" is a protein created through genetic engineering in Impossible's burgers. Beyond Meat dumbs the "bleeding" down and simply uses beetroot juice.
Whether or not the substitutes will ultimately be a fad remains to be seen. But judging by BYND's trading and Impossible's ability to raise capital, investors don't look like they're going to be waiting for "beetroot juice in the streets" before buying anytime soon.