About a week ago, we profiled the story of Stephen Semprevivo, who recently struck a deal with prosecutors and pled guilty to conspiracy to commit mail fraud and honest services mail fraud as part of the biggest college admissions scandal in history.
He was the third parent and the eighth overall defendant to plead guilty in a scandal that continues to have wide-ranging aftershocks. Another 11 parents have agreed to plead guilty, but will have to wait until their hearings toward the end of the month to have their pleas ruled on. 
But why should Semprevivo pleading guilty to a $400,000 bribe mean that his son shouldn't keep going to Georgetown?
At least, that's the logic his son appears to be following: he reportedly sued the university for "threatening to revoke his academic credits and possibly expel him". The suit was first reported on by Aaron Leibowitz of Law360. 
In the suit, Semprevivo claims that he knew nothing about his father's conduct until charges were filed. He says that Georgetown opened an investigation into his admission and hasn't allowed him to withdraw and/or transfer to a different university.
The suit alleges that Georgetown hasn't carried out the investigation according to its policies and claims that the school should have known about discrepancies in his application in 2017. 
The suit reads: "The threatened expulsion and loss of credits, predicated on numerous material violations of the contract between Semprevivo and Defendant, has precluded Semprevivo from receiving a degree from Georgetown, deprived his family of over $200,000 (in tuition already paid), and may forever bar Semprevivo from transferring his earned credits to another university." 
Hours after the suit was filed, Georgetown reportedly notified the younger Semprevivo that he, along with another student, were going to be expelled from the university, according to USA Today. 
Semprevivo's lawyer said: "We filed the lawsuit at 2 a.m. Less than 10 hours later, they make a decision. Yesterday, we were saying, please come participate in the process. So is due process to rescind him?"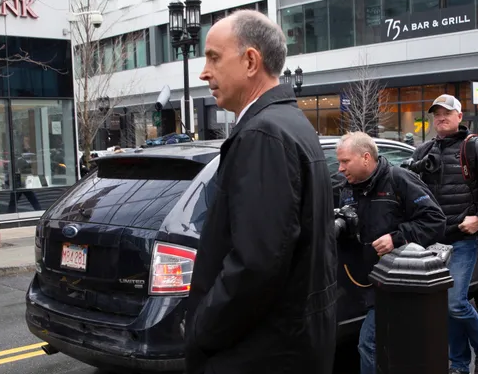 The Justice Department had recommended a prison sentence of 18 months for Stephen Semprevivo, substantially lower than the maximum of 20 years, as a result of his plea. They've also recommended a fine of $95,000, one year of supervision and restitution to pay for Georgetown's attorney fees.
A sentencing hearing is set for Sept. 11, where the judge will finalize the penalties.