Better late than never, eh?
On the heels of a stunning report revealing over $7 billion in laundered money through British Columbia in 2018, the province will finally hold a public inquiry into money laundering, according to CBC. The decision was announced by BC Premier John Horgan and Attorney General David Eby on Wednesday morning. They were joined by Finance Minister Carole James. 

At the announcement, Horgan said: "It became abundantly clear to us that the depth and the magnitude of money laundering in British Columbia was far worse than we imagined when we were first sworn in, and that's why we established the public inquiry today."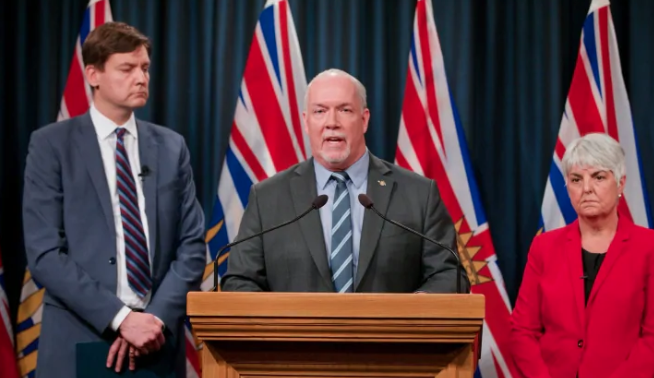 Heading up the inquiry will be B.C. Supreme Court Justice Austin F. Cullen, who will be looking into real estate, gaming, financial institutions and the corporate and professional sectors.
Eby claimed that the recent report formed the basis for the inquiry, while also noting that some individuals had refused to participate in voluntary reviews. Cullen has been given "significant" powers to compel witnesses, testimony, gather evidence and search and seize records with a warrant. 
Eby also said that Organized Crime Reduction Minister Bill Blair assured him that the government would cooperate with the inquiry. 
Eby said: "We are done with asking nicely. Today, our government has given Justice Cullen the authority to do more than ask for voluntary participation."
"If there is testimony that the commissioner needs to get to the bottom of this, he will compel that testimony. We're not constraining the commissioner in any way," Horgan said. 
Just days ago, we highlighted the report detailing the extent of money laundering, which included more than $5.3 billion being laundered through the real estate market. The independent report released just days ago concluded that an astounding $7.4 billion was laundered in British Columbia in 2018, out of a total of $46.7 billion laundered across Canada throughout the same period. The report was published by an expert panel led by former B.C. deputy attorney general Maureen Maloney.
The reports come after the government commissioned them to try and shed light on laundering by organized crime in BC's real estate market. This follows last June's report on dirty money in casinos, which we also wrote about just days ago. 
RCMP commissioner Peter German was commissioned to write the report on real estate, and he concluded that illicit money is what led to "a frenzy of buying" that caused housing prices to spike around Metro Vancouver. The report concluded that there are thousands of properties worth billions at high risk for money laundering. 
An international anti-money laundering agency said last year that organized criminals were laundering about $1 billion per year in the province.
Green Leader Andrew Weaver had already called for a public inquiry: "Namely, that it would improve public awareness, play a crucial role in fault finding, and would help to develop full recommendations," he said last week. In sum, the report made 29 recommendations, including for the entire province to launch a financial investigations unit. 
Finance Minister Carole James said last week: "…all the recommendations look critical, but the government wants to ensure it's prioritizing the most important ones, while also noting that action already underway in the legislature on some solutions."
In late April, we highlighted measures that Vancouver casinos were taking against money laundering, noting that they were resulting in casinos taking a brutal hit to their bottom lines. 
The final public inquiry report is expected to be delivered by May 2021 and an interim report is expected within the next 18 months.