Nellie Ohr - a CIA-linked operative who gave extensive anti-Trump research to her DOJ official husband Bruce while she was working for Fusion GPS' anti-Trump efforts, deleted emails from Bruce's account during an April, 2016 exchange about Russian influence in Europe.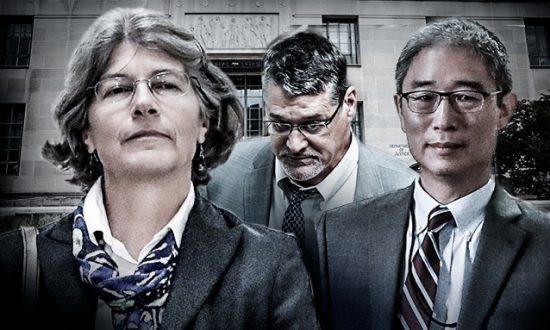 Contained in over 339 pages of heavily redacted DOJ records obtained by Judicial Watch via FOIA lawsuit, the email chain between Nellie Ohr, Bruce Ohr, his top aide Lisa Holtyn and Stefan Bress - a first secretary at the German Embassy, discussed among other things the "Impact of Russian influence operations in Europe." 
Holtyn responds with, "I haven't had a chance to confer with Bruce yet, but would certainly love to meet with the 'A Team'!" Bruce Ohr then says, "That time works for me as well." Bress then provides the personal details/passport numbers of the German analysts who will be meeting with Holtyn and Ohr. Holtyn tells Bress that the Ohr's would like to host the German delegation for dinner and notes that Joe Wheatley and Ivana Nizich (a husband/wife team of DOJ Organized Crime prosecutors and friends of the Ohr's) would join them as well. -Judicial Watch
At the end of the exchange with the subject line: "Analyst Russian Organized Crime – April 2016," initiated by Bress, Nellie Ohr writes "Thanks! I'm deleting these emails now." 
"This email is disturbing and suggests documents relevant to the improper targeting of President Trump were destroyed," said Judicial Watch President Tom Fitton. 
For those living under a rock for the last year, Nellie Ohr - a Russia expert who speaks fluent Russian - was employed by Fusion GPS - an opposition research firm paid by the Hillary Clinton campaign to dig up negative dirt on Donald Trump during the 2016 election. Fusion commissioned former UK spy Christopher Steele to assemble the so-called Steele Dossier while Nellie was in their employ. 
According to a transcript of Congressional testimony released in March, Bruce admitted that Nellie passed along Fusion GPS Russia research using a memory stick. 
Ohr worked with Fusion GPS between October 2015 and September 2016. She also admitted during testimony that she favored Hillary Clinton as a candidate, and would have been less comfortable researching her Russia ties (P. 105). 
In 2010, she represented the CIA's "Open Source Works" group in a 2010 "expert working group report on international organized crime" along with Bruce Ohr and Fusion GPS founder Glenn Simpson.
Nellie Ohr, the wife of demoted DOJ official, Bruce Ohr, not only worked for Fusion GPS, but has also represented the CIA's "Open Source Works" group. https://t.co/u5HPgJwvWd pic.twitter.com/ZPhAIzR6wv

— Josh Caplan (@joshdcaplan) December 12, 2017
Bruce, meanwhile, was demoted twice after the DOJ's Inspector General discovered that he lied about his involvement with Simpson. 
And as we noted in March; Emails turned over to Congressional investigators last August revealed that the Ohrs and Steele were much closer than previously disclosed.
Steele and the Ohrs would have breakfast together on July 30, 2016 at the Mayflower Hotel in downtown Washington D.C., while Steele turned in installments of his infamous "dossier" on July 19 and 26. The breakfast also occurred one day before the FBI formally launched operation "Crossfire Hurricane," the agency's counterintelligence operation into the Trump campaign. 
And now we have evidence that Nellie was all over Bruce's email, despite the fact that she was not a DOJ employee.