Even after repeat threats issued to Moscow from President Trump himself — including recently saying bluntly "Russia has to get out" — the Russian military now appears so unconcerned by such warnings that it's simply announcing its Maduro support actions ahead of time via state media. 
Russian news agency TASS said Friday, citing a military-diplomatic source, that Russia plans to supply Venezuela's army with more than 16,000 field rations. This after a large Russian state-run arms exporter published a contract related to the re-supply deal.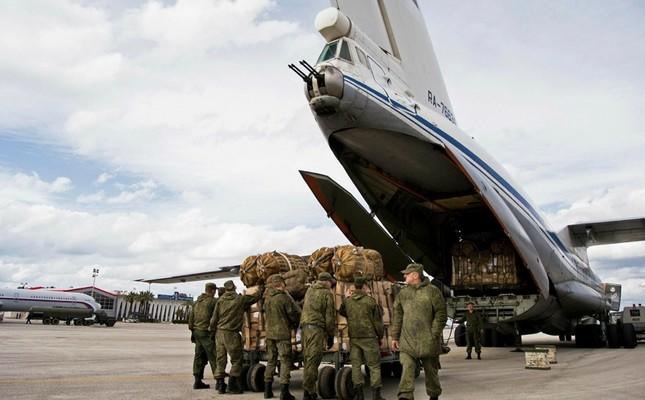 No doubt the very open publication of the supply deal is aimed at showing Washington that the Kremlin is not going anywhere in terms of its longtime military alliance with Caracas, which was controversially on full display last December when Russian two nuclear-capable "Blackjack" strategic bombers flew to Caracas, and departed soon after amid White House threats and demands. 
Russia also likely now feels emboldened given the embarrassing Guaido opposition led failed coup attempt launched but just as quickly fizzling out at the end of April.
The White House, especially through statements of John Bolton and Secretary of State Mike Pompeo gave the full backing of the United States to the called for military uprising. Thus Moscow realizes the US simply doesn't have leverage on the ground in Venezuela, and boldly announced the following late this week: 
On Thursday, Rosoboronexport, Russia's state-run arms exporter, placed information about purchases of 16,500 field rations to be supplied to Venezuela. The initial cost of the contract is 14.38 million rubles (222,091 US dollars).

"The rations will be supplied in the interests of the Venezuelan army," the source said.
The rations are being dubbed "humanitarian assistance to the Venezuelan government" according to the report. 
Though Venezuela has retreated from the headlines in recent days, and with Maduro in full control - reportedly hunting down the failed coup plotters - analysts fear the US and Russia are settling in for a protracted proxy war and "new Cold War" of sorts in Latin America.
Bolton had even invoked the throwback Monroe doctrine over fears that Russia and China were meddling in "America's backyard" - to which Russia now clearly seems unfazed.