It feels like it was only weeks ago that we reported about a secret Tesla investor call that we believed toed the lines of securities laws, and already, it has happened again.
Thanks to the sleuth-work of Paul Huettner, CFA on Twitter, audio and transcripts of an investor call Elon Musk took to close the company's most recent $2 billion convertible financing have now been plastered all over Twitter. And, given the stock price's precipitous fall since the call took place and the financing was closed, there's a chance that some of Musk's comments may have opened the company up to legal liabilities. 
🚨🚨BREAKING🚨🚨

Below is partial audio from the Tesla bank call held on May 2 in which @elonmusk pitched investors on the new debt/equity raise. $TSLA $TSLAQ

The very first question from the banks after the intro was:
"Why are you raising capital now?"

How did Elon respond?

— Paul Huettner, CFA (@Paul_M_Huettner) May 18, 2019
For instance, one of the first questions asked of Musk resulted in a rather comical answer. Huettner says on Twitter that the very first question from the banks after the intro was: "Why are you raising capital now?"
To which, Musk responded by basically saying they didn't need the money: "We don't expect to spend this capital. We expect to fund our activity out of our growing cash flow, but we think it's probably wise to have at least some buffer here, some cash buffer between now and say summer next year there could be an automotive - a recession or at least a decline in automotive demand. We want to make sure we're resilient through any short-term economic downturn or through any [inaudible], but it is not our intent to use this money, but to have there as a contingency fund."
Putting aside the fact that the CEO is using the words "growing cash flow" for a company that posted a $700 million loss last quarter, Huettner astutely notes that this comment stands in stark contrast to some of Musk's statements in a publicly leaked employee email this past week. 
Elon's pledge to "not use this money" & "to fund our activity out of our growing cash flow" differs SIGNIFICANTLY from his email, sent just two weeks later on 5/16 where he stated that it will take a "hardcore" effort to break even & be "financially sustainable". h/t @lorakolodny

— Paul Huettner, CFA (@Paul_M_Huettner) May 18, 2019
It seems clear that Musk may have been representing the company's capital needs and cash position in a far different manner to investors than may be the case in reality. Musk's full email stated:
From: Elon Musk

To: Everybody

Date: May 16, 2019

As mentioned at the company talk, it is extremely important that we examine every expenditure at Tesla no matter how small, and be sure that it is critical.

When making hundreds of thousands of cars, battery packs and solar systems, even a ten cent savings could be worth over $50,000 a year. There are over 10,000 unique parts and processes at Tesla, so making small improvements across the board has a giant cumulative impact.

At the same time, we must also continue to make our products subtly better in thousands of small ways.

It is important to bear in mind that we lost $700 million in the first quarter this year, which is over $200 million per month. Investors nonetheless were supportive of our efforts and agreed to give us $2.4 billion (our net proceeds) to show that we can be financially sustainable.

That is a lot of money, but actually only gives us approximately ten months at the first-quarter burn rate to achieve breakeven. It's vital that we respect the faith investors have shown in Tesla, but it will require great effort to do so.

That is why, going forward, all expenses of any kind anywhere in the world, including parts, salary, travel expenses, rent, literally every payment that leaves our bank account must be reviewed, confirmed as critical and the top of every page of outgoing payments signed by our CFO.

I will personally review and sign every 10th page.

Please examine closely every expense where responsibility is, or probably should be, assigned to your group. If in doubt, assume it is on your plate, so that we don't have anything slip through the cracks.

This will take at least a few weeks to get right. Please don't worry if it isn't correct at first.

This is hardcore, but it is the only way for Tesla to become financially sustainable and succeed in our goal of helping make the world environmentally sustainable.

Thanks again for your excellent work,

Elon
The tone of this email, in addition to the statements contained therein, obviously stands at odds with Musk's statement on the investor call. Given the market climate right now, where investors have already sued Lyft for its lackluster IPO and Tesla longs have seen their capital incinerated since Musk's fake $420/share buyout offer, we wouldn't be surprised to see investors get litigious over Musk's statements, especially if the stock continues its plunge lower.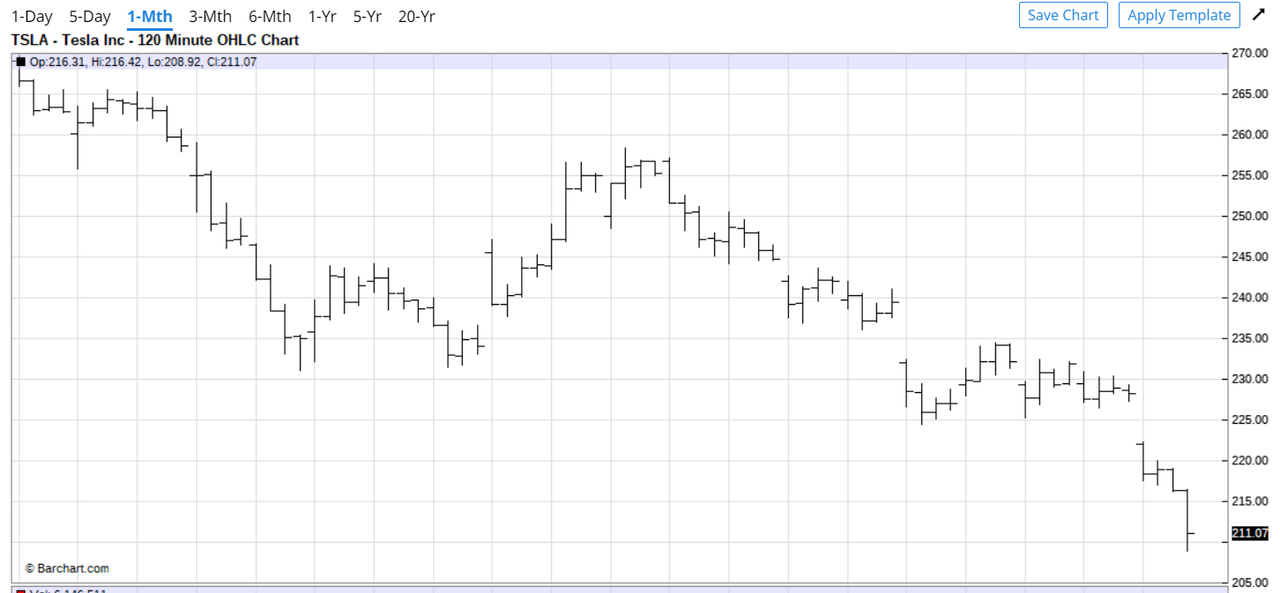 We will keep checking on this development and look forward to hopefully getting the transcript or audio of the full investor call.