When your personal wealth and the debt of your multiple cash burning businesses is held up by the price of an equity - and that equity starts the year down nearly 43% - the pressure cooker can start to ramp up quickly.
Such is the case with Tesla this year: in addition to shellacking most of its retail shareholders amidst a flurry of sell side downgrades and a nearly 50% plunge from the stock's "Funding Secured" highs, it has also taken a huge chunk out of Elon Musk's personal wealth, according to Bloomberg. His net worth now stands at $19.7 billion. 
This has bumped Musk from #29 on the Bloomberg Billionaire's Index down to #46. 
The stock's tumble has also resulted in a total of $7.8 billion in losses for Tesla's four biggest shareholders: Musk, Tencent, The Saudi's Public Investment Fund and Larry Ellison. In May alone, these four shareholders lost a collective $2.7 billion on paper. 
Ellison bought 3 million shares last year and joined the company's board in December.
We may soon find out that JP Morgan also has exposure to Tesla, as well. The Saudi PIF hedged most of its holdings in January through an arrangement with the bank. Since that transaction, the hedge has likely paid off meaningfully, with the stock down 46% since then. The counterparty to the hedge, JP Morgan, may wind up being a significant loser from the transaction. A spokeswoman for JPMorgan declined to comment to Bloomberg.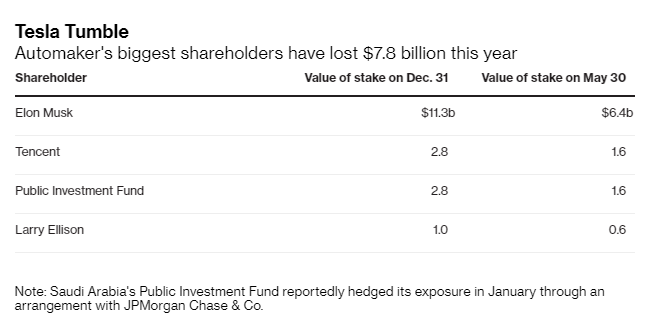 Up until this point, Musk's personal net worth has always been one of his biggest assets – allowing him to fend off regulatory authorities with legal spending and to continue living a cushy lifestyle. While his net worth may still be near $20 billion, don't think that Musk won't take notice if additional collateral calls start to happen.
And if the equity continues to fall, we wouldn't be surprised to see a continued litany of more "coincidentally" leaked e-mails.