The auto industry recession is now in full swing - and it's gone global. Global automobile output has declined for the eighth straight month alongside of new orders, according to newly released data for the month of May. 
To make matters worse, the pace of purchases are declining at an accelerating rate: "Purchases of inputs by makers of autos and auto parts contracted at the fastest rate in nearly seven years," Markit said in a recent report.
Similar to declines in the Global Automobiles & Auto Parts Output Index in 2012 and 2015/2016, the stock market has mostly ignored this data (so far). Also notable is the fact that those previous declines came at points where the market had "bottomed" from a technical perspective. This time around, the market is on the back end of a decade long bull market, where equities are arguably nearing the most overextended and overvalued they have ever been. 
The Output Index showed that "Other Financials" and "Software and Services" were strongest for May 2019, while numerous industrial sectors - led by automotive - posted the most significant decrease from the prior month. 
The data comes just hours after we reported that China auto sales had posted their worst month ever. 
China's automobile market has continued to catalyze the global auto recession, posting its worst sales month in history for May according to the China Association of Automobile Manufacturers (CAAM). The data showed a decline of 16.4% for May, following a decline of 14.6% in April and 5.2% in March. It was the sharpest decline ever for China's auto industry. 
Xu Haidong, CAAM's assistant secretary general ignored the fact that his country was in the midst of a trade war and instead told Reuters: "One key reason for the drop was provinces implementing 'China VI' vehicle emission standards earlier than the central government's 2020 deadline, stoking uncertainty among manufacturers."
Or the same reason Europe has been using to explain away its own automotive depression recession.
"We gave the manufacturers too little time to prepare," he continued, also noting that May's drop in demand was attributable to a "decline in purchasing power in the low-to-middle income groups as well as expectations of government stimulus to encourage purchases."
Passenger vehicles were crushed lower for the 12th straight month, according to the Passenger Car Association ("PCA"). May retail passenger vehicle sales were down 12.5% on the year to 1.61 million units. May's data follows a drop of 16.6% in April and 12% in March. Passenger vehicle sales include sedan, MPV, SUV and minivan sales. SUV sales were down 9.6% to 669,395 units.
U.S. auto sales for May saw a brief reprieve from the dismal results they have posted all year, as we noted at the beginning of June.
After auto sales crashed 6.1% in April, marking the industry's worst slide in 8 years, the bleeding appears to have momentarily stopped in the U.S.. May's U.S. auto sales data came in higher, year over year, for the first time in 2019. Fiat, Toyota and Nissan posted sales gains for the month, while Ford sales reportedly fell 4.1%, extending the automaker's streak of declines to four months. Toyota posted a 3.2% sales increase, boosted by demand for its Camry sedan. Some of the other strongest models in May were also sedans:
Strong performers in May:

Fiesta +50.7%
Jetta +41.5%
Fusion +38%
Camry +20.8%
Altima +5.2%

— Daniel Ruiz (@DRuizG80) June 4, 2019 
Ford's fall was the result of its F-series posting lower sales for a fourth straight month. The Ford brand fell 4% while the Lincoln brand fell 5.8%. Meanwhile, May was the best month in nearly two years for the Ford Fusion and in almost four years for the Fiesta, marking the possible end of the SUV divergence from sedans that started several years ago.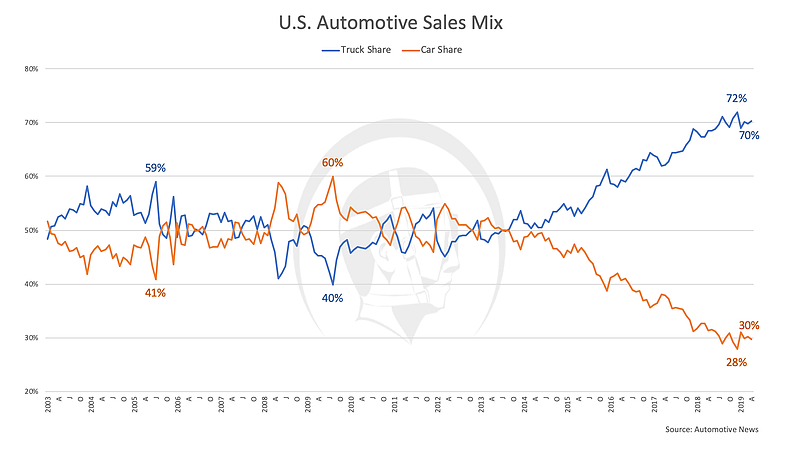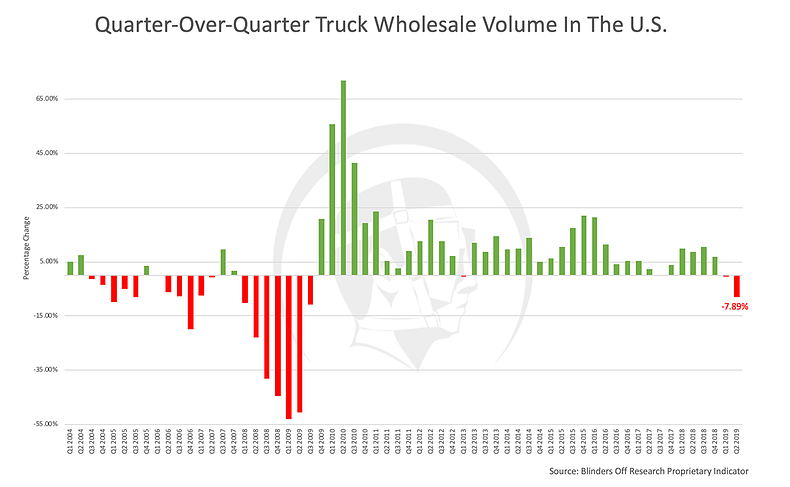 We also noted several weeks ago that Bank of America believes that the auto cycle "has peaked". 
The note showed that total auto sales have appeared to peak...
...while at the same time output remained high...
Days before that, we noted JD Power's pessimistic look at bloated inventory and stuffed channels in the automotive industry.
We reported last month that there had been 38,000 layoffs across the industry over the last 6 months.