---
Lira Slides After Turkey Vows It Will Retaliate To US Sanctions Over S-400
Two weeks ago, when Trump started rolling out tariffs left and right as a political punishment weapon for any sovereigns who presented hurdles to White House policies (like Mexico), we predicted which country would likely be next on Trump's list of tariffs: Turkey.
Next on Trump's train of terrifying tariffs: Turkey

— zerohedge (@zerohedge) May 31, 2019
The reason is simple: Turkey's now official stance that it would proceed with concluding the Russian S-400 missile deal despite vocal opposition from both the US president and Congress. And now, Turkey, too, is bracing for what now appears inevitable as it refuses to budge on its commitment to the Kremlin.
Overnight, Turkey said it would hold firm in its commitment to honor its purchase of Russian air defense systems, warning the US that it is prepared to take "reciprocal steps" in reply to any sanctions imposed by Washington, effectively admitting that sanctions by the White House are only a matter of time.
Turkey's Foreign Minister Mevlut Cavusoglu dismissed as "futile" the US's continuous efforts to dissuade Turkey from receiving S-400 batteries from Russia, during an interview with Turkish TV on Friday. The foreign minister added that Ankara was "steadfast" in continuing with the purchase, whatever the consequences.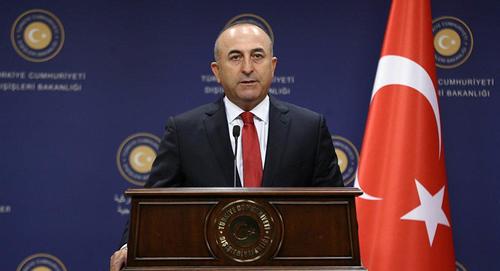 "We are determined on the S-400 issue. No matter what the results will be, we will not take a step back" he said, clearly forgetting that Turkey said the exact same thing last summer just before the US unleashed a battery of sanctions and crushed the Turkish economy, sending the lira to record lows.
And just like last summer, when asked about the possibility of a US-imposed sanctions regime against its NATO ally, Cavusoglu said Turkey was prepared to respond:
"If the United States takes any negative actions towards us, we will also take reciprocal steps."
In this vein, a senior Turkish official told Bloomberg that Turkey "is analyzing products imported from and exported to the U.S. as part of its possible response."
One day earlier, on Thursday, Cavusoglu commented on a letter from US Defense Secretary Patrick Shanahan to Turkey's defense minister, outlining how Turkey would be ostracized from the F-35 program if it didn't comply with its demands. "We reject the wording [of] the letter to our defense minister. Nobody can give an ultimatum to Turkey," he said.
And speaking of the Lira, after a bizarre rally in late May which saw the Turkish currency regain much of the ground lost in early 2019, the lira tumbled, sliding as low as 5.9329 against the dollar before paring some losses.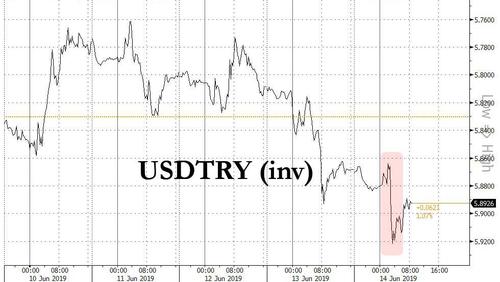 Tensions between the US and Turkey over the S-400 missile system have been escalating for months but have taken on a new urgency as Ankara gears up to receive its first deliveries of the system this summer. Washington has claimed that the incorporation of a Russian-made air defense system into Turkey's arsenal would compromise the security of the F-35 fighter jet and has threatened to remove Turkey as a program partner. The US has also reportedly failed to respond to Turkish suggestions to form a working group in order to gauge the potential impact of the S-400 on NATO systems.