---
Something Isn't Right In The "Greatest Economy Ever" As American Suicide Rates Hit WWII Levels 
The US Centers for Disease Control and Prevention (CDC) said in a new report on Thursday that 47,000 people died by suicide, and 1.4 million attempted suicide in 2017. The suicide rate increased by 1% per year from 2000 through 2006, and by 2% from 2006 through 2016, which now means suicide rates are at their highest level since World War II.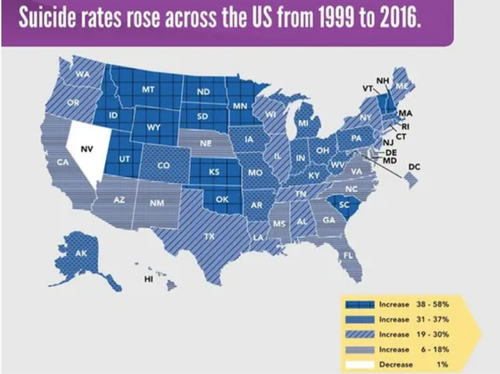 Along with out of control suicides, drug overdoses have spiked in the same periods, further pointing to a general deterioration of the middle class. More than 70,000 people committed suicide in 2017, and 17.3 million, or 7%, of Americans, are experiencing mental health issues. As we have shown in past reports, life expectancy has also declined for three straight years, in part because of the surge in drug overdoses and suicides. This is the first year in a little over a century since life expectancy fell for three consecutive years.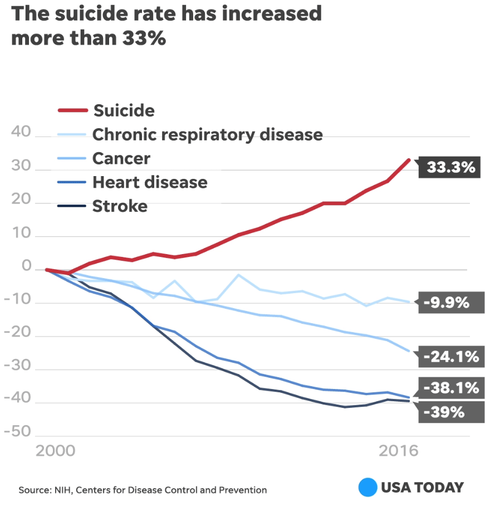 The combination of increasing suicides and drug overdoses is damaging the economy on par to the scale of the global financial crisis, yet we lack the institutions, policies, and determination to address it, says Paul Gionfriddo, president of Mental Health America.
Decades of stagnant wages, deindustrialization, the largest ever wealth gap between rich and poor, financialization of the economy that only benefits rich, insurmountable student loans, a housing affordability crisis, and automation and artificial intelligence, have culminated into the perfect financial storm that has not just financially rapped millennials but has also led to unintended mental health consequences: suicide is the second-leading cause of death for 10- to 34-year-olds.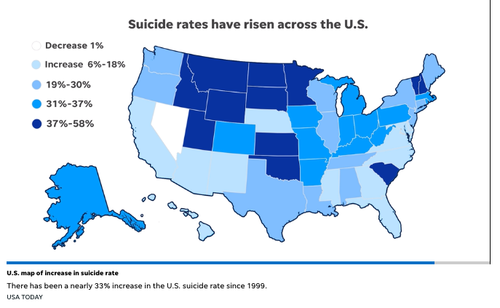 The Center for Workplace Mental Health said mental illness and substance abuse could cost the economy $80 billion to $100 billion annually, which also warned about the two-thirds of Americans are suffering from either mental health or substance abuse disorders don't receive any treatment for their conditions.
With President Trump requesting rate cuts and more quantitative easing that will only drive the wealth inequality gap further, the middle class is expected to feel more financial hardships that will ultimately lead to increased suicides and drug overdoses into 2020.