A new poll reveals that 72% of Democrats or independents who lean Democratic think that there are "too many" candidates seeking to unseat President Trump in 2020. 
The Hill-HarrisX survey released on Friday also found that 16% of those surveyed say the number of candidates is "about right," while 12% say there are "too few" candidates running.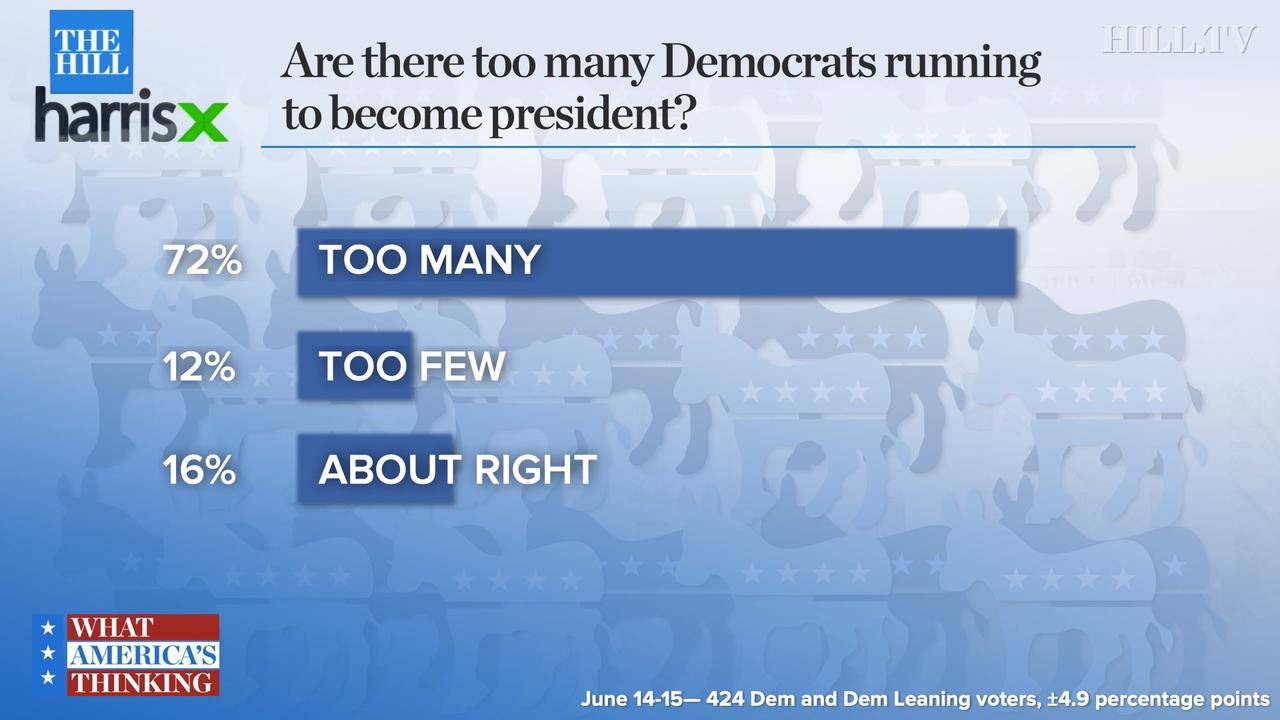 The poll also found that older voters are more likely to agree that there are too many candidates (81% of those 50-64, and 97% of those over the age of 65), while just 56% of younger voters aged 18-34 thought the same. 
Seventy-seven percent of Democratic-leaning voters who identified as strongly or somewhat liberal said there were too many candidates while 68 percent of respondents who said they were moderate or conservative agreed.

The Hill-HarrisX findings are similar to a June 2-5 Selzer & Co. poll of likely Iowa caucus voters commissioned by the Des Moines Register and CNN which found that 79 percent of respondents wanted at least some of the Democratic presidential candidates to drop out of the race. -The Hill
Democratic debates will be held Wednesday and Thursday on MSNBC, Telemundo and NBC (all owned by NBCUniversal). Meanwhile, The Hill notes that several contenders are expected to drop of the race before the third debate on September 12, which will require more stringent qualifications. Those who with to participate will need to receive support of at least 2% in at least four polls according to the DNC, up from 1%. 
Candidates will also be required to certify that they have received donations from at least 130,000 individual donors and 400 unique donors per state in at least 20 states. 
"The clock is running out for people who have not demonstrated any ability to mount a serious presidential bid to help make a real difference in their country by helping to turn the Senate," said Democratic Sen. Shendon Whitehouse of Rhode Island earlier this month. 
According to The Hill: The Hill-HarrisX poll was conducted online June 14-15 among 1,000 registered voters and has a sampling margin of error of plus or minus 3.1 percentage points. The subset of Democratic and Democratic-leaning respondents consisted of 424 respondents.