Daimler is haunted by old issues at the same time the global automotive industry appears to be in full collapse, and the company's new executive team is still "unearthing skeletons from the diesel scandal era", according to Bloomberg. The company said late Sunday that operating profit will not grow this year – marking the company's third downgrade over the course of a year after promising a slight earnings gain for 2019.
The company blamed the ongoing allegations of emissions tampering in diesel cars for the cut. Daimler stock fell almost 5% overnight, erasing its gain since the beginning of the year.  The company's stock plunge helped contribute to a broader 0.5% drop in the DAX and 1.2% sell offs in VW and BMW in the overnight session. 
JP Morgan also trimmed its FY19 EBIT estimates by 8% on the company, stating early Monday:
We estimate about 70% of the high triple digit million provision is related to Vans and the remainder to Passenger Cars. We do not rule out additional provisions for the rest of the year as Daimler continues to collaborate and work with the authorities.
This continues to put pressure on new executive duo Chief Executive Officer Ola Kallenius and Chief Financial Officer Harald Wilhelm to follow through on their plans to rope in costs and restore profitability.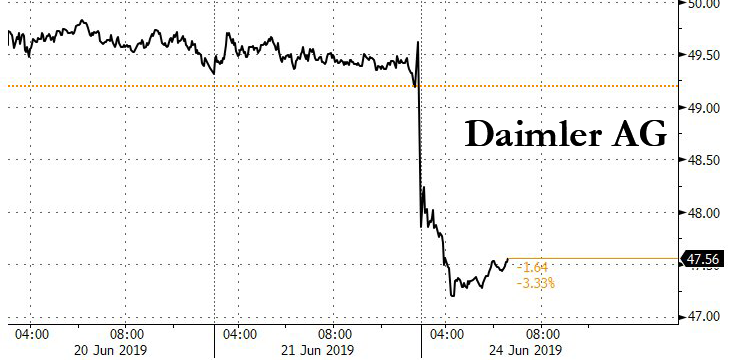 Arndt Ellinghorst, an analyst in London at Evercore said: "It all comes back to the same old fact: Daimler needs to execute better. The endless array of so called "one-time" effects raises questions regarding process, management information systems and ultimately accountability of management."
Former CEO Dieter Zetsche left his position after two profit warnings and a plunging stock price in his last year as CEO. Daimler ended his last year down by more than 33%, far outpacing stock falls by competitors BMW and Volkswagen.
The German car industry continues to face major issues, including a global automotive recession and the trade war between US and China. And even though the diesel crisis first reared its head in 2015, it has now engulfed the entire industry. For instance, regulators recently issued a mandatory recall for about 40,000 Mercedes GLK SUVs for potentially illegal software to skirt emissions rules.
In Germany, authorities had already slapped Daimler with a recall of 774,000 diesel cars in Europe last June over the use of prohibited devices that regulated their emissions. Dorothee Cresswell, an analyst at Barclays Equity Research said: "Clearly both the near term operational challenges and possible questions around Daimler's corporate culture are issues that must be addressed with urgency by Daimler's new CEO."
The auto manufacturer is facing investigations in Europe and the US over alleged excessive pollution from its diesel vehicles. Daimler has already agreed to software upgrades for millions of cars, and has so far been able to elude fines. This is in contrast to VW, who has shelled out more than $34 billion in fines and provisions as a result of the scandal.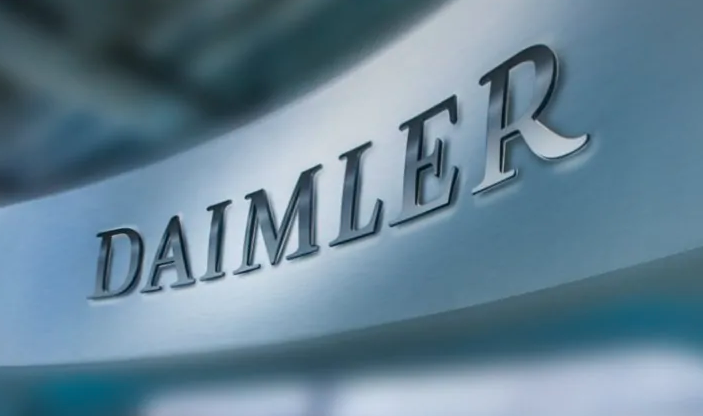 Daimler also said on Sunday that its van unit will be unprofitable this year, with a return of sales of -2% to -4%. This division's unexpected fall came as plans to produce a Mercedes-Benz pick up truck in South America fell through.
For the company's new executives, the latest revision offers a "kitchen sink" chance to clean house and have a more comprehensive restructuring. Last month, shareholders approved a new corporate structure that will give Daimler's divisions for cars, trucks and mobility services more independence. Some investors may even want the company to create a separate listing for its trucks division, a move that would be similar to one made by VW.
The question still remains as to whether or not Daimler and its new executives have hit "rock bottom" in terms of financial expectations yet. Marc-Rene Tonn, an analyst at Warburg Research said: "We fear that Sunday's profit warning may not be the last for the current year."