Russia has given official backing to Iran's version of events concerning last week's drone shoot down which nearly sparked a major US-Iran war, as Bloomberg reports, and lashed out at the White House's sanctioning of Iran's Supreme Leader. "There is a very narrow window left because this is an absolutely insulting step for intergovernmental relations. But hope dies last," a top Russian Foreign Ministry official in Moscow, Zamir Kabulov told reporters of Washington's new sanctions on Khamenei.
"Iran will never be alone if, God forbid, the U.S. ever takes absolutely crazy and irresponsible actions against it," he said. "Not only Russia, but many countries sympathize with Iran."
Meanwhile Russian media is reporting exclusive quotes from the United Arab Emirates' foreign minister which brings the entire series of events which led to the current crisis into question. Specifically the UAE has called into question unfounded US assertions that there's "proof" that Iran was behind prior May tanker attacks in the Gulf of Oman, which set the stage for the June 13 limpet mine incident and resulting blame game.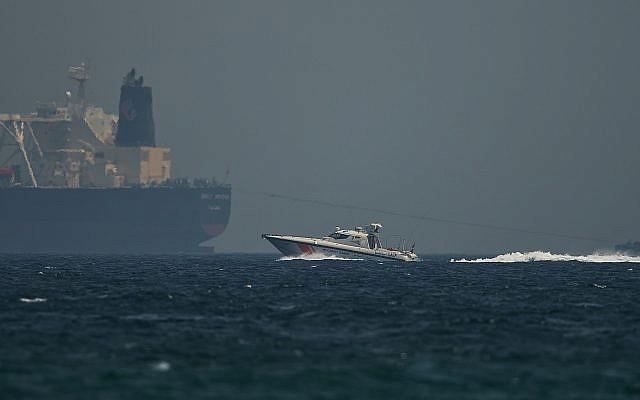 Though last Thursday's dramatic drone shoot down over the gulf now makes the tanker "limpet mine attack" incident seem like a distant memory, it was a series of tanker incidents in the gulf which hastened the US-Iran collision course in the Strait of Hormuz, given the US military build-up in response to the May as well as mid-June events. 
"We cannot accuse any nation at the moment because we don't have indisputable proof," UAE foreign minister Sheikh Abdullah bin Zayed Al Nahyan said Wednesday during a joint media conference with his Russian counterpart Sergey Lavrov in Moscow.
During that prior May incident, two Saudi tankers were reported attacked near the Strait of Hormuz, along with two other international vessels off the UAE port city of of Fujairah, in what the Saudis and their allies dubbed "sabotage operations".
Appearing to indirectly respond to firm assertions out of Washington that none but Iran could have been responsible - and specifically the elite IRGC force - the UAE FM said further:
If other nations have more concrete information, I am sure the international community will gladly hear them out. But we have to be very serious and careful. It has to be reliable, scientifically confirmed information which would convince the international community.
According to Bloomberg, the lack of evidence didn't stop national security advisor John Bolton from seizing the opportunity to put Tehran in the cross hairs:
While an investigation by the U.A.E., Norway and Saudi Arabia concluded that a "state actor" was most likely behind the incident in May, no nation was singled out. Still, U.S. National Security Adviser John Bolton has said that Iran was almost certainly responsible.
The UAE minister on Wednesday further reiterated a call for a cooling of tensions in the gulf, saying: "The region is very turbulent and is very important for the world. We don't want any escalation. What we want is stability and cooperation."
As Deutsche Welle outlines in a recent report, security and insurance costs for maritime transport in the region are soaring: "The demand for private maritime security personnel has shot up since the attacks on oil tankers in the Gulf of Oman on June 13, as shippers step up efforts to protect their ships and keep global trade going."